Best Forex Trading Apps in South Africa 2022
See our comparison of 8 crucial factors including fees, regulations, ease of use, features of the popular forex trading apps for traders in South Africa.
In order to trade forex, you would need access to a trading platform or an app using which you can place & monitor your trades. This trading platform usually also allows you to make informed analysis before entering into trades by viewing charts, news, indicators and other data.
Most forex brokers offer their trading platforms on mobile for both Android & iOS.
Before you start trading currency, you should be aware that large fluctuations can take place in the price of a currency in a very short period of time. Also, the forex market is open 24 hours during weekdays, so you need to be constantly alert to monitor your trades & make informed decisions.
This is where the mobile app by a broker can help.
A good forex trading app will be easy to use, and allow you to have multiple time frames, charting tools, and fast execution. To make this list, we have comprehensively reviewed mobile apps by several brokers that are available in South Africa.
Best Forex Trading Apps for PC, Android & iOS
Below we have compared the regulations, fees, features, trading conditions of each trading app in our list:
1. HotForex Metatrader – Best Forex Trading App
2. Tickmill MT4 – Best Forex Trading App for Low fees
2. BDSwiss Mobile App – Good Forex Trading App for Android
4. XM Trading App – Best Forex Trading App for PC
5. Exness Metatrader 5 App – Best Forex Trading App in South Africa
6. Plus500 – Best Mobile Trading app for CFDs
7. AvaTradeGo App – Good Trading app for iOS & Android
How to Choose the Best Forex Trading App?
Before you select a trading app, you need to know what to look for in a good app. Here are the most considerations that matter for us & should go into your decision.
1. Regulation – The first thing that you should check if whether the broker who's app you are downloading is regulated or not. If you are trading with an unregulated broker, then there is a huge risk that the broker is a scam & would take your money, without any grievance redressal in case of disputes.
A regulated broker can be held liable for the damages in case of any bad practices which are not allowed by the regulators.
Always choose an app of a broker that is regulated by more than one major regulations i.e. FSCA, FCA, ASIC, CySEC & NFA.
If a forex & CFD broker is regulated by more than one of these top-tier regulators, then it is generally a good sign of trust & safety of that broker.
For example, if you are downloading the MetaTrader app of a forex broker that is regulated with FSCA, FCA & ASIC, which are the three major regulators, then we can consider it to be low risk.
You can verify the broker's regulatory information from the Regulator's website. For this you need the broker's license number. All regulated brokers mention their license number on their website.
For example, below is screenshot a from Tickmill's website (Tickmill Group Licenses & Regulation page), and here they mention Tickmill Group's licensed with multiple regulators including with the FSCA.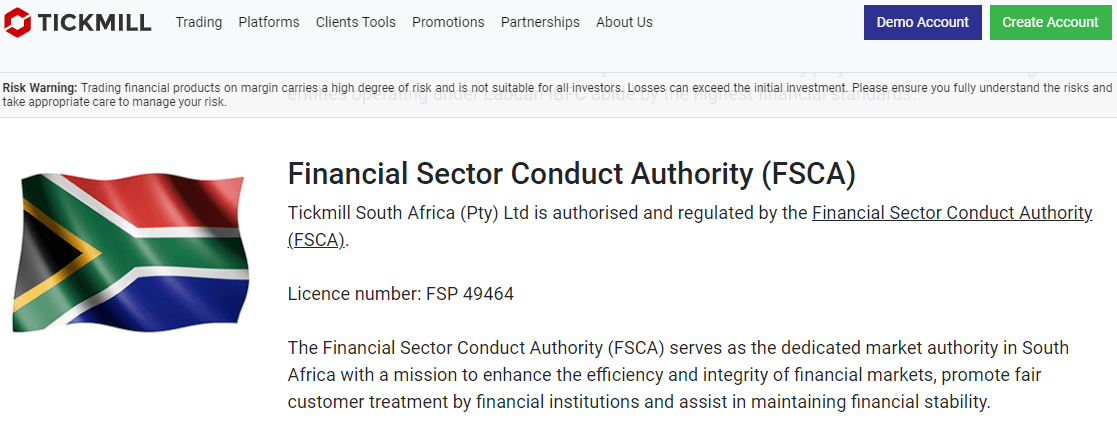 Once you have the broker's license number, then you can verify it from regulator's public search (FSCA in this example).
Also, you must make sure to verify that the broker's license is genuine. Some brokers may claim to be regulated with FSCA while using FSP No. of another broker that is actually licensed.
So you must make sure that the FSP No. of the broker & claim of regulation is actually genuine, and this can be checked by matching the broker's FSP Name on FSCA's public search. Also check if the broker is fully authorized to offer the products which they are offering.
2. Order Execution Speed – The speed of your trading app can be the difference between a profit and a loss, since currency fluctuations are high. A fast order execution speed means that your trade is executed at your desired price.
Some forex trading apps offer instant order execution, while others offer market execution. Forex Trading apps that offer instant order execution are usually market markets & there may be a conflict of interest. It is preferred that the broker is a STP broker that offer quick market execution.
For example, HotForex is a STP broker & the average order execution time on their trading app is good. While XM is a market maker broker they have a no re-quotes and no rejection policy.
3. Real Time Data and News Feed – Getting real-time price feed & data on your trading app means that you can make an informed decision on the go. Live charts and technical indicators allow you to make quick trading decisions based on real time facts & price.
The trading app should also have a news feed so that you are abreast of the latest market developments.
You will find news feed in trading app at most of the brokers. Many forex brokers offer MetaTrader app, and they have a section for news built in the app.
4. Advanced Charting and Full Functionality – Easy to understand charts are the lifeblood of a financial trader. You need to ensure that your trading app has a variety of charting options. The charting options should include popular technical indicators and a variety of timeframes.
You should download the broker's trading app & create a demo account. Then check if the tools & indicators that you use are available in the app or not.
Most MetaTrader based brokers will have wide range of indicators & ability to customize, including Expert Advisors. But for brokers that offer their own proprietary trading apps, you should check if your charting tools & indicators are available or not. And if you can extend the functionality.
5. Range of Trading Instruments Available – If you're looking to trade only a few instruments, then you may give this one a skip. However, ensure that the trading instruments you want to trade are available on your trading app at the lowest fees.
For example: Some CFD brokers don't offer crypto CFD trading instrument like Bitcoin, Ethereum etc. You should check if the broker offers the CFD financial instrument you want to trade.
All Forex Trading apps will list the information regarding their exact number of CFD trading instruments on their website. You will generally find the exact fees & number of instruments under 'Contract Specifications' on the broker's website.
Like Exness has listed all their trading instruments under 'Contract Specifications' page.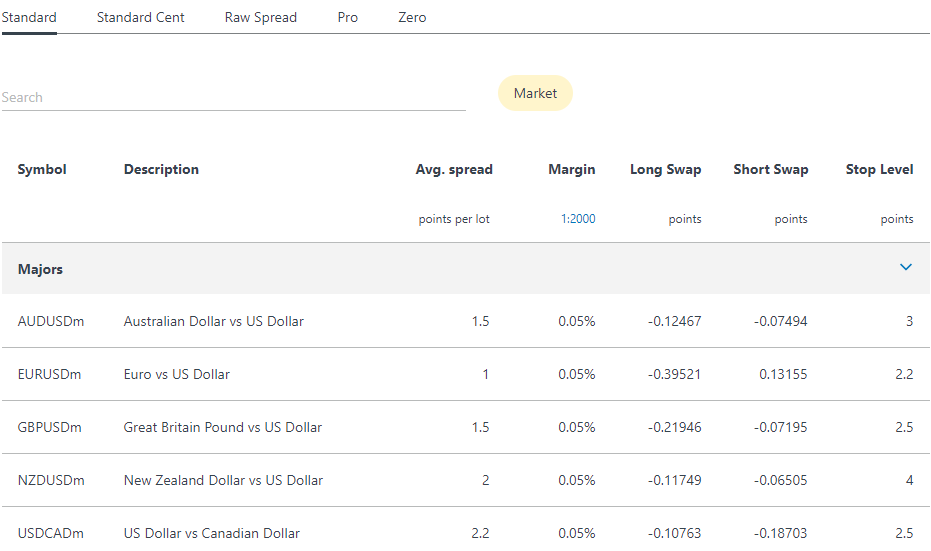 If you don't find this information on broker's website, you can also talk to the broker's support team & ask for the link to list of all CFD trading instruments available on their app. All reputed apps share this information.
A wider selection of trading instruments means you can analyze multiple assets & trade them if there is a trade opportunity based on your analysis.
6. App Security and Safety – Your trading app needs to be secure. In order to ascertain how safe it is, check out user ratings and reviews. Do not opt for a trading app that is less secure or has lower ratings on Google Play & App store than acceptable standards.
There have been incidents in the past where the data of users have been leaked online due to security vulnerabilities in the broker's app. For example, the data of FBS broker was leaked in the past due to security issues on their servers.
So, it is important to check if there has been any such incident in the past against the broker. If the broker's app or their platform had issues like minor bugs reported in the past, or there have been feature requests by the users & the broker has been proactive in resolving such issues, then it is a good sign.
7. Ease of Access – Make sure to check by installing the demo app that a trading app is compatible with your device before opting for it. Always start with a demo account to get used to the platform before trading live.
For example, some forex brokers don't offer their trading apps on iPhone or iOS, they only have Android apps. Or when they have iOS apps, then it may not be updated regularly due to low number of downloads. So, depending on your device preference, you should choose a regulated broker who's app is popular on the OS of your choice.
Also, all the good forex & CFD trading apps offer their free demo account which you can use for unlimited period. Some broker offer their demo accounts for limited period if you are inactive, but they generally don't limit the number of times you can create the account again.
So it is a good idea to first download the app of the broker on your device like Android or iOS, and open a demo account to test it out.
8. How Good is the Customer Support – You never know when the need for quick customer support may arise. You may have an open position which you are unable to close.
At such times, you need the fastest available customer support, preferably from within the app. Only trade with forex brokers who understand the need for good customer service.
Talk to the live chat support before signing up, and also test by sending an email to support. Do you get prompt & helpful responses? Normally as a benchmark, you should receive response within few hours in case of email.
For live chat, there should not be hold time of more than a few seconds. Some forex brokers have few minutes of hold times.
For example, if you are have downloaded Exness's trading app, and you need support on some issue, then you would have to wait for few days to get response via email as per our tests. And their Live chat normally has a few minutes of hold time & long queues. If you are okay with this, only then you should choose the app of this broker.
9. Range of Trading Instruments – Forex Trading Apps offer multiple trading instruments as CFDs. Other than forex, you should check if the broker offers CFDs on metals, commodities & Indices.
Compare the total number of CFD instruments that are available, because Broker A could have lot more instruments than Broker B. You should also check how much the broker charges for each instrument. For example, maybe you want to trade Gold CFD (XAU/USD), then the broker of your choice in that case should have this instrument at low fees.
10. Availability of Demo Account – With a demo account you can get to practice your strategies & work on them. While most of the forex trading Apps offer demo account, you should check if there are any conditions.
There may be terms where one broker only allows demo for certain time period after which they close it. Or they may close the account in case of inactivity (if you don't operate the account i.e. place any trades for a few days). In that case if the broker allows creating multiple accounts then it is okay, but otherwise it is not friendly.
Frequently asked questions: Forex Trading Apps