Best Bitcoin Brokers in South Africa 2022
We compared 20+ Bitcoin CFD brokers in South Africa, and have listed the ones that offer Bitcoin trading at lowest fees.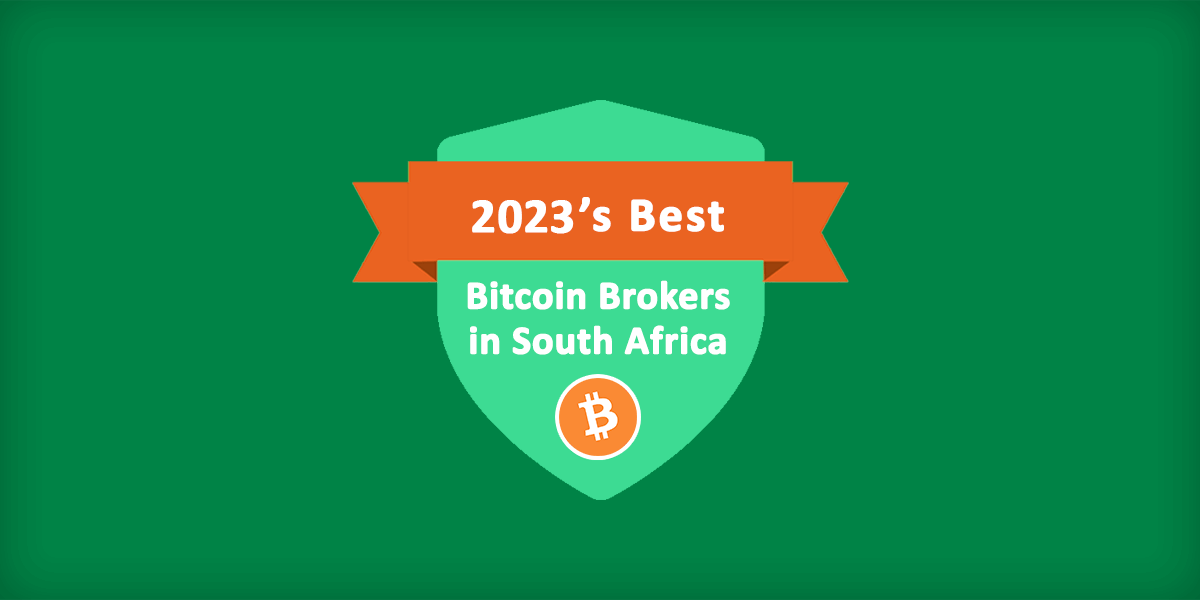 If you are looking to trade bitcoin in South Africa, you can do it in 2 ways.
First, you can buy Bitcoin directly through a crypto exchange, store it in a BTC wallet & wait for the Bitcoin's price to rise, then sell it later when bitcoin is at a higher price to make a profit. The downside of this is the risk related to security of your BTC wallet, and the exchange, and the fees involved in exchanging. Also, you cannot place a sell order if you want to speculate on the fall in price of Bitcoin.
Second method is to trade Bitcoin as a CFD trading instrument at regulated forex brokers, without actually owning the asset i.e. you don't own bitcoin but are only speculating on its price.
Here in this tutorial, we will cover the brokers that offer leveraged Bitcoin trading as CFDs in SA with the lowest fees.
For this guide, we looked into 20+ CFD brokers that offer Cryptocurrency trading in South Africa. We checked if they are locally regulated, number of crypto CFDs available on their platform, bitcoin trading fees, multi device support, and their customer support.
Here's our list of 7 Best Bitcoin brokers in South Africa for 2022
And we have only listed down best regulated bitcoin brokers that offer crypto CFD trading for multiple crypto-currencies like BTC, Ethereum & Litecoin, so that you can speculate on the cryptocurrency market fluctuations in a regulated environment.
Let's start!
Best Bitcoin Brokers Compared
Here is our comparison of the bitcoin trading fees, regulations, available cryptos, deposit required, and more factors for the top brokers to offering bitcoin trading in South Africa.
1. Exness – Best Bitcoin Broker in South Africa
Our #1 Rated Bitcoin Trading platform in South Africa
Exness is a CFD trading broker that is licensed with FSCA in South Africa, FCA in the UK. So, it is a well regulated platform.
Exness offers as high as 1:100 leverage for cyrpto CFD trading. The minimum deposit required on their platform is $1 USD.
Trading is available on 7 cryptocurrency CFD pairs i.e. BTCUSDm, BCHUSDm, BTCJPYm, BTCKRWm, ETHUSDm, LTCUSDm & XRPUSDm. Their spread for crypto trading is bit higher on average & the exact spread depends on the crypto instrument that you are trading & the market conditions.
They offer Metatrader 4 & 5 trading platforms. There are no fees on deposit & withdrawals.
Exness Pros
Licensed with FSCA in South Africa.
7 crypto CFD pairs.
Low minimum deposit.
Zero deposit & withdrawal charges
Exness Cons
Some users have complained about support being inaccessible at times or slow to respond to queries.
2. Plus500 – Overall Best Cryptocurrency CFD provider

Visit Plus500 Trading CFDs is risky. Your capital is at risk.
Bitcoin Trading Fees:

Variable

depending on the trade.

Minimum deposit:

R1500

Broker's Regulations:

ASIC, CySEC & FCA

Available Cryptos:

14 Crypto CFD pairs
Our #2 Rated Bitcoin CFD platform in South Africa
Plus500 is a regulated CFD trading platform, which also accepts South African traders. They are regulated with tier 1 regulators: ASIC, FCA & CySEC. They have 14 cryptocurrency CFD instruments available for trading on their CFD platform: Bitcoin, Ripple, Ethereum & 11 more.
Plus500 has the most number of crypto CFD instruments available out of all the platforms that we have compared. They offer max. leverage of up to 1:30; depending on the crypto pair.
Trading is available on 14 cryptocurrency CFD pairs i.e. BTCUSD, LTCUSD, XRPUSD, ETHUSD, BTCETH, NEOUSD, ADAUSD (Cardano/USD) BABUSD (Bitcoin Cash ABC/USD), IOTUSD & more. The trading fees depends on the crypto CFD pair that you are looking to trade, but it is a bit higher than other platforms.
They offer their own trading platform available on web & mobile, and it is quite user friendly & easy to use. The deposit & withdrawals are commissions-free, their order execution speed is also quick without delays. They also offer Risk Management Tools, which includes Guaranteed Stop Order protection. Their support is also good, available via Live chat & emails.
Plus500 Pros
Plus500 is a regulated CFD provider, regulated with ASIC (AFSL N. 417727), FCA (FRN 509909) & CySEC (Licence No. 250/14).
14 crypto CFD pairs available on their platform.
Their minimum deposit is R1500, which is not to high. And zero fees on deposits & withdrawals.
User friendly platform, available on mobile & web.
Negative balance protection & guarantee Stop loss available.
Support is good & available 24/5 via Live Chat & emails.
Plus500 Cons
The trading fees for some Crypto CFDs is a bit higher than other platforms.
3. Hotforex – regulated with FSCA & offers Bitcoin Trading
Bitcoin Trading Fees:

On average 30 units

per BTCUSD trade.

Minimum deposit:

$5

Broker's Regulations:

FSCA, FCA & CySEC

Available Cryptos:

7 crpto pairs

i.e. BTCUSD, BTCEUR, ETHUSD. ETHEUR, LTCEUR, LTCUSD & XRPUSD
Rank #2 Bitcoin Broker in South Africa
Hotforex is a FCA & FSCA regulated CFDs & forex broker. They offer CFD trading on 4 cryptocurrencies Bitcoin, Litecoin, Ethereum & Ripple.
HotForex offers margin trading on cryptocurrencies with upto 1:10 leverage on this instrument, with trading available on 7 cryptocurrency pairs.
They have very low fees required to trade bitcoin, and you can trade 1 Bitcoin for around $30 spread with them. You can place limit & stop orders to open/close your trade, so you can choose your own position entry, exit levels. They also offer negative balance protection with each account.
They offer quick order execution, so most of the trades with them are fulfilled without delays or re-quotes.
Hotforex Pros
Hotforex is regulated with FCA (UK), CySEC, and in South Africa with FSCA under FSP No: 46632. So it is considered safe to trade with them.
7 crypto pairs are available for trading.
Their order execution is quick.
Their Bitcoin CFD trading fees is very competitive at around 30 units of currency ($30 USD) on average per 1 BTCUSD trade.
Hotforex Cons
The standard market trading hours at Hotforex are limited from Monday to Friday. So you cannot trade bitcoin CFD on weekends.
4. IC Markets – Low cost Bitcoin CFD broker
Bitcoin Trading Fees:

On average $10

for 1 BTCUSD trade.

Minimum deposit:

$200

Broker's Regulations:

ASIC

Available Cryptos:

10 Cryptocurrency pairs
Ranked #3 Bitcoin Broker in South Africa
IC Markets is a low cost broker for Bitcoin CFD trading in South Africa. They are regulated with tier 1 ASIC regulation, and have the lowest fees when compared with other bitcoin brokers. Their cryptocurrency instruments available for CFD trading are also higher in number; including Bitcoin, Litecoin, Ripple, Ethereum, Dash Coin & 4 other cryptos.
IC Markets has the lowest bitcoin trading fees of all the brokers that we have compared so far with around $10 USD on Bitcoin/USD CFD. They allow up to 1:10 leverage on all their Cryptocurrency CFD instruments.
You can trade on 10 cryptocurrency pairs i.e. BTCUSD (Bitcoin/USD), BCHUSD (Bitcoin Cash/USD), ETHUSD (Ethereum/USD), LTCUSD (Litecoin/USD), DSHUSD (Dash coin/USD), XRPUSD (Ripple/USD), EOSUSD (EOS/USD), EMCUSD (Emercoin/USD), NMCUSD (Namecoin/USD) & PPCUSD (PeerCoin/USD). This is the highest offering of main cryptos & Altcoins by any regulated CFD broker.
They offer 3 trading platforms including MT4, MT5 & cTrader. Their order execution speed is also quick without delays, plus their support is also fair.
IC Markets Pros
IC Markets is ASIC regulated CFD broker (AFSL No. 335692).
10 cryptocurrencies available for CFD trading.
Their spread for crypto trading is very low.
IC Markets is a ECN broker, so there is no conflict of interest.
Zero Fees on deposits & withdrawals.
Their support is very good & available 24/5.
IC Markets Cons
They don't offer negative balance protection.
Beginners Guide to Bitcoin Trading in South Africa: FAQs
What is Bitcoin?
Bitcoin is the world's largest cryptocurrency by market cap, and it was launched in 2009 by Satoshi Nakamoto. Bitcoin is decentralised across the peer to peer network so nobody controls it, but everybody can take part in the network to make peer-to-peer transactions.
The transaction record of Bitcoin is stored in the form of Blocks in Blockchain maintained by Bitcoin publicly, allowing everyone in the network to see the public key of the owner and the details of the transaction.
Cryptocurrencies are digital stores of value, which are used as a medium of exchange for decentralised financial transactions. The word "Crypto" refers to the encryption technique used by the Cryptocurrencies to secure those transactions, control the creation of new currency and verify those transactions.
Due to the growing popularity of Bitcoin, and its volatile price movements, many new & experienced traders trade it as a speculative instrument. So many CFD brokers like Plus500, Hotforex, FXTM; and crypto exchanges have started to offer trading on various cryptocurrencies.
What are Bitcoin CFDs?
A Contract for Differences (CFD) is an arrangement that allows traders to trade the underlying asset without actually owning the asset. In other words, traders can speculate on an instrument's price movements, anticipating a rise or fall on its price and take a speculative bet.
For example: If the trader thinks the Bitcoin's price will rise against USD, he would place a Buy order – if it rises as expected, he can sell the Bitcoin CFD later for a higher price and profit from the 'difference'.
Conversely, if the trader thinks the Bitcoin's price is going to fall against the US Dollar, he would open a sell position – if the price goes down as expected, he must place an offsetting Buy order to exit the trade and book a profit.
Cryptocurrency CFDs are where the underlying asset of the CFD would be a Cryptocurrency like Bitcoin. Just like trading any other CFDs, you can trade & speculate on the price of Bitcoin against USD Dollar by using Bitcoin CFDs.
All this is done without physically exchanging your currency for BTC which is done in case of buying Bitcoin with an Exchange & storing them in digital wallets.
The main advantage of trading Bitcoin as a CFD, is that you don't have to worry about the security of any wallet, and in most cases the trading fees with regulated Bitcoin CFD brokers is much lower compared to an exchange.
Although the negative side is that you won't actually own bitcoin(s).
Moreover, remember that CFDs are complex financial products and are not intended for beginners, and you risk losing your invested capital. Even experienced traders lose, so you must invest wisely & with right knowledge of this asset.
How can you trade Bitcoin in South Africa?
To trade Bitcoin CFDs, you need to open an account with a regulated CFD broker that offers Cryptocurrencies to trade.
We suggest you demo trade first and when you are familiar with the trading environment, and have a working trading strategy, only then put your money with the brokers who are regulated with SA's regulator Financial Sector Conduct Authority (FSCA) or with global regulators like FCA, ASIC and CySEC.
There are some good FCA, ASIC & FSCA regulated brokers that offer bitcoin CFD trading. With these brokers, Bitcoin can be traded as a CFD against major currencies like the US Dollar (USD) or Euro (EUR), in the form of pairs like BTC/USD, BTCEUR or in some cases against other Cryptocurrencies like BTC/ETH (Bitcoin against Ethereum) with Plus500 broker.
Trading on Bitcoin & other Cryptocurrency CFDs is available on weekdays or 24×7, depending on your broker.
Also, many bitcoin brokers give traders access to using leverage, which can be from 1:2 to 1:10 at a maximum. But due to the volatile nature of Cryptocurrencies, brokers tend to offer lower margin/leverage as compared to other assets like Forex or CFDs on Indices, metals etc.
Remember that while using leverage has a potential to increase your profit if you are right, but it can also magnify the losses if the speculation goes wrong. You can even lose your entire trading capital.
So, it is important to never use higher than 1:2 leverage while trading Bitcoin CFDs or any other Crypto CFDs.
Summary: best bitcoin brokers in South Africa
| Bitcoin Broker Name | Broker's Regulation(s) | BTCUSD Trading Fees | Leverage | Minimum Deposit | Available Crypto Pairs | Start Trading |
| --- | --- | --- | --- | --- | --- | --- |
| Plus500 | ASIC, FMA, FSP, CySEC and FCA | variable | up to 1:20 for BTCUSD | R1500 | 14 Crypto CFDs | get started |
| IC Markets | ASIC | On average 10 USD per 1 BTCUSD | up to 1:5 | $200 | 10 crypto pairs. BTCUSD, ETHUSD, LTCUSD, XRPUSD & 5 other pairs. | get started |
| Hotforex | FCA, FSCA, CySEC | $30 USD for 1 BTCUSD | upto 1:10 | $5 | 4 Cryptocurrencies on BTC, LTC, ETH, XRP | get started |
Frequently asked questions: Bitcoin Brokers
Which is the best Forex Broker for trading Bitcoin?
For traders who want to trade Bitcoin as a CFD instruments, there are brokers like Tickmill HotForex & Exness. These brokers offer CFD trading on Cryptos & are regulated for offering CFDs or derivatives.
Which Bitcoin Broker has the Lowest Fees?
Exness has a typical spread of 272.6 pips for BTCUSD CFD. HotForex SA has a typical spread of 26 & Tickmill has spread of 80 for 1 lot.
Should I trade Bitcoin CFDs?
Trading bitcoin as a CFD instrument is highly risky for retail traders as it involves leverage or margin trading. For example, HotForex offers a leverage of upto 1:10 on Crypto CFDs. With crypto CFDs like BTCUSD CFD, you are speculating on the value of Bitcoin, and you can go Long or Short. You don't own Bitcoin while trading CFDs.
Due to the risky nature of Bitcoin & leveraged CFDs, retail traders should not trade this instrument. Only professional traders who understand the risks & have strategies to manage their risk should trade CFDs on cryptos.