FXTM Review 2021
FXTM is our #6 rated Forex broker in South Africa. They are regulated with top-tier regulator i.e. FSCA (South Africa) & FCA (UK), so we consider them to be safe. Read our FXTM review to know about their fees, accounts, support & more..
FXTM is a FSCA regulated Forex broker that operates in South Africa. They were founded in 2011 & claim to have more than 1 million registered users now.
They are highly regulated globally by top-tier Financial regulators in UK, Cyprus. Also, in South Africa, they are licenced by the local regulatory authority i.e. Financial Sector Conduct Authority (FSCA). So it is safe to trade with them.
FXTM's spread is on the higher side with their Standard accounts, but very low with their ECN MT5 account. Plus, they offer over wide trading instruments including 57 currency pairs, CFDs, Spot metals and Indices, share CFDs & even cryptocurrencies too. They offer the latest MT5 trading platform as well, their support is also quite impressive & quick, and they even have good trading education resources.
We tracked FXTM's fees, platforms, bonus, support & lots more for this review. Here's our in-depth breakdown of all the pros & cons of FXTM, and their User reviews as well!
FXTM Pros
Low minimum deposit of $10.
Regulated with local regulatory Financial Sector Conduct Authority (FSCA)
Fast processing time while withdrawal.
Wide range of tutorial and guides.
FXTM Cons
No Bonus for clients.
Inactivity fees
FXTM – a quick look
| | |
| --- | --- |
| 🏦 Broker Name | ForexTime (FXTM) South Africa |
| 📅 Year Founded | 2011 |
| 🌐 Website | www.forextime.com |
| Address | FXTM Tower, 35 Lamprou Konstantara, Kato Polemidia, Limassol, 4156, Cyprus Phone – 357 25 55 87 77. |
| 💰 FXTM Minimum Deposit | $10 |
| ⚙️ Maximum Leverage | 1:2000 |
| ⚖️ Regulation | FSCA (South Africa), FCA (UK), CySEC (Cyprus) |
| 🛍️ Trading Instruments | 57 Currencies, Spot Metals, Share CFDs, Commodity CFDs, Stocks, Cryptos |
| 📱 Trading Platforms | MT4 and MT5 for PC, Mac, Web, Android, iOS |
Regulation and safety of funds
FXTM is highly regulated with top financial regulatory bodies in South Africa, UK & other European countries.
FXTM is authorized and regulated under the following Regulators:
Financial Sector Conduct Authority (FSCA) of South Africa: FXTM are regulated locally with the FSCA, with FSP number 46614 since 05/07/2016.

Financial Conduct Authority of UK: They are regulated in UK by Financial Conduct Authority (FCA) with the registration number 600475 from 14/11/2018

Financial Services Commission (FSC) of Mauritius: It is registered under the name of Exinity Limited as an Investment Dealer and regulated by FSC of Mauritius under the license number C113012295 from 11/11/2013.
Cyprus Securities and Exchange Commission (CySEC): It is regulated in Cyprus by CSEC with licence number 185/12 effective from 13/12/2012.
Moreover, the company's security system uses SSL (Secure Sockets Layer) protocol which guarantees secure connection in all types of communication with clients, thereby enabling the safety of transactions and customer information.
They claim to have partnerships with a lot of reputed banks world-wide which necessitates the maintenance of transparency and accountability standards.
Overall in terms of regulations, FXTM is regulated by highly reputed financial regulators and institutions in the world, hence we consider it to be very safe for traders to trade on their platform.
FXTM Trading Fees
FXTM have higher spread than its competitor South African brokers. Their spread is high with the Standard accounts, but the total trading fees with their ECN Accounts it is quite low.
Moreover, they also charge fees on withdrawals via bank transfer.
Below is a complete breakdown of all the trading & non-trading fees at FXTM:
Low Spread with ECN MT5 (but very high with Standard accounts): FXTM is a variable spread broker, so their spread will be depend on the real time market conditions.

During our tests, we found that the standard accounts at FXTM have high spread of 2.0-2.4 pips for EUR/USD on average (but may be as low as 1.5 pips depending on the live market conditions). Overall for standard accounts, their spread is a bit higher than other brokers like XM & Hotforex.

In case signup with their ECN MT5 account, the spread is 0.4 pips on average for EUR/USD. This is quite low, and we recommend choosing ECN account at FXTM for lower spread.

Below image is the comparison of EUR/USD spread for the different account types at FXTM:


$4 Commissions with ECN Accounts: FXTM only charges commission on their ECN Accounts. The commission is fixed at $4 per trade with their ECN MT5 account i.e. $2 to open the trade & $2 to close the trade. Their commission per trade is lower than other ECN brokers.
Zero charges on Deposits: FXTM does not change any additional fees on the deposits made by the clients. So you will get 100% of your deposited amount. For ex: If you deposit $500, then you will get full $500 available in your balance.
Withdrawal Fees (Upto 1.5%): In case of local bank transfer, FXTM apply 1.5% charges on the withdrawal amount. Withdrawal to wallets options is also available for free if you don't want to pay 1.5% charges on withdrawal amount.
Inactivity fees (only valid for dormant account): FXTM charges this fees in case you don't have any trading activity in your account for 6 consecutive months. In this case FXTM will charge you $5 (or EUR, GBP depending on your base currency) for the subsequent months.
It means, if you do not have any trading activity for 6 consecutive months, then from the 7th month, you will be charged $5 per month fees for inactivity. You will not be charged anything if you have 0 balance in your trading account.
FXTM's trading fees i.e. their spread are higher than the other regulated forex brokers that we have reviewed. Although, if you need an ECN broker then their overall fees (including spread + commission) is much lower than most other brokers.
For non-trading fees. they charge during withdrawals & for in-activity. This fees is not too high, but still there are some other brokers like XM & Hotforex that charge zero fees on withdrawals.
FXTM Account Types
FXTM offers Standard Accounts and ECN Accounts, both of which have variants. Both FXTM account types are offered on MT4 and MT5 trading platform.
Here are the common features with all the account types at FXTM:
Base Currency: You can open your account in currencies: USD/GBP/EUR. For South African traders, we recommend to choose USD as the base currency. The minimum deposit is $/€/£100 for Standard accounts, $/€/£200 for ECN Zero accounts and $/€/£500 for ECN accounts.
Instant Order Execution with Standard Accounts: FXTM offers Instant order execution with the Mini & the standard trading accounts. With ECN accounts they have Market Execution, since your orders will be placed directly in the market.
No Negative Balance Protection: FXTM doesn't offer negative balance protection, according to their statement, but they are said to normally correct negative balances, but this is at their discretion as they evaluate the requests case by case. We did not test this.
FXTM Standard Accounts
There are 3 types of standard accounts that FXTM offers – Standard, Cent and Shares Accounts.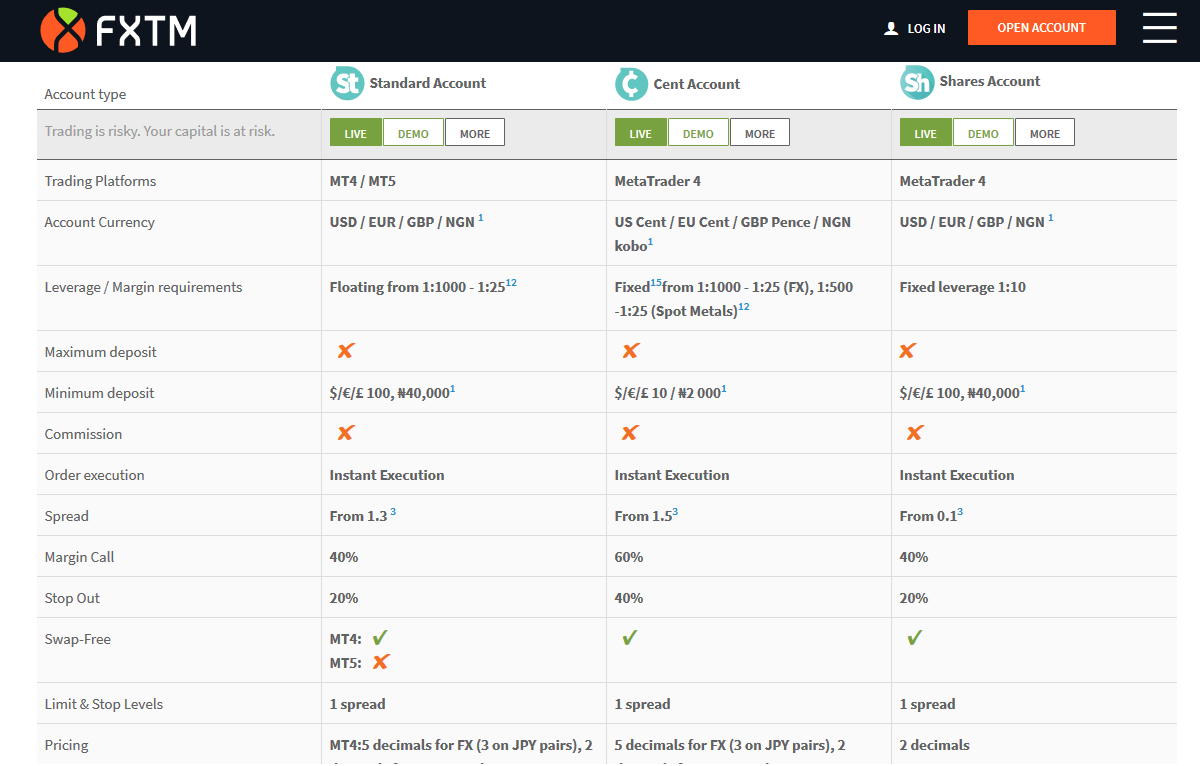 1) Standard Account ($100 deposit): The minimum deposit for a Standard Account is $/€/£ 100, a maximum leverage of 1:1000, access to almost all trading instruments. You can trade in micro lots, a maximum Lot size of 30 per trade upto a maximum number of 100 orders. The margin call level is 40% and stop out is 20%.
2) Cent Account ($100 deposit): The minimum deposit for a cent account is $/€/£ 10, a maximum fixed leverage of 1:1000 for FX and 1:500 for Spot metals, access to trading majors, minors and spot metals. You can trade in micro lots, a maximum Lot size of 1 per trade upto a maximum number of 300 orders. The margin call level is 60% and stop out is 40%.
3) Shares Account: The minimum deposit for a Shares account is $/€/£ 100, a fixed leverage of 1:10, access to trading share CFDs. You can trade in micro lots, a maximum Lot size of 10 per trade upto a maximum number of 100 orders. The margin call level is 40% and stop out is 20%.
FXTM ECN Accounts (recommended)
ECN, stands for Electronic Communications Network, where the broker gives direct you access to the live forex markets. Hence, with ECN trading there is no middle man.
Note: ECN accounts have Market Execution which means your order will be placed directly in the market.
Here are the 3 ECN account types offered at FXTM:
1) ECN MT5 Account (recommended & has $500 deposit): The minimum deposit for a ECN Account is $/€/£ 500, a maximum leverage of 1:1000, the average EUR/USD spread is 0.4 pips with access to almost all trading instruments.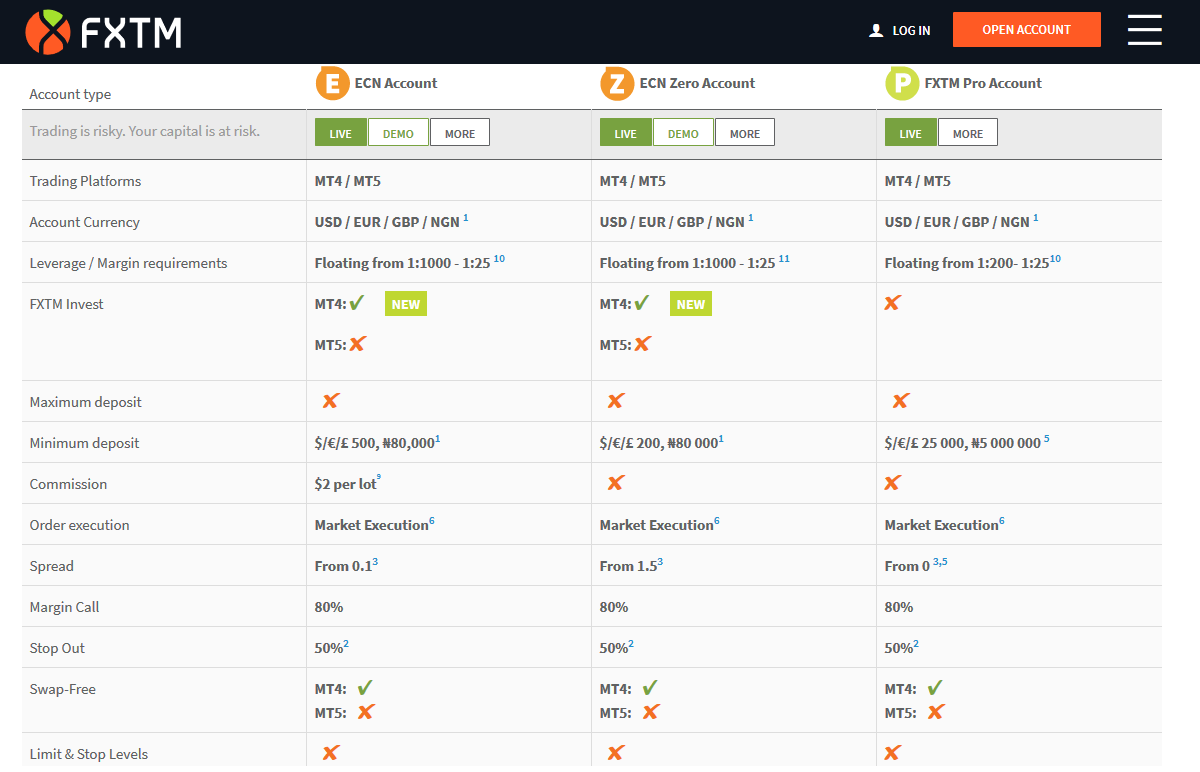 With this account You can trade in standard lots, a maximum Lot size of 100 per trade for unlimited number of orders. The margin call level is 80% and stop out is 50%.
2) ECN Zero Account: The minimum deposit for a ECN Zero Account is $/€/£ 200, with the same leverage, but the spread is much higher than ECN MT5 account.
3) FXTM Pro Account: The minimum deposit for a ECN Account is $/€/£ 25000, a maximum leverage of 1:200. But the average spread is lowest with this account.
Overall, we recommend you to choose FXTM's MT5 ECN account as the spread is the lowest with this account & the deposit requirements of $500 are also not very high.
How to open account with FXTM
Step 1) Click on Open account button: First of all on your browser open the home page of FXTM and then click on the Open account button at the top right side.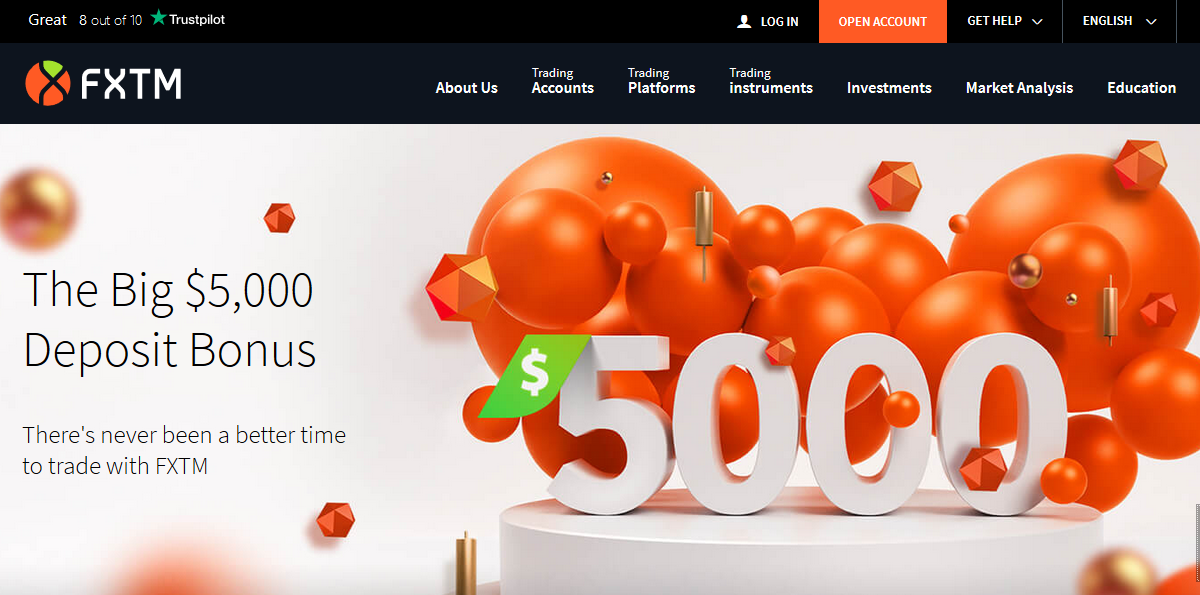 Step 2) Fill the details: Now in open Account page you need to fill the Registration details.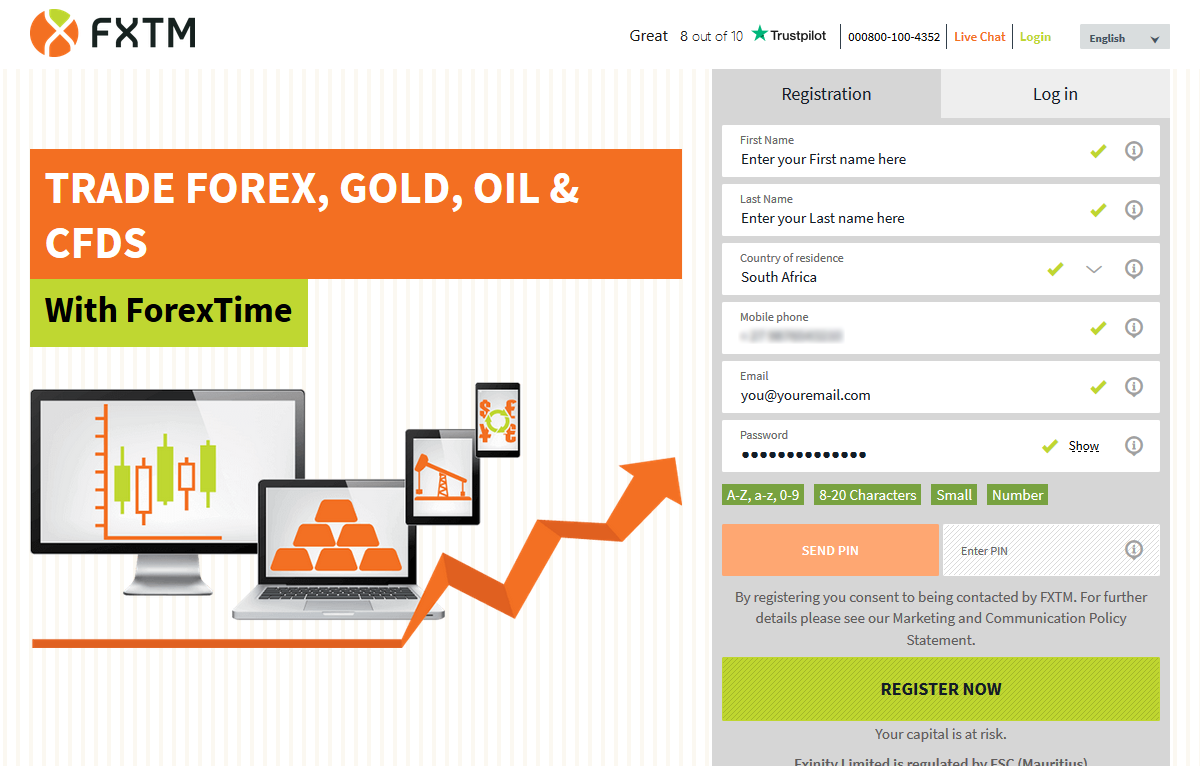 Step 3) Verify the Email: While entering the registration details you also need to verify your email by Clicking on the Send PIN.
Note: You need to enter the PIN receive on your email to complete the verification process.
Step 4) Complete your Profile: Once verification process is completed, you need to complete your profile by entering the details on same page.
Step 5) Choose Trading Account Type & Account Currency: After account setup, you need to choose the trading account type (like FXTM standard account to ECN account). Your preferred account currencly will also be selected on this same page.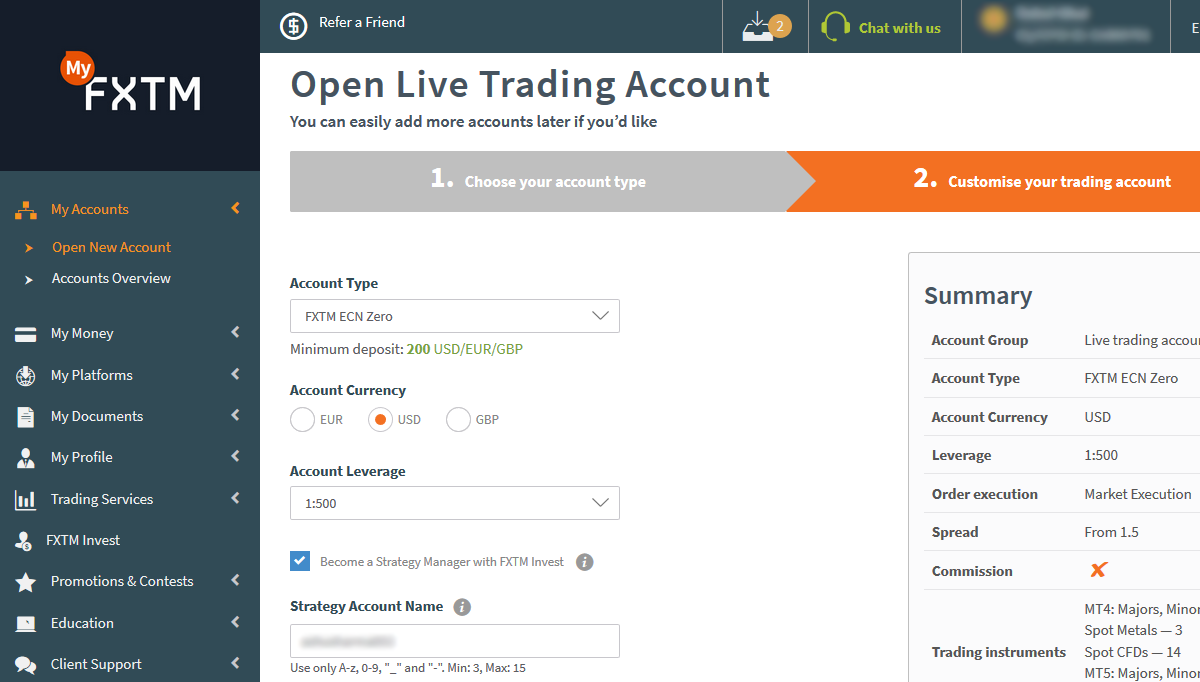 Step 6) Make First Deposit: Once account has been setup, you need to make the first deposit to add funds to start trading in your account.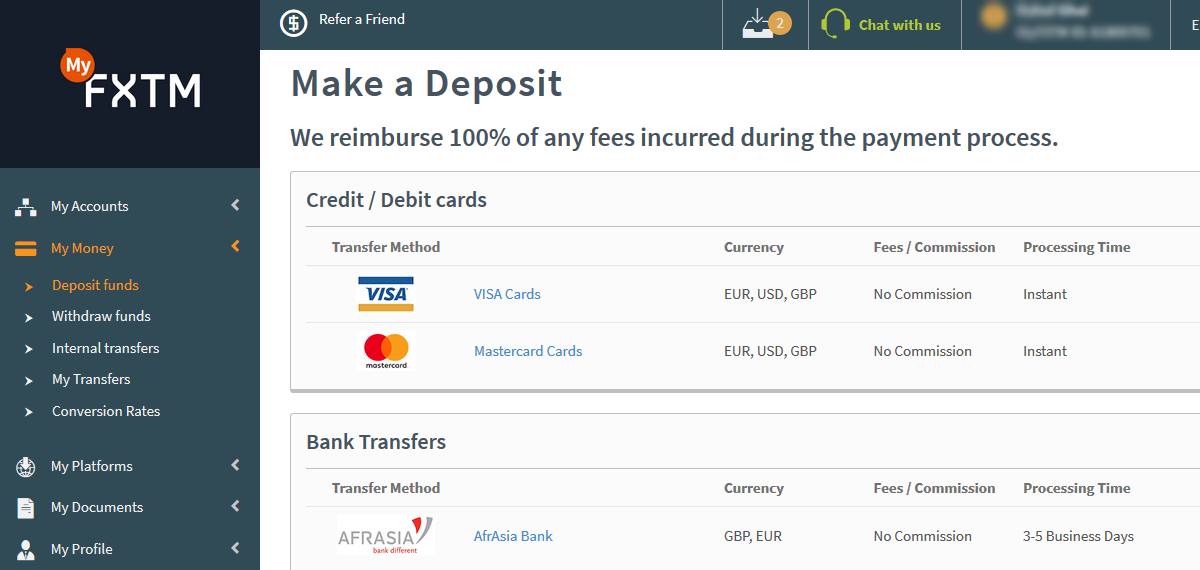 Trading Instruments
FXTM offers trading on a wide range of trading markets & their trading instrument offering are much better than most other brokers like Hotforex. They give access to not just trading forex but also other financial instruments like stocks.
Below are the details of the various financial instruments you can trade at FXTM:
1) Forex Trading (57 Currency Pairs): FXTM gives access to forex 24 hours a day, 5 days a week. You have access to trade 7 major and 50 minor, exotic pairs. Their spread for forex trading is lowest with their ECN MT5 Account.
2) Spot Metals: FXTM offers access to trading precious metals like Gold and Silver online. Precious metals are often considered resistant to market events meaning their value is rarely affected during economic events and may even increase during market volatility.
4) Share CFDs: CFDs, short for, 'Contracts for Difference' where the parties don't own the underlying asset but makes profit/loss based on the price fluctuations of the underlying asset. There are some advantages to CFDs that traditional markets don't offer like low margin requirements, access to global markets, low transactional fee. But they are less regulated than traditional markets, the spread may eat away the profits if there is little movement in the market and high leverage may also increase potential losses.
5) CFDs on Commodities: FXTM gives access to trade on popular commodity markets in UK and USA. CFDs on commodities like gas and oil can be traded on FXTM. Commodities are sensitive to political and economic events, which makes them attractive to traders.
6) CFDs on Indices: FXTM offers to trade indices (plural for Index) where a section of a market can be traded, instead of individual stocks. Depending on the market movement, there will be potential for profits. Examples of Stock market indices would be GDAX, SP500m, UK100, AUS200 etc.
7) CFDs on Cryptocurrencies: Cryptocurrencies, or in short, Cryptos, have shaken the financial markets after the Bitcoin is introduced in 2009. They provide an alternative to traditional currencies, are decentralised and unregulated and hence their value. As they are new, they are highly volatility. FXTM offers access to trade the Crypto CFDs against the US Dollar for Bitcoin, Etherium, LiteCoin and Ripple.
8) Stock trading: FXTM offers access to stock trading which is the more traditional form of trading markets. Traders who trade stocks aim to benefit from the increase in value of the stock. The main advantage of stock trading is that a trader can hold a stock for any period of time, hence have the ability to implement a long-term strategy. Unlike CFDs, when you trade a stock, you essentially transacting the ownership of it. Stock trading is also highly regulated and can be considered safe compared to other instruments.
FXTM Trading Platforms
FXTM offers trading services from two trading platforms, MetaTrader4 (MT4) and MetaTrader5 (MT5).
MT4 and MT5 are trading platforms which specializes in forex and futures trading. It is developed by MetaQuotes Software Company.
1) FXTM MT5 Desktop Platform: MT4 & MT5 come for PC/Mac, Android/iOS or just a web trader. MT5 is an improvement over MT4 wherein it is more suited towards a hybrid strategy of both Fundamental and Technical analysis to trade. Hence MT5 also comes with more indicators than MT4.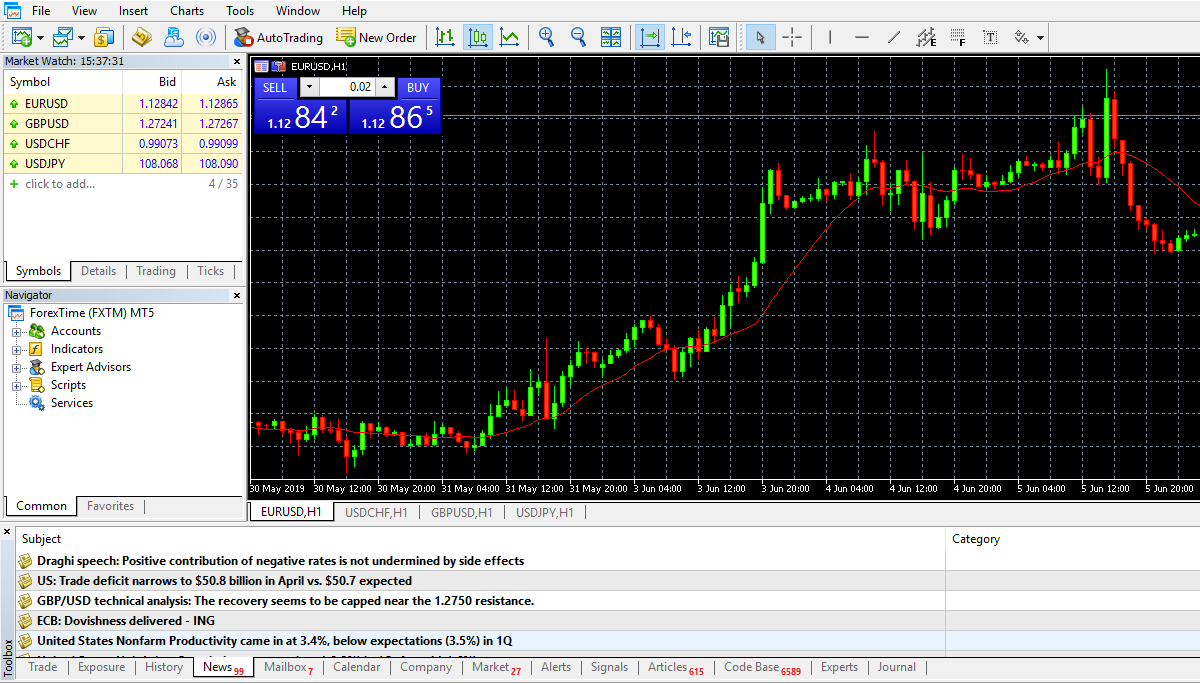 2) Metatrader for Android/iOS: Mobile (Android/iOS) trading platforms allows you to trade on-the-go. FXTM offers mobile trading with FXTM trader App, MT4 as well as MT5. All are available for both android and iOS. The real-time interactive charts, real-time quotes, technical indicators and a bunch of other features on the mobile platforms makes it easier to fit trading your busy schedule.
Deposit and Withdrawals at FXTM
FXTM has many deposit and withdrawal methods for South Africans, but they charge fees on withdrawals via bank transfer. The methods are common for both withdrawal and deposit methods.
Here are some brief description about the payment methods of FXTM.
Deposit Methods
Amount can be deposited or funds in your account can be added using the below methods:
1) Credit Cards: Master Card, Maestro, Visa can be used to add funds in your account.
2) E-Wallets: Alfa-Click, WebMoney, Dixipay, Neteller, Skrill / Moneybookers and many more are available.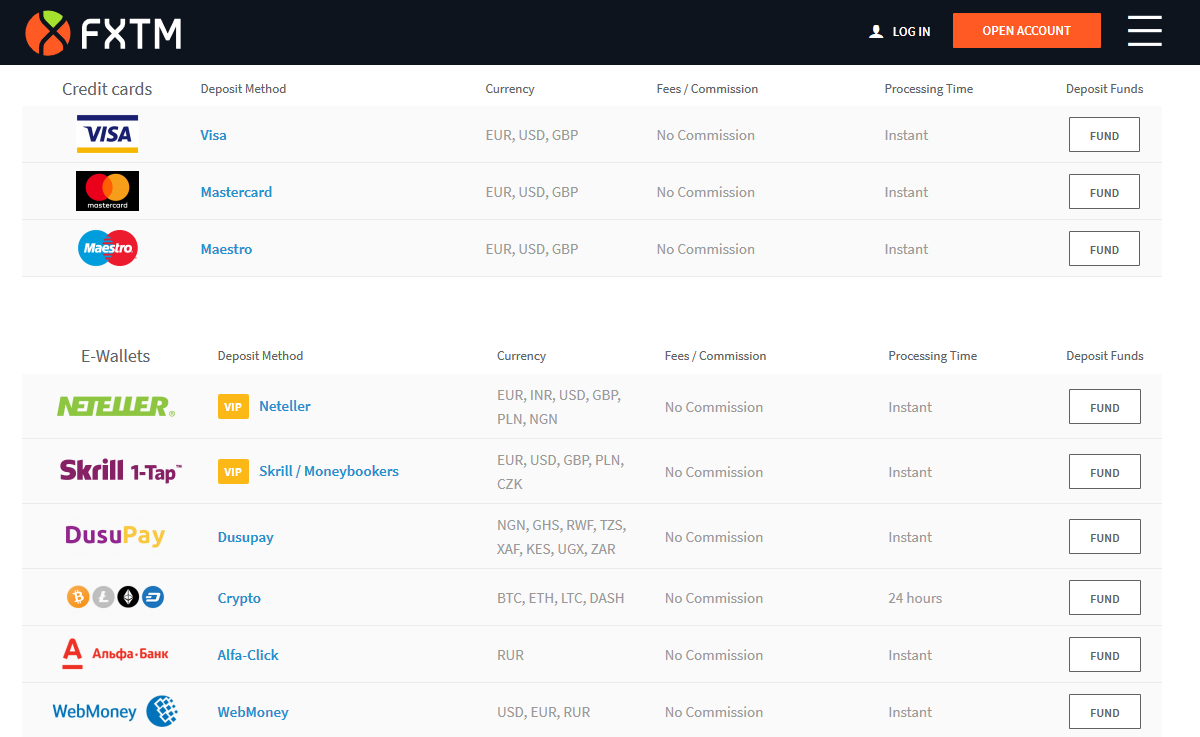 3) Bank Transfer: Transfer from your bank to thier bank account using bank wire transfer option is also available.
Withdrawal Methods
1) Debit/Credit Cards: VISA Card, Mastercard, Maestro and China Union Pay can be used.
2) E-Wallets: Neteller, Skrill / Moneybookers, Crypto, Dusupay, WebMoney, Dixipay and many more can be selected as per your preference.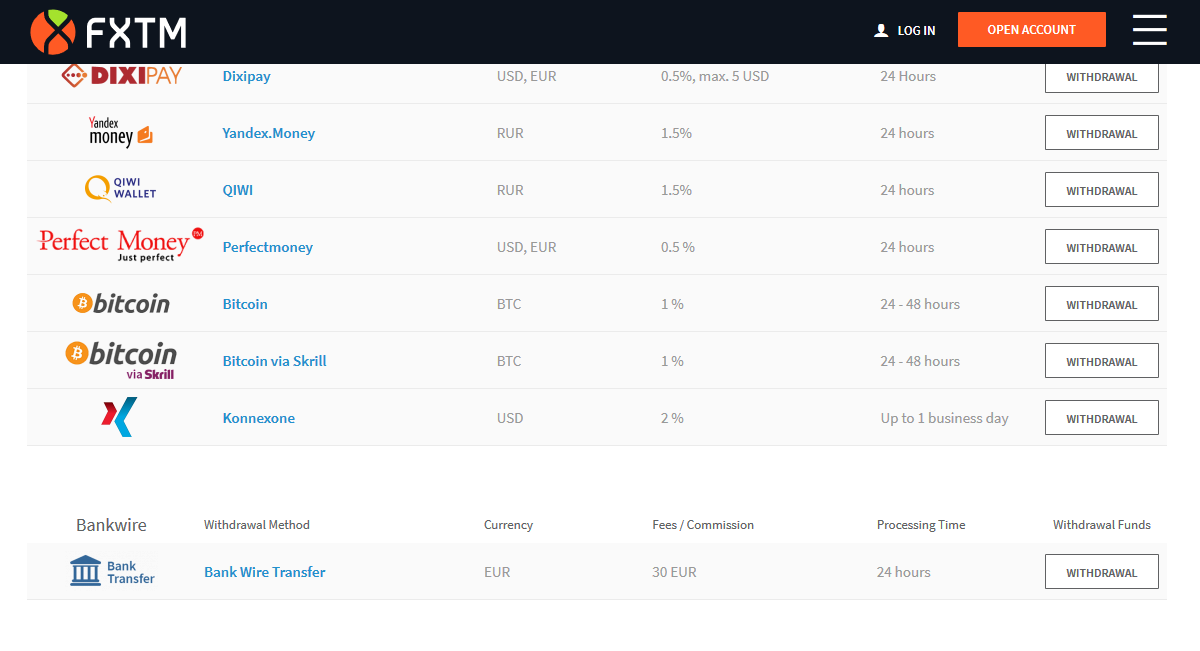 3) Bank Transfer: Bank Wire Transfer option is available to withdrawal funds from your account.
Moreover as per stand KYC (Know Your Customer) terms, you need to verify your account before withdrawing the funds from your account.
FXTM Bonus
FXTM does not have any active bonus promotions right now for South Africans. The are only offering Cash back promo for active traders but not welcome bonus.
We will update this section for FXTM bonus once they have any new promotions for new traders.
FXTM Customer Support
We have tested and FXTM's support is really good.
FXTM's support is available 24 hours during Monday to Friday. While during weekend support hours are 11 AM – 04 PM on Saturday and 12 PM – 08 PM on Sunday.
Phone Support (no South African number): FXTM currently does not have local phone number in South Africa. But you can call at their international phone number (+44 20 3734 1025) anytime. Moroever you can also request for call back by sending a message via email or live chat support.

Email Support: You can drop email at their email [email protected] from your email. Normally they reply within 24 hours for any general inquiry. But this time frame may vary depends upon the type of query or issue.
Chat Support (Recommended): They also provide the support to all clients via Live Chat at their website. Their chat support is very effective and quick responsive.
Tutorials and Education: Large number of tutorial to help clients and forex education material is also available on their website.
Although they don't have a local phone number in South Africa, we still found their support (especially live chat) to be really exceptional in terms of their knowledge & response time.
Do we recommend FXTM?
Yes, we do recommend FXTM.
FXTM is highly regulated broker that is regulated locally with FSCA, and internationally with Top-tier regulators like FCA in UK, CySEC (Cyprus), hence trading with them is very safe for South African traders.
Also, they have an exceptional customer support team (both live chat & phone) that works round the clock to offer the best service, an easy account opening process, and numerous ways to deposit/withdrawal.
On the downside, FXTM has high spread with Standard & mini accounts and non-trading charges (inactivity fees & fees on withdrawals) due to which we are not in the favor to trade on their normal standard accounts.
But if you want to go with them then we recommend you to go with ECN MT5 account with which they offer as low as 0.1 variable spread.
FXM FAQs
What is the minimum deposit at FXTM Broker?
The minimum deposit amount with FXTM depends on your account type. Traders based in South Africa can open Live trading account from $10 with FXTM's Cent account.
Does FXTM offer ZAR Account?
Yes, FXTM is not offering ZAR account to their South African clients. Traders can choose between USD, EUR & GBP Account Currency. You can deposit in ZAR which will be converted to your account's base currency based on the latest exchange rates.
Is FXTM regulated by FSCA?
Yes, FXTM is authorized by Financial Sector Conduct Authority (FSCA) since 05/07/2016 under FSP number 46614 under Category I for Derivative instruments.
"Do you have experience with FXTM South Africa? Please consider sharing your experience with a review below – good or bad – doesn't really matter as long as it's helpful to other traders!"
We only accept user reviews that add value to fellow South African Traders. Unfortunately, not all reviews that you post with us will be published on the website. For your review to be approved, please share your detailed & honest experience with the broker – either positive or negative. Thank you for helping out other traders with your valueable feedback!
Important: We don't accept any payments or kickbacks from any forex broker(s) to delete or change any reviews. We welcome Forex Brokers to reply to reviews on our website & share their side of the story to keep the process honest and fair for both sides.
user reviews for FXTM South Africa