Exness Review 2022
Exness is the #3 best rated forex broker in South Africa. They are regulated with top regulators i.e. FSCA, FCA (UK), CySEC (Cyprus). We like their low spread with Standard account, good support and instant withdrawal options. Read our Exness review to learn whether they are a good choice for you!!
Exness is one of the largest forex broker in the world. They were established in 2008 and now have over 209,000 active traders with $974.5 billion USD monthly trading volume in July, 2021. This makes them one of the largest broker in terms of Traded volume.
So what makes Exness good? To start Exness offers really low spread of almost zero pips with their ECN account. They are regulated by the FSCA in South Africa, and are also regulated with 2 other top-tier Regulators i.e. FCA (UK) & CySEC in Cyprus. So we consider trading with them to be really safe.
Exness offers ZAR base currency trading accounts & local Internet banking deposit & withdrawals in Rand to traders in South Africa.
We have tested Exness for their regulations, trading account types, overall fees, bonus, customer support & many other factors. Below is our detailed review that you must read before choosing them!
Exness – a quick look
| | |
| --- | --- |
| 🏦 Broker Name | Exness Group |
| 📅 Year Founded | 2008 |
| 🌐 Website | www.exness.com |
| 🏛️ Registered Address | Central Office Park Unit No.4 257 Jean Avenue, Centurion Gauteng, Johannesburg |
| 💰 Exness Minimum Deposit | $1 |
| ⚙️ Maximum Leverage | 1:2000 |
| 🗺️ Major Regulations | FSCA, FCA (UK), CySEC (Cyprus) |
| 🛍️ Trading Instruments | 107 Forex Pairs, CFDs on 100+ Metals, stocks Cryptocurrencies |
| 📱 Trading Platforms | MT4 and MT5 for PC, Mac, Web, Android, iOS and Linux |
Regulation and Safety of Funds
Exness is a licensed and regulated forex broker with many regulators, and they are also regulated with FSCA in South Africa. So trading with Exness is considered safe for traders in South Africa.
Exness is regulated with the following regulatory authorities:
Financial Sector Conduct Authority (FSCA): Exness is regulated with FSCA for offering derivative instruments, under FSP number 51024 & FSP Name Vlerizo (Pty) Ltd. They were authorized on 11/12/2020.

Financial Conduct Authority (FCA): They are licensed as Exness (UK) Ltd with Financial Conduct Authority using license number 730729.

Financial Services Authority in Seychelles (FSA): They use the company name "Nymstar Limited" for this regulation & got license nu. SD 025. They are regulated as securities dealer by the Seychelles Financial Services Authority.
Cyprus Securities and Exchange Commission (CySEC): Exness also received license from CySEC with number 178/12. They are regulated by CySEC since 2012.
Exness is now regulated with FSCA (South Africa). They are also regulated with Tier-1 regulator FCA in UK.
Overall, Exness's regulation with FSCA, FCA is a good thing, as it is an indication that the broker is safe. Exness is regulated with 3 Top-tier regulatory authorities. We consider it very safe to trade with Exness.
Exness Fees
Exness's spread is very low compared to other brokers, probably even the lowest out of all the regulated forex brokers that we have compared on our website.
Here is a breakdown of all the fees that you will be charged for trading on Exness:
Extremely tight Spread: Exness offers variable spread with all their trading accounts. They offer extremely low spread of 1 pips on average for EUR/USD even with their Standard account. The spread is even lower with their Pro account (around 0.6 pips on average). There is no extra commission with Standard & Pro Accounts. The spread is as low as 0 pips with Raw spread account, but there are trading commissions with this account type.

Their spread in general is almost un-matched out of all the brokers offering standard accounts! It is lower than the spread offered by other top brokers i.e. XM (0.8 pips for EUR/USD with Ultra Low & 2 pips with Micro), FXTM (1.9 pips for EUR/USD with Micro account), Hotforex's spread (on average 1.3 pips for EUR/USD with Premium account).

Commission with Raw Spread Account: Exness charges commission for opening and closing a position with Raw Spread account. And the commission is calculated according to the volume of a trade in the market.

For Raw Spread & Zero account on $100,000 USD trading volume (1 standard lot), Exness charge commission of $3.5 (each order) for opening and closing the position. That is $7 for both sides. This is a bit higher than the commissions by Hotforex & FXTM with their ECN accounts.

Moreover, there is no commission(s) on trading with their Standard, and Pro accounts.

No Inactivity Charges: There are no charges for dormant account or maintenance, which most other brokers charge. So even if you will not use your account for few months, still Exness will not charge you any inactivity fee.
Rollover charges for overnight positions: Exness apply charges for the positions that are left open during the nights. This is very standard with all brokers. The amount is debited or credited to your account when the position is closed. Their typical Swap Fees is lower than HotForex, XM & other brokers. For example, for EUR/USD their Swap Long is -0.35398 & for Short it is 0.09688. By comparison, XM has a Swap Long of -5.4 & -0.9 for Short positions.

Swap or Overnight charges can be calculated using the formula:
Lots x Contract Size x Point Size x Swap Short or Swap Long x Number of Days
Overall, Exness is very competitive in terms of their trading fees. The spread is very low (lowest in our comparison for most major currency pairs), there are no hidden fees, and commission with Pro account is very straightforward.
For lowest fees, we suggest their Pro Account which has a minimum deposit of $500, the spreads are low with this account & there is no extra commission per lot.
Exness Account Types
Exness offers Live accounts as well as demo accounts. Below is the detailed description and comparison of all the trading account offered by the Exness.
Exness ZAR Account
Exness have ZAR account option for traders in South Africa. You can open your account with ZAR as your account currency, but this account currency cannot be changed later.
So, if you choose to open the account in ZAR, then you cannot later change the currency to USD. But you do have the option to open another trading account with a different account currency from your Exness client panel.
Both the Standard & the Pro account types at Exness can be opened with ZAR as your Account's base currency.
Exness Demo Account
Exness does offer demo accounts.
Exness demo account has all the features of their real accounts. They offer demo account for their Mini account, Classic account and ECN account.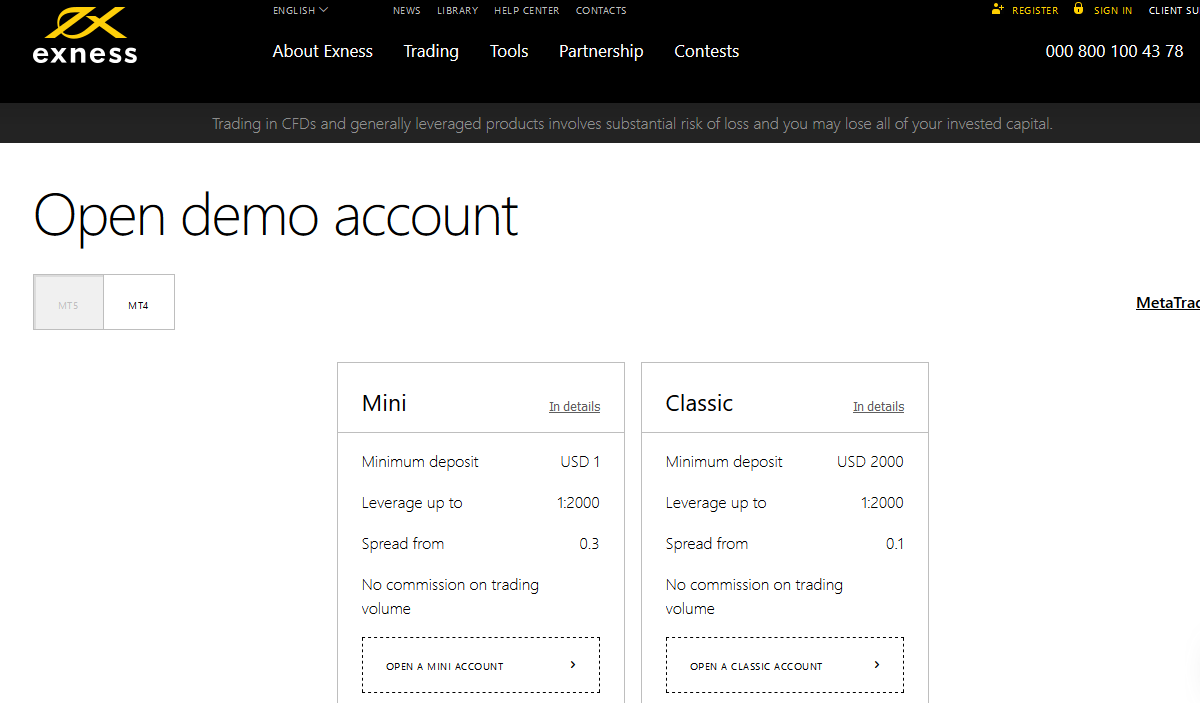 Before opening a real account with Exness, you should test out their platform on demo. But like almost every other broker, the environment (spread, bid/ask) on their demo account can be a bit different from Live accounts sometimes, so you should use demo for building your strategy only.
Exness Real Live Accounts
Exness offers 2 types of Live trading accounts on their website. You can choose any one of the trading account as per your requirement & after comparing the features.
Here are the list of detailed features that come with all their Live trading accounts:
$1 Low minimum deposit: The minimum initial deposit depends upon your account type with Exness. The Standard account at Exness has a minimum deposit is 1 USD.
You can also deposit in Rand via Internet Banking in South Africa. The minimum deposit required for Bank Transfers is $10. If your Account is in ZAR Base currency then there will be no currency conversion rates applied.
For eg: If you deposit R1000, then you will receive this full account in your ZAR Trading Account.
Instant & Market Order Execution (depends on your account): Exness offer Instant order execution with Standard accounts.
But with Pro and Zero account they have market execution. So you should carefully choose your account type depending on your order execution requirements.
Negative Balance Protection: Exness offers negative balance protection to their clients in South Adrica, in case your account balance goes into negative.
ZAR Base Currency Accounts: Exness offers trading accounts with ZAR as a base currency option. You can open account in ZAR or USD as well.
Below are all the 4 Trading accounts offered by Exness:
1) Standard Account: For Cent account the minimum deposit is 1 USD. It means you can start trading using this account using only 1 USD.
Using Standard Cent MT4 account you can open the trading position lower trading lots, which is only possible with Exness.
Cent account has very high leverage when compared to accounts of another brokers. You will get upto unlimited leverage in Cent account. But we don't recommend you to trade with very low balance or use over 1:30 leverage.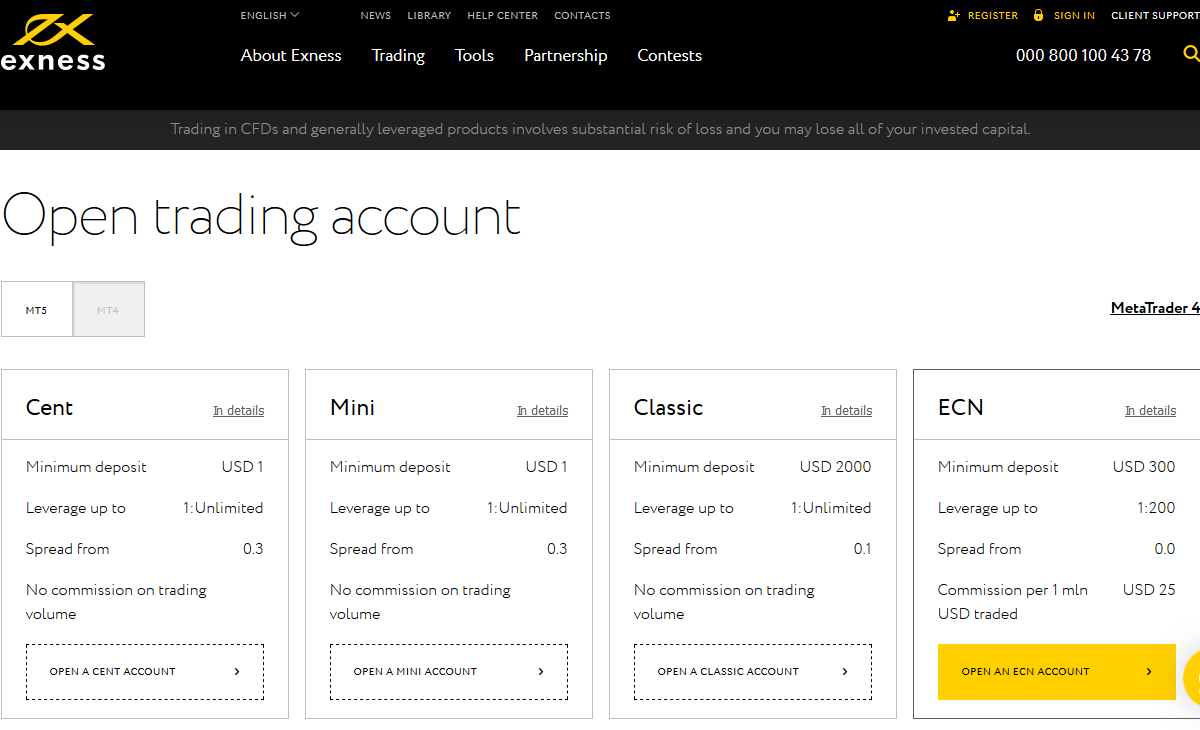 2) Pro Account: The minimum deposit for Pro account is 500 USD. You can trade mini lots with this account, and the spread for EUR/USD is as low as 0.6 pips.
3) Zero Account: This account is made for professional traders who need very low spread, as low as 0 pips spread. To open Zero & Raw Spreads account you need to make a minimum deposit of $500 which is the initial deposit.
There is $7 commission with Zero & Raw Spread accounts. Their commissions for trade is higher than other brokers. There is no limit on maximum volume can trade in this account.
The minimum deposit in Zero account to start trading is USD 500.
How to open account with Exness
Opening an account with Exness is really fast an simply. It only involves a few steps and does not take much time.
You simply need to follow the below steps to create an account with them to start Trading:
Step 1) Setup New Account: First of all you need to open the home page of Exness and strat filling the details under New Account Section as shown in the below screenshot.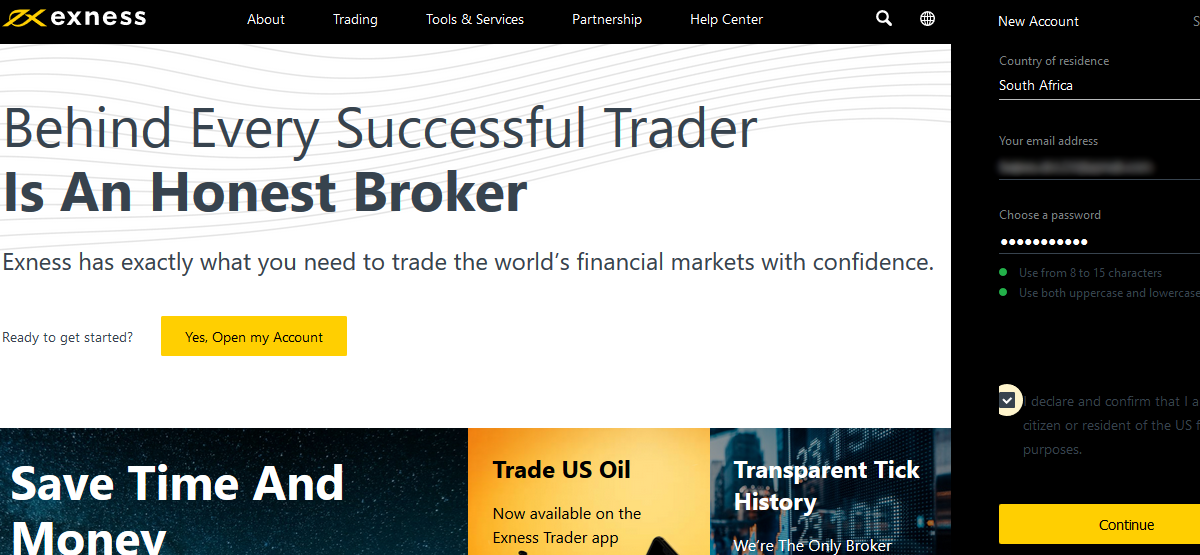 Step 2) Fill Details in Registration Page: Now you will be redirected to Registration page where you need to enter the General & Personal Information.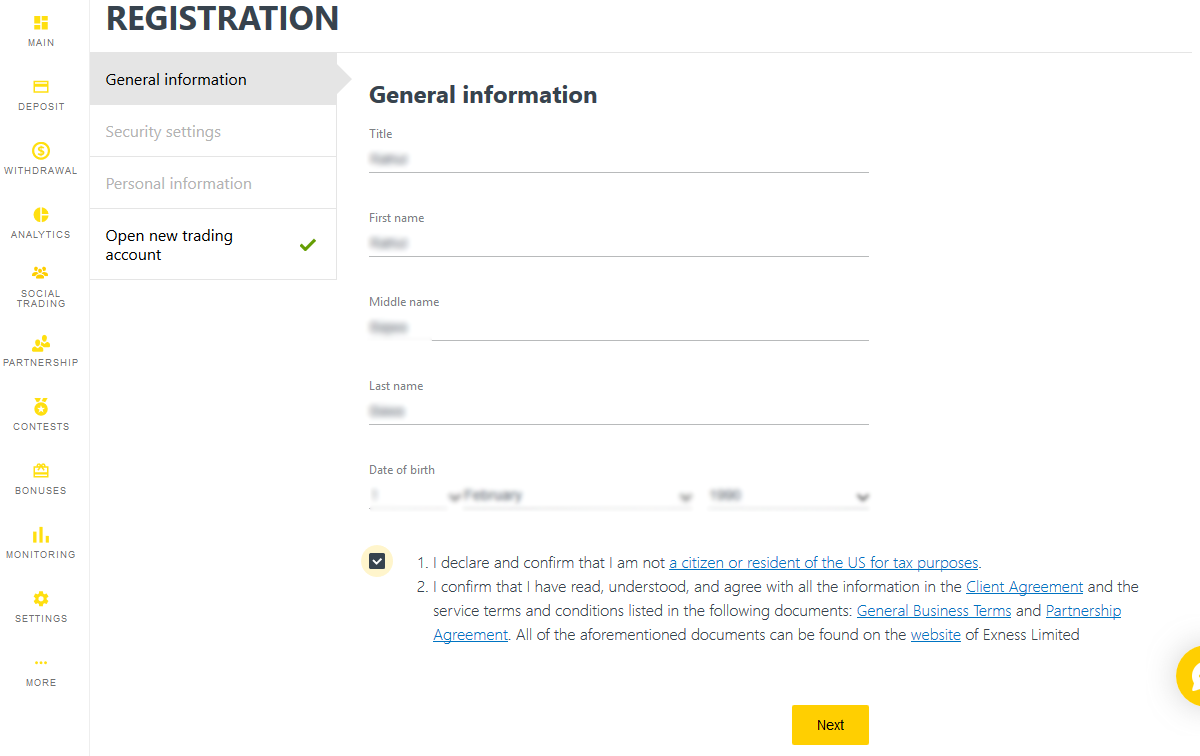 Step 3) Select Account Type: After finished with filling the details you need to select the Trading account type with which you want to start. You need to click on Open New Real Account and then select the trading account type.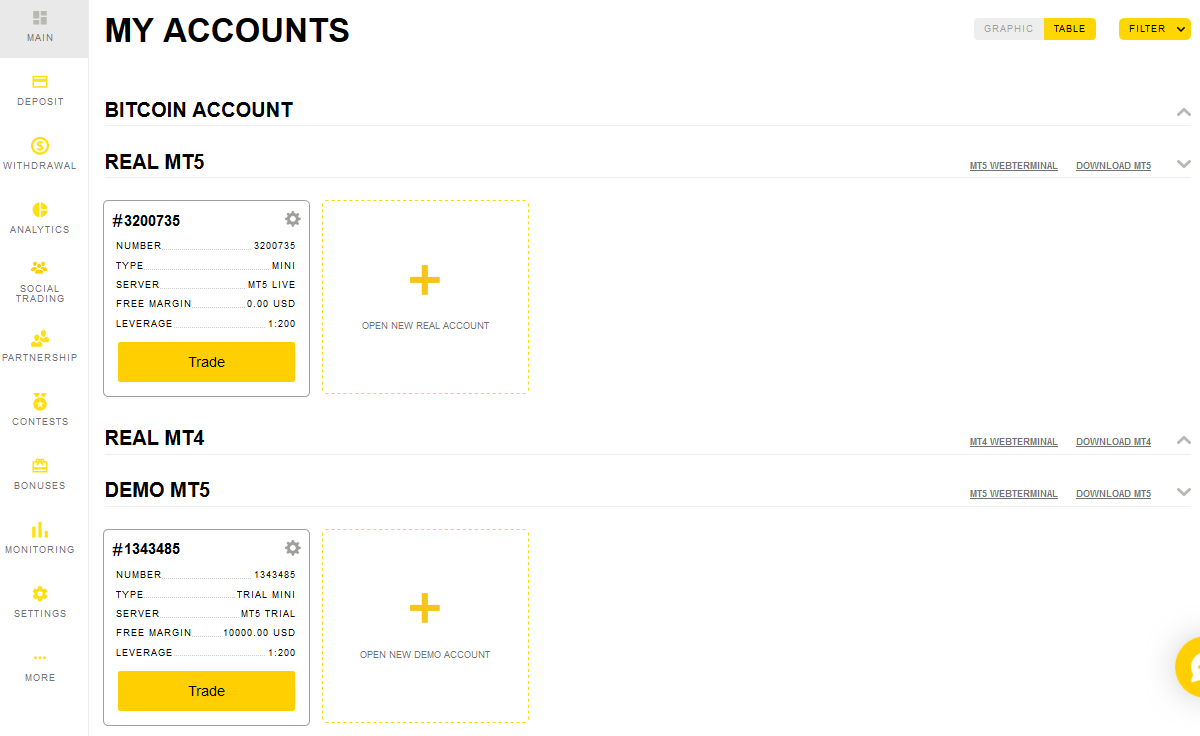 Step 4) Select Leverage and Base Currency: While selecting the trading account type, you also need to select the leverage and Base Currency for your trading.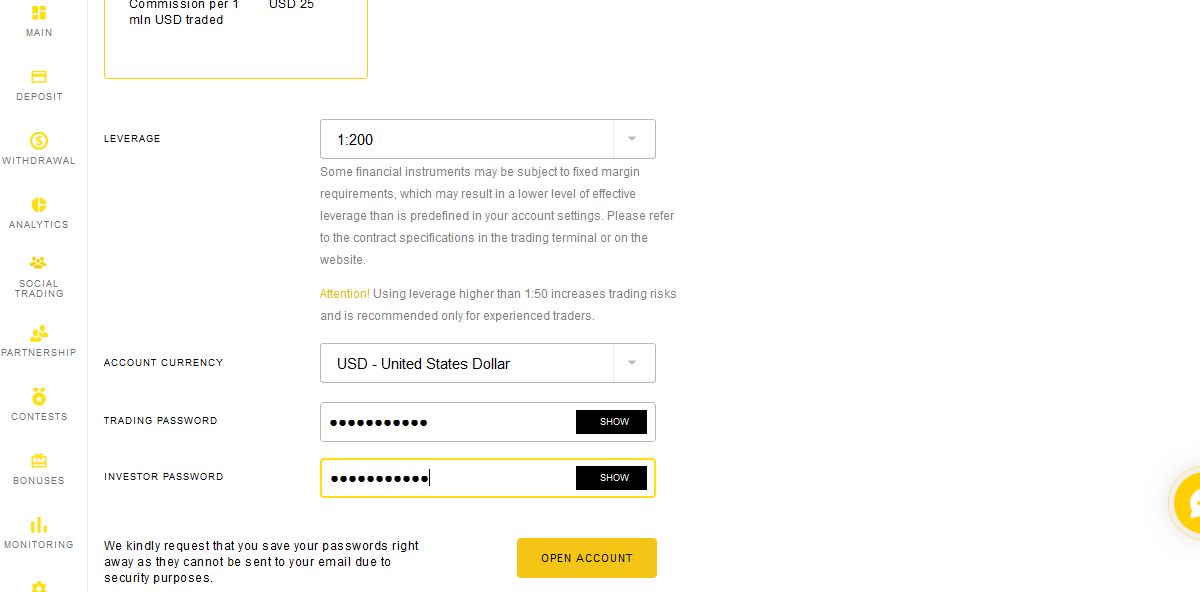 Step 4) Verify your account: At last you need to verify your account by uploading your documents like ID proof and Address proof.
Note: It can take maximum 24 hours to verify the documents. You will receive a confirmation mail once your account us verified.
Congratulations! Your account has been set up and now you can start trading with them. In case of any issue while registering your account with Exness then you can easily contact them via instant live chat support on their website.
Exness Trading Platforms
Exness supports 2 Metatrader trading platforms i.e. MetaTrader 4 (MT4) & MetaTrader 5 (MT5), which are developed by MetaQuotes Software Company. Metatrade is probably the best trading platform for technical traders.
Exness's MT4 can be downloaded from their website and its installation takes few minutes i.e approximately 1-2 minutes.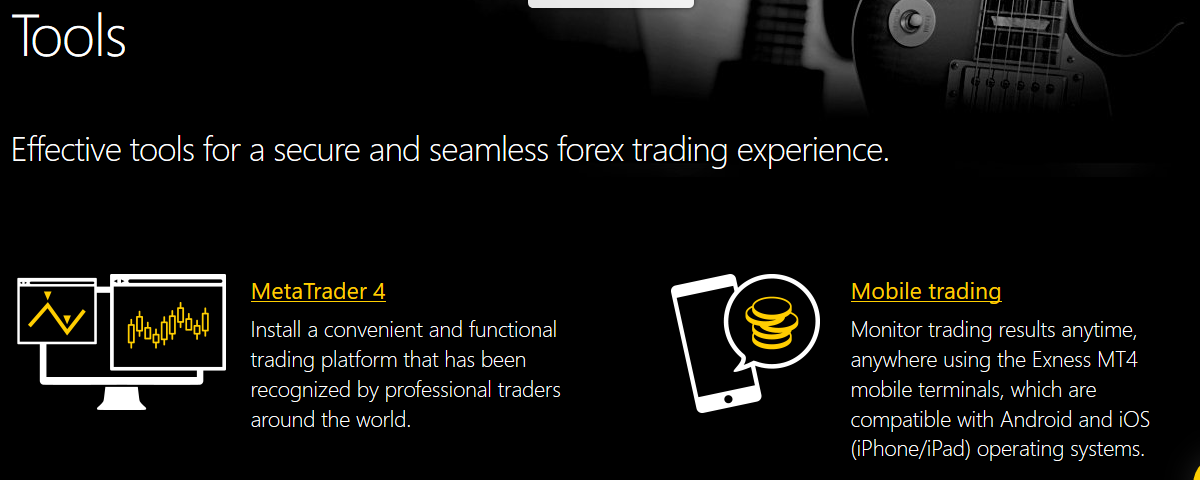 Here is more information on the Metatrader platforms offered by Exness:
1) MetaTrader 4 (MT4): MetaTrader 4 can be downloaded from the Exness website for the operating system of Linux, Windows, Android, iOS and MAC. You can use charting tools, EAs & even news feed is ibuilt in the platform.
Their MT4 is fast (we did not experience any freezing), has many features.
2) Meta Trader 5 (MT5): MT5 is the latest version of Metatrade & Exness does offer it. Their MT5 platform is available for Mac OS, Linux, Windows, iOS, Android. But their MT5 is only available for Mini & Classic Trading accounts.
Also there is an Exness app available on Android and iOS, which can be useful for Exness clients to trade and manage their account. But we have not tested their app yet.
To sum up on Exness's platform, they offer the latest & best MT4, MT5 platforms. Some brokers don't offer the latest MT5 platform, so we consider this to be a pro with Exness.
Deposit & Withdrawal Options
There are multiple options for withdrawing and depositing the funds at Exness.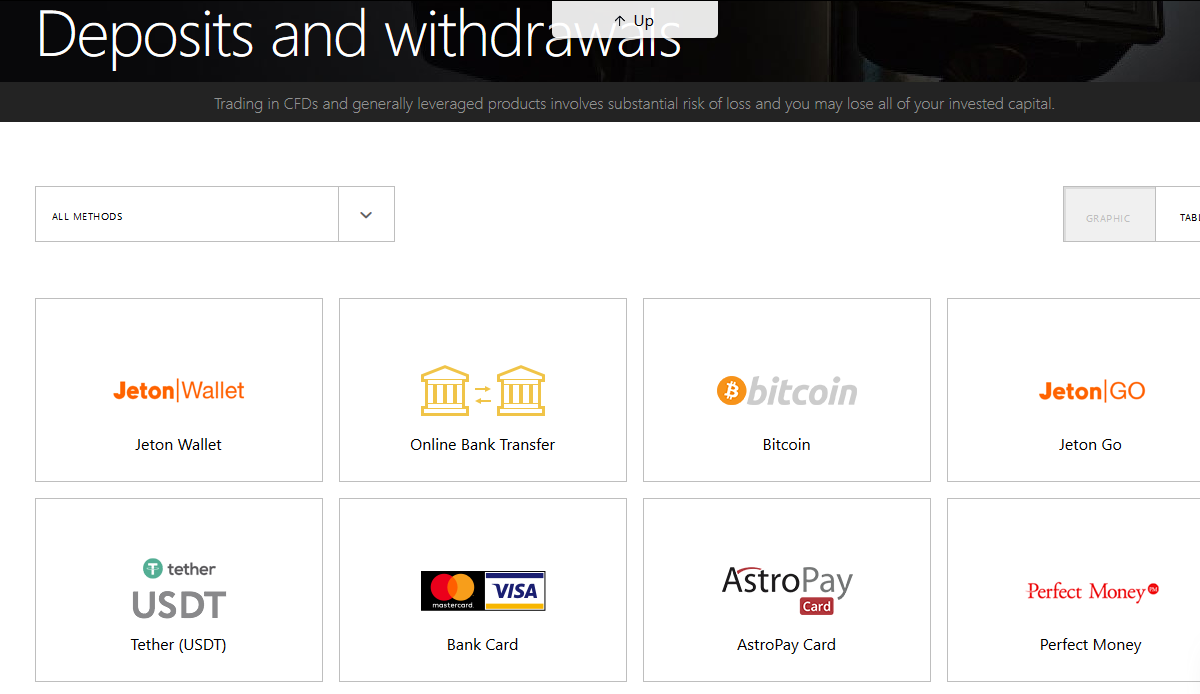 Here are some common methods that you can use to add or withdraw funds :
Deposit Methods
1) Credit/Debit Cards: You can use your VISA or Master credit or debit card to add the funds. In case of using the card you will get instant activation. The minimum amount for deposit using the card is $3.
2) E- Wallets: Transfer using various E-Wallets like Neteller, Skrill, Perfect Money, etc. is also accepted. Minimum amount for depositing funds using the E-Wallets vary depends upon the type of E-Wallet that you will choose. You can check all the fees from here.
3) Internet Banking Transfer in Rand: Traders in South Africa can fund their Exness Trading Account in Rand via accounts in ABSA Bank, Standard Bank, FNB, Nedbank, Capitec Bank & Investec Bank.
A minimum of $10 is required for deposit funds using the Bank Transfer. Additionally, if your account currency is in ZAR then there is no commission or conversion fees. But if your account base currency is in another currency like USD, then there will be an exchange rate involved which you will see during depositing of funds. Deposits via Internet Banking Trading method are instant (which means that the funds will be credited within few minutes max.).
Withdrawal methods
1) Credit/Debit Cards: You can receive the withdrawal on your card that you was used while making deposit on their website. The minimum amount of your profits required to receive using the card is USD 3 & maximum amount can be $10,000. There is no commission or fee on it and the process can take 1 min – 7 days to complete.
2) E-Wallets: There is instant withdrawal via E-Wallets. Exness does not charge any commission on withdrawal. You can check the minimum and maximum about that can be withdraw on Exness website.
3) Local Bank Transfer in Rand: You can receive withdrawal in your local bank transfer account in South Africa by going to "Withdrawals > Internet Banking" in your Exness Account.
There is no withdrawal fees with this method, but the withdrawals can take up to 72 hours or 3 Business days. If your base currency is in ZAR, then there will be no conversion rates applied, but if your account currency is different then you will see the conversion rate during withdrawal.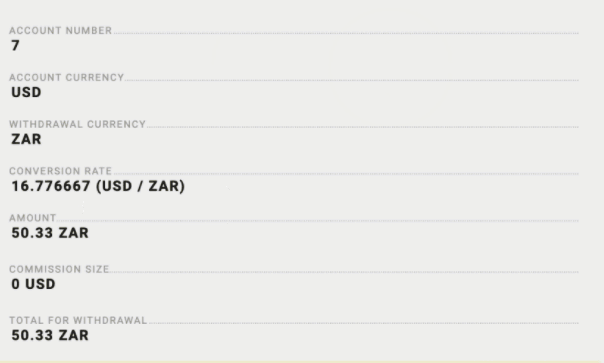 Note: During withdrawals, you will be sent a code by Exness via email or SMS which you need to enter to process your withdrawals.
As per our User reviews, some users have complained about the issues with withdrawal at Exness. In any such situation, you should reach out to their support to find the exact issue with the withdrawal not being processed.
You must note that sometimes their support can take some time to respond to queries. You should also raise any issues via their Live Chat support on their website.
Exness Bonus
Exness does not have any bonus available currently for new South African traders or existing clients. They rarely offer any bonus or offers, and this is where they lack.
If they will announce any bonus or promotions in future, we will update it for you. But for now, if you are looking for brokers offering bonus then you should check out Hotforex's 100% bonus or XM trading's 50% deposit bonus.
Exness Customer Support
Exness's customer support is not the best according to our latest tests! The support hours of Exness are 24 hours in a week. Their English support is also available on Saturday and Sunday.
Here is how you can get support at Exness:
Slow Live Chat Support: Live chat is available 24/7 in English language for South African traders. We have noticed that there is some hold time on chat and it takes more than a minute (on average) to connect. Also, we experienced that there were some delays in responses by the chat support staff we were talked to during our tests.

You are first connected to their chat bot which you can use to get answers to most FAQs. But if there is some query that is not resolved, then you can connect to their Live Chat Agent. We found that in general, there is a lot of Hold Time on their chat support
& most of the times there are long queues, so you will have to wait for a few minutes to connect to their chat operators.

Overall, their chat support is not the best.

No Local Phone number: You can contact Exness on their international phone number 000-8001004378 or you can request for call back on contact us page of their website. but there is no local phone number available currently.
Email Support is slow: You can send a mail to [email protected] to send your query or issue via email. We got a response after 24 hours during our test, they normally reply to all queries within 24-48 hours. But in some cases we noticed that there was no response at all to our queries for a few days, but we got a response when we re-contacted the support, so this is an issue.
Exness support is not the best when we compare it to the other brokers in South Africa. We like the fact that the English language chat support is available for 24 hours during all days in a week. Their chat support is okay, and friendly once you are connected. But it took a few minutes to get all the answers to our questions.
Their email support & overall support could do much better. Also, they don't have a local phone number for support in South Africa on their website.
Do we recommend Exness?
Yes, we recommend Exness broker to traders based in South Africa looking for low fees forex broker.
Very low spread, FSCA regulated, local deposit/withdrawal options, MetaTrader platform, range of CFD instruments are some of the positive features!
Exness are regulated with FSCA, and they offer ZAR trading accounts.
They have very low typical spread even with their Standard accounts, the spread is even lower with the Pro & Raw Spread accounts. Moreover, the account types they offer are very diverse to fit all traders.
Moreover, they have instant withdrawal options which is a very unique feature among South African brokers. The deposit from the bank is free, which means you don't need to pay any additional charges except charges.
On the downside, there are no bonus offers available with Exness currently. Also, they don't have a local phone number, and their email support is not the best.
Overall, we think Exness is a really good globally regulated broker and we couldn't recommend them more!
Exness South Africa FAQs
What is the minimum deposit at Exness?
Exness has a minimum deposit of 1 USD with their Standard Account types. Traders can choose to open 'Standard Cent' MT4 account or 'Standard' MT5 Account. Their minimum deposit with Pro Accounts is 500 USD, but the spread is much lower with these account types.
Does Exness offer ZAR base currency Account?
Yes, traders at Exness can choose ZAR as the account's base currency during signup. With this all the deposits made will be converted into ZAR. However the account currency cannot be changed later, but you can open a new account with ZAR currency.
Does Exness have NAS100?
Exness have NAS100 with all their account types. You can trade USTECm i.e. US Tech 100 Index if you are looking to trade NASDAQ at Exness.
Is Exness regulated by FSCA in South Africa?
Yes, Exness is a FSCA authorized forex broker licensed for offering 'Derivative instruments' as Intermediary Other under Category I. Their FSP no. is 51024 & they were authorized on 11/12/2020. Plus, Exness is also regulated by 2 other top-tier regulations FCA & CySEC.
Is Exness a trusted forex broker?
We consider Exness to be a trusted forex & CFD broker as they are licensed by South Africa's FSCA, FCA in UK & CySEC in Cyprus. Also, they have been in business for over 10 years. Moreover, they publish quarterly Financial Reports audited by Deloitte. Overall, Exness is a reputed forex broker & considered safe for traders in SA.
"Do you have experience with Exness? Please consider sharing your experience with a review below – good or bad – doesn't really matter as long as it's helpful to other traders!"
We only accept user reviews that add value to fellow South African Traders. Unfortunately, not all reviews that you post with us will be published on the website. For your review to be approved, please share your detailed & honest experience with the broker – either positive or negative. Thank you for helping out other traders with your valueable feedback!
Important: We don't accept any payments or kickbacks from any forex broker(s) to delete or change any reviews. We welcome Forex Brokers to reply to reviews on our website & share their side of the story to keep the process honest and fair for both sides.