HotForex Review 2020
Hotforex is our recommend FSCA regulated forex broker. They are regulated with top regulators including FSCA (South Africa) & FCA in UK. We like their very low trading fee, zero deposit/withdrawal charges & 100% Bonus. Read our HotForex Review to know more why you should choose them or not!
HotForex, a forex and commodities broker, is the brand name of HF Markets Group which serves clients from around 200 countries. It is highly regulated with more than 1.3 million registered live accounts.
It is established in 2010 with an aim to provide superior trading conditions to its customers, quickly grown by setting up a customer-centric culture.
It has won more than 20 international awards for its best practices in the industry. A multi-lingual client-support in as many as 27 languages, and a wide global presence. HotForex is famous for the tight spreads it offers.
The platform offers to trade a wide variety of trading instruments and it has a reliably fast execution rate. It is highly regulated by globally reputed institutions and in South Africa, it is licenced to operate under the regulatory authority Financial Sector Conduct Authority (FSCA) of South Africa.
HotForex – A quick look
| | |
| --- | --- |
| Broker Name | HF Markets SA (PTY) Ltd |
| Year Founded | 2010 |
| Website | www.hotforex.com |
| Address | KATHERINE & WEST, SUITE 18, SECOND FLOOR, 114 WEST STREET, SANDTON, 2021. |
| HotForex Minimum Deposit | $5 |
| Maximum Leverage | 1:1000 |
| Regulation | CySEC (Cyprus), FSC (Mauritius), FCA (UK), FSCA (South Africa), DFSA (Dubai); FSA (Seychelles) |
| Trading Instruments | 49 Currencies, CFDs on Spot Metals, Commodities, Energies, Stocks, Indices, Cryptos & Bonds |
| Trading Platforms | MT4 and MT5 for PC, Mac, Web, Android, iOS |
Regulation and safety of funds
HotForex is authorised and regulated under various jurisdictions:

Being highly regulated by globally reputed financial institutions, we believe that it is relatively safe to trade with HotForex.
How are your funds secured at Hotforex?
There are a few more things which we believe makes HotForex a standout with regards to the safety of funds:
1. Insurance backed: Errors, omissions, negligence, fraud and various other risks which may lead to financial loss are covered by an insurance program for a limit of €5,000,000.
2. Segregation of funds: In the unlikely event of default of the HotForex, the company cannot use the clients' funds as they are segregated from the operational expenses of the company.
3. Accounts with major banks: HotForex brand is international and its connections with global banks enables the company to provide high liquidity.
We highly recommend HotForex with regards to the safety of funds. They are highly regulated in South Africa & Europe, so the security of your funds is backed by the top-tier regulators.
HotForex Fees
Fee is important as it is something you pay to the broker every time you make a transaction. It is therefore helpful to go into the details. Let's explore different parameters:
Lower Spread with Zero Account: Simply put, spread is the amount you pay to your broker everytime you trade. It is important that the broker offers less spread else your costs of doing business will rise.

The best part about HotForex is it offers the lowest spreads in the market, in comparison with other regulated brokers. For a major pair like EUR/USD, the benchmark spread is around 0.3 pips for a Zero account and 1.3 pips for a Premium or Micro account.

Commissions ($3 per standard lot for major pairs): Commission is charged by HotForex with their Zero accounts. The commission based structure is very transparent which you can find here.

For major pairs, the commission fee is $3 per standard Lot i.e. $1.5 to open the trade & $1.5 to close it. For other pairs, the commission fee is $4 per standard lot.

Rollover fees for overnight positions: Hotforex charges rollover fees for overnight positions. This is the interest paid or earned as a result of holding your position overnight.

In Forex, the rollover calculation involves the difference in the interest rates of both currencies. Although rollover is small, long-term investors need to consider the interest differential as rollover charges may build up.

No Deposits and withdrawal fees: HotForex does not charge any deposit and withdrawal fee. So you will receive 100% of your deposit & withdrawn amount.
Inactivity Charges (Dormant Account): Hotforex charges an inactivity fees of $5 per month in case the account is dormant i.e. without any trading activity for the past 6 months. There is no inactivity charge if your balance is zero.
Overall, HotForex's fee structure is very transparent, and we didn't find any hidden charges. Also, we noticed that HotForex offers the lowest spreads for EUR/USD in the market.
HotForex Account Types
HotForex offers different types of Accounts to its clients to suit a wide range of trading strategies. The currency accepted is either the USD or EUR or NGN. HotForex is a 100% STP broker, all the trades are executed as Market orders which means there won't be any requotes.
HotForex Demo Account
HotForex Demo account is designed to closely resemble the Live account thereby offering a seamless transition to the Live account for anybody new and test the market before putting their real money.
You will receive a $100,000 virtual money when you open a Demo account where you can test your trading strategies under the close to real market conditions.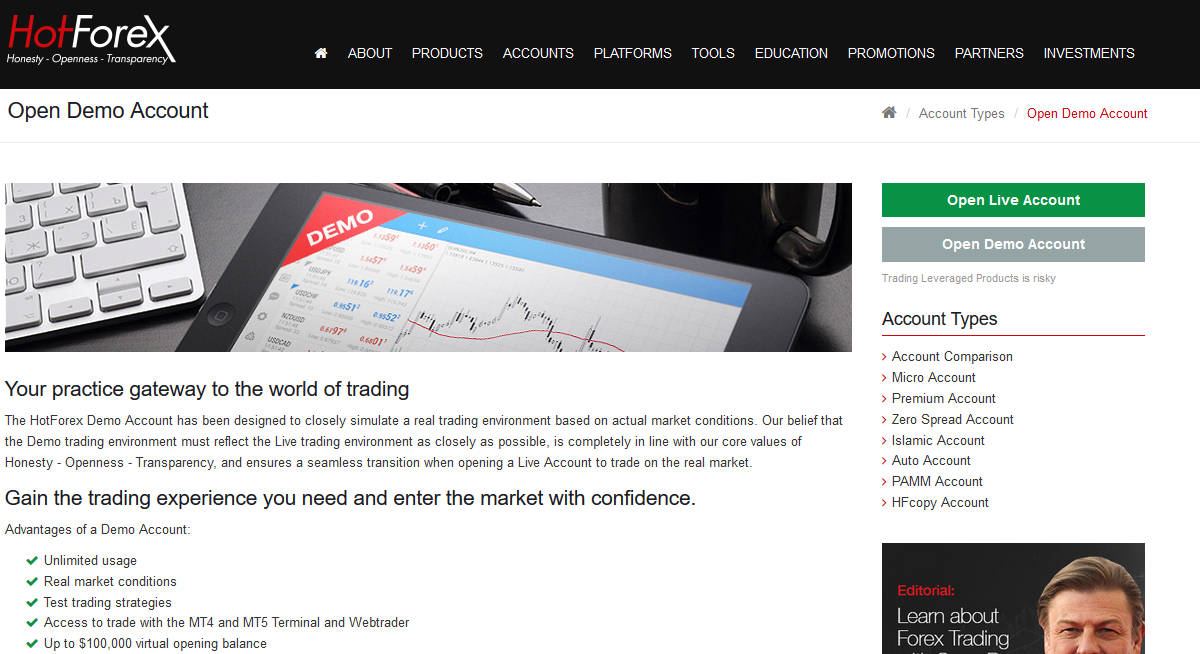 HotForex Live Accounts
There are 3 different types of HotForex Live Trading accounts.
The following features are offered with all accounts at Hotforex:
1. Negative balance protection: During the events of high volatility, sudden price movements may occur and margin calls or stop loss may not function correctly, which could lead to negative balance in the account. Under HotForex policies, client is not liable to pay back a negative balance.
Here are the Live trading accounts at Hotforex:
1) Micro Account ($5 deposit)
Micro Account has a minimum deposit of $5 (~73 ZAR), a maximum leverage of 1:1000 & access to all trading instruments on HotForex. You can trade micro lots with this account, at 40% Margin call level and 10% stop out level. No commission involved but you have to account for the variable spread (a benchmark figure of 1.3 pips). You can trade a maximum of 7 Lots per trade upto a maximum number of 150 orders.

2) Premium Account ($100 deposit)
Premium Account has a minimum deposit of $100 (~1460 ZAR), a maximum leverage of 1:500 & access to all trading instruments on HotForex. You can trade micro lots with this account, at 50% Margin call level and 20% stop out level. No commission involved but you have to account for the variable spread (a benchmark figure of 1.2 pips). You can trade a maximum of 60 Lots per trade upto a maximum number of 300 orders .
3) Zero Account (Recommended with $200 deposit)
Zero Account has a minimum deposit of $200 (~2920 ZAR), a maximum leverage of 1:500 & access to all trading instruments on HotForex. You can trade micro lots with this account, at 50% Margin call level and 20% stop out level.
This account is more suitable if you are a day-trader who places a lot of trades, as you get very low spreads (a benchmark figure of 0.3 pips), but you need to pay commission based on the volume of the trade. The overall fee in the end is much lower. You can trade a maximum of 60 Lots per trade up to a maximum number of 500 orders.
The commission-based structure is transparent and is based on the currency pair type. This account has very low spreads hence we highly recommend Hotforex Zero account.
How to Open account with HotForex
Opening account with HotForex is very simple and does not take much time. You simply need to follow the below steps to open an account with them to start trading.
Here are some detailed and explained steps that you can follow to open and account with HotForex:
Step 1) Open the home page: First of all you need to open the homepage of HotForex and after that you need to click on Open Live Account on the top right side of the screen.
Step 2) Open Live Account: Now you will be redirected to Open Live Account where you need to fill some Information as shown in this below screenshot.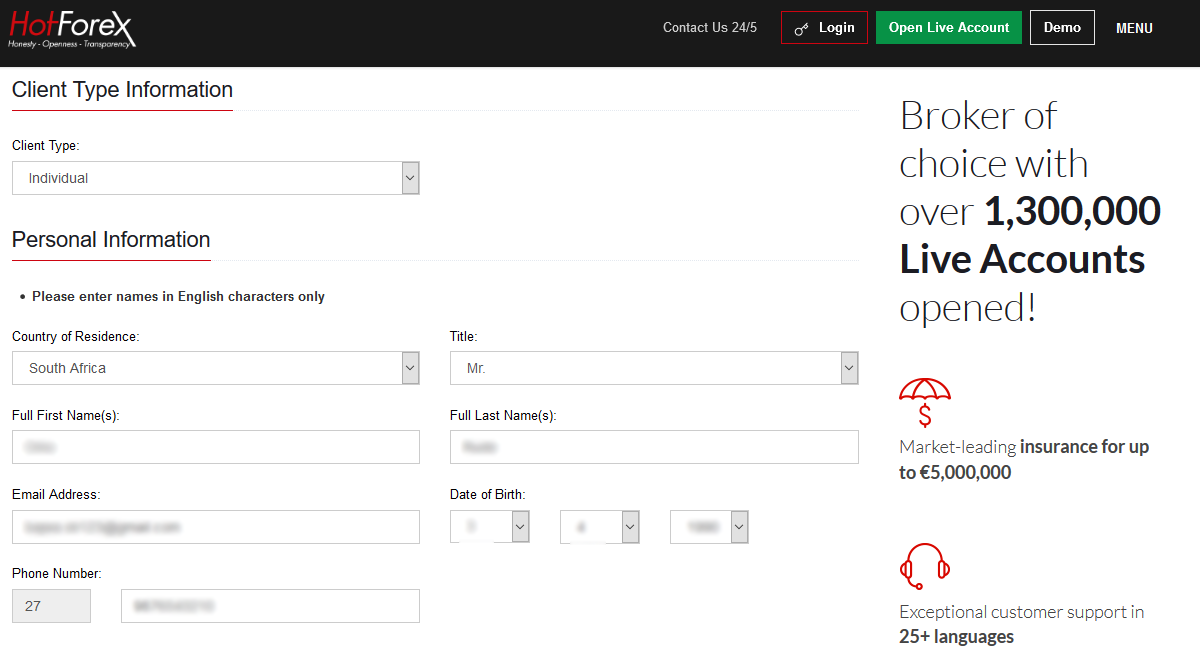 Step 3) Click on Register button: After entering the required information while signup you need to agree terms and conditions and then click on Register button at the bottom of the page.
Step 4) Account Opening Confirmation: At last you need to verify the details and email used by you by clicking on the verification link sent to your email.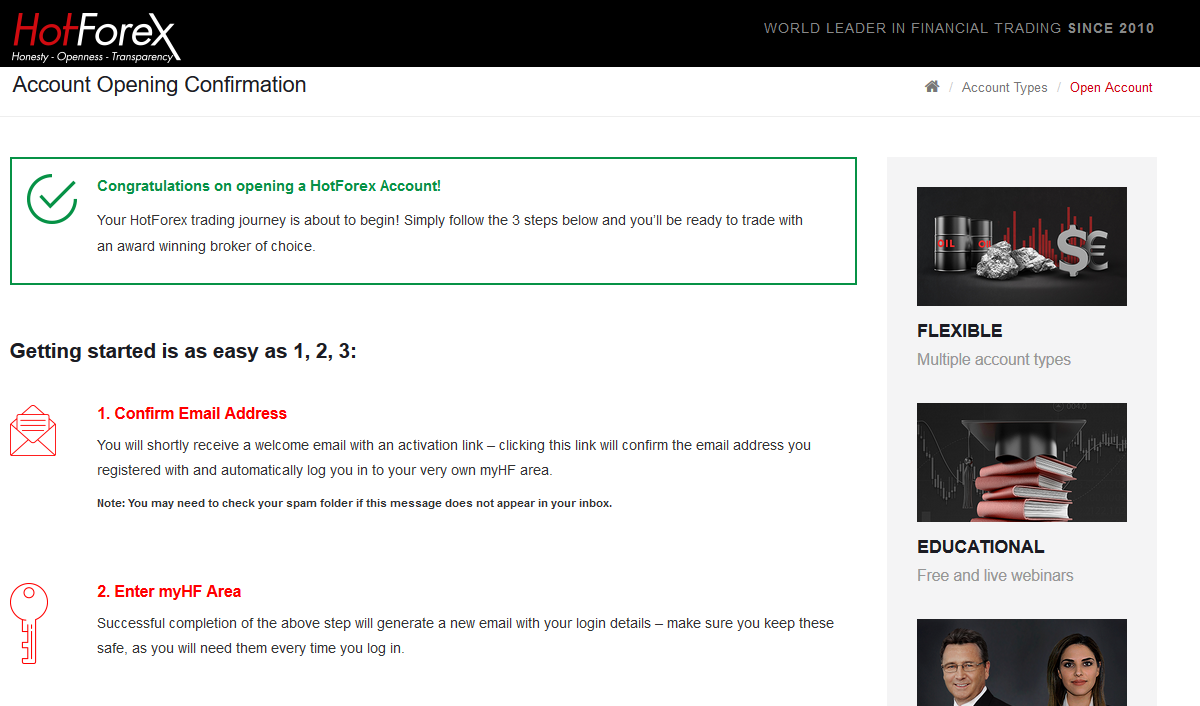 Step 5) Select Trading account & fill basic KYC details: After verifying your email you need to selecting the trading account type and then fill some basic information to complete the KYC details.
NOTE: We recommend you to start with Premium or Zero account as it comes with lower spread and very low commission fees.
Step 6) Account Verification: Once done with filling the KYC form you need to upload your ID proof and Address proof for the verification.
You can upload your any national ID proof like driving license, passport, etc and for Address proof you can upload your utility bill like telephone bill, electricity bill.
Thats All! HotForex will verify your sent documents in next 24-48 working hours and revert to you on your email with account verified message.
Trading Instruments
Hotforex allows trading under 7 asset classes (the same as most other brokers). But their currency offerings are lesser than other South African regulated brokers.
Moreover, execution desk is available for all open orders, which means the clients can close or manage all their open positions over the phone. It is not available for Market orders or to open new positions.
Here are the instruments you can trade with Hotforex:
Forex Trading (49 Currency Pairs): Hotforex offers lower number of currency pairs for trading than XM & FXTM.

But the spreads are much lower for all the pairs they offer. You can have access to trade on 7 Major pairs and other Minor, Exotic currency pairs. You can even trade South African Rand against the USD/GBP/EUR.

5 Cryptocurrencies: HotForex allows trading of 5 popular Cryptos like Bitcoin, Dashcoin, Litecoin, Etherium and Ripple against the USD or EUR.
CFDs on Metals & Energies Spot & Futures: Metals are often more resistant to various macroeconomic events hence they are a good option to diversify your portfolio. HotForex offers CFD on Metals. Metals are available on Spot market include Gold, Silver against the USD and Euro.
CFDs on Indices: Trading Index involves speculation on the movement of a section of a market, instead of individual stocks. Depending on the market movement, there will be potential for profits. You can trade both Spot market Indices (plural for Index) as well as Futures market. Examples of Indices include Australia 200, France 40, US Wall Street 30 etc. You may refer here for the full details on various Indices on offer on HotForex.
Shares CFDs: Share contracts can be traded on HotForex. They are different from trading stocks where the parties don't own the underlying asset but makes profit/loss based on the price fluctuations of the underlying asset.

They have advantages like low margin requirements, low transaction fee etc. but have a downside in high spreads where profits become less in case of low volatility. As many as 56 share contracts of reputed companies can be traded on HotForex by the time of this writing.

CFDs on Energies: Energy Contracts are on offer on HotForex for both Spot and Futures markets. Energies on offer in Futures market include UK Brent Oil, US Crude Oil and US Natural Gas. You may trade UK Brent Oil and US Crude Oil on Spot markets on HotForex.
CFDs on Commodities: Commodities are sensitive to political and economic events, which makes them attractive to traders. HotForex gives access to trade on popular commodity markets. You can trade Palladium contracts on Spot markets and variety of commodities like Coffee, Cocoa, Copper, Cotton, Sugar and Soybean Oil contracts on Futures markets on HotForex.
CFDs on Bonds: Bond contracts like Euro bond, UK Gilt, US 10-year Treasury note are also available to trade on HotForex.
Trading MetaTrader platforms
HotForex has trading platforms for all kinds of trading needs, whether it be Desktop or on-the-go using mobile.
They offer MetaTrader4 (MT4)and Meta Trader5 (MT5) trading terminals which are as good a platform as any other (maybe the best). Their platform is perfect for forex and futures trading, and is developed by MetaQuotes Software Company. It comes with versions for PC/Mac, Android/iOS.
We discuss the mobile and web terminal in more detail in this review below:
Mobile platform: HotForex supports trading on Iphone, IPad as well as Android MT4 platforms. The beauty of these platforms is the one-click execution of trades which allows you to place trades easily on-the-go. You can even perform a number of trading operations like monitoring, access to trading history, real-time charts, dynamic monitoring of account details etc which makes it very useful.
Web/Desktop Terminal: If you do not want to install the platform on your device, you have an option to check out their web platform here. You can access this directly on any browser by just launching it and logging in with your account details, place trades on just a click-of-a-button. You can view your trading activity and analyse using advanced analytical tools and charts at your disposal.
HotForex Bonus
1) 100% Welcome Bonus: HotForex is currently offering 100% welcome bonus for South African traders. The bonus is only available for new trading accounts and requires a minimum deposit of at-least $250.
HotForex Customer Support
HotForex customer support staff is very useful and can be contact easily via Live Chat Support, Email or by calling at their international number.
You can contact any time i.e 24 hours with the Hotforex Customer Support. But during the weekend Saturday & Sunday customer support is not available.
Live Chat Support (Recommended): Live Chat Support is available on their website which is very quick responsive. Moreover there is no hold time in Live Chat Support.
Email Support: You can send a mail to Hotforex at [email protected] to contact them regarding any query or issue. There are also different emails for various departments, all of which are mentioned in the Contact Us page of HotForex. Normally they reply back within 12 hours.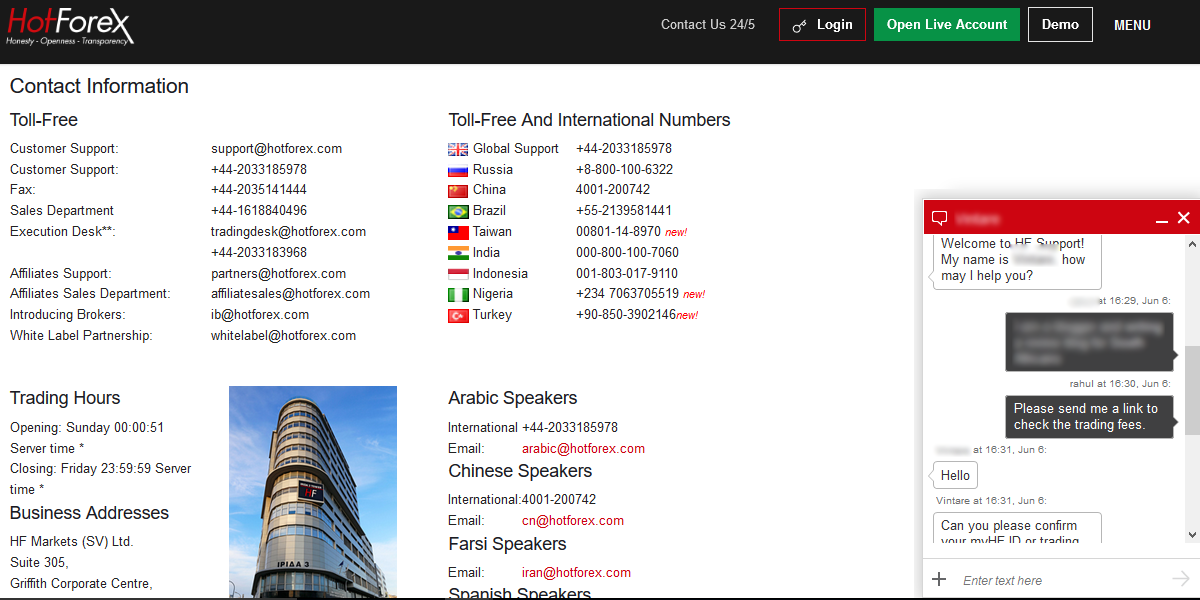 Contact us Form: You can also submit your request to HotForex by filling the contact us form on their website. It is similar to email and their response time is also same.
Phone Support: We have noticed that currently HotForex does not have local phone number in South Africa. But you can contact them on their Global number +44-2033185978. You can also submit a call back request to their chat or email.
Social Media: You can also drop a message to them at their different social accounts like Facebook, Instagram, Twitter, LinkedIn, etc.
Do we recommend HotForex?
Yes, we do recommend Hotforex to South African traders.
On the plus side, HotForex is highly regulated by reputable institutions like FSCA (South Africa), FCA (UK), CySEC (Cyprus), DFSA and FSA, so it is very safe to trade with them.
Moreover, HotForex is offering the best spread out of all the brokers that we have tested so far. For a Zero Account, the benchmark average spread for a major pair like USD/EUR is just 0.3 pips, which is the lowest when compared to other brokers. A big win here.
The rollover and commission fees are also very clear and transparent, unlike some others who don't advertise them publicly.
Plus, their 100% deposit bonus for new customer is unbeatable! Their support is also very reliable!
But on the downside, they don't have a local phone number for support in South Africa. Also the support is not available during weekends.
To sum up, HotForex offers an end-to-end solution from on-boarding, to execution and settlement of payments. Anybody who wants to signup with Hotforex should give it a shot.
"Do you have experience with HotForex? Please consider sharing your experience with a review below – good or bad – doesn't really matter as long as it's helpful to other traders!"
We only accept user reviews that add value to fellow South African Traders. Unfortunately, not all reviews that you post with us will be published on the website. For your review to be approved, please share your detailed & honest experience with the broker – either positive or negative. Thank you for helping out other traders with your valueable feedback!
Important: We don't accept any payments or kickbacks from any forex broker(s) to delete or change any reviews. We welcome Forex Brokers to reply to reviews on our website & share their side of the story to keep the process honest and fair for both sides.
user reviews for HotForex