5 Best FSCA (FSB) regulated forex brokers in South Africa 2020
We researched 10+ FSCA regulated forex brokers in South Africa, here are the best of them that offer CFD & Forex trading at lowest fees.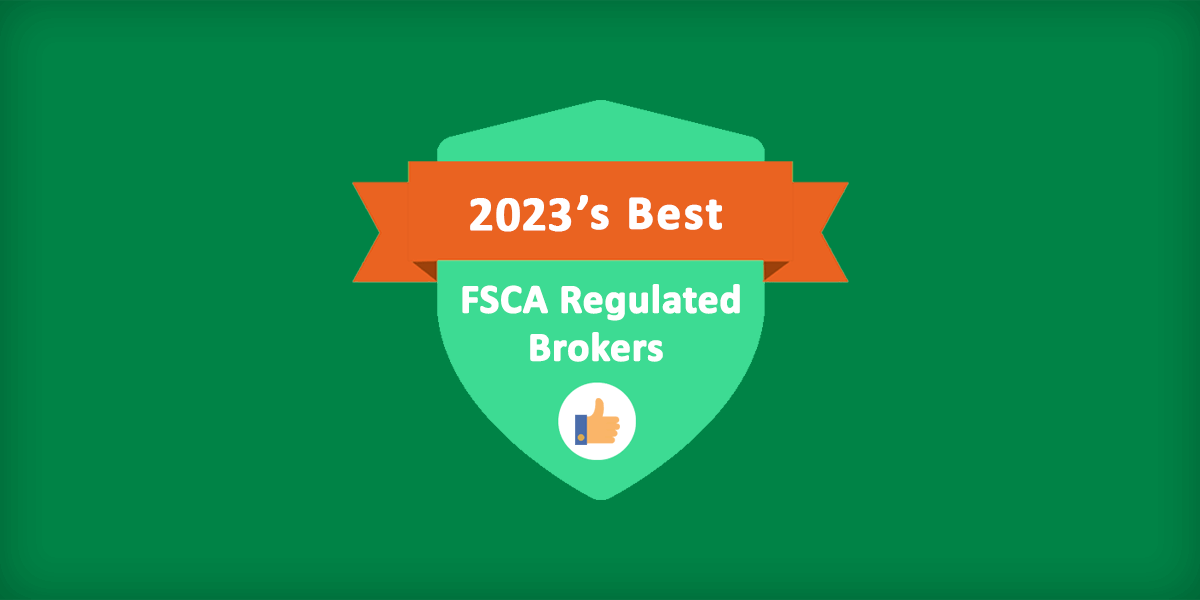 South Africa's capital markets which includes forex, CFDs are well regulated. The regulatory body for the financial markets in South Africa is Financial Sector Conduct Authority (FSCA), which was formerly known as Financial Services Board (FSB).
Although it is not mandatory for investors to trade forex & CFD through FSCA regulated brokers, and you can opt to trade with offshore brokers.
But it is advised for South African traders to trade with FSCA regulated forex brokers as this provides a safety for investors by ensuring the safety of funds and protection against any disputes and malpractices by brokers.
The regulation ensures that the investor's money is not misused in any form by the broker.
5 Best FSCA (FSB) regulated forex brokers in South Africa in 2020
To help you find the best regulated brokers, we researched all the forex & CFD brokers authorized by FSCA, and then compared their overall trading fees, platforms, number of years since FSCA authorization date, complaints against the broker, their response to customer issues, and some more factors!
Now let's compare all our selected best FSCA forex brokers, one by one..
5 Best FSCA (FSB) regulated forex Brokers Compared
Here is our detailed research on the features: spread, platforms, funding/withdrawals, available trading instruments, support & more on the selected FSCA regulated forex brokers.
1. Hotforex – Overall Best FSCA regulated forex broker
FSP Number:

46632

with FSP Name: "HF MARKETS SA (PTY) LTD"

Minimum deposit:

$5

EUR/USD Spread:

On average 1.2 pips with Premium account
Rated #1 FSCA Regulated Forex Broker
Hotforex is a FSCA authorized Financial Service Provider since 09/02/2016. They are rated best in our research due to their competitive trading fees, easy to use Metatrader platforms & good support.
Hotforex has various accounts, for beginner & professional traders. They have Premium account with average spread of 1.2 pips for EUR/USD, with no extra fees. And they have Zero account for high volume traders an average spread of 0.4 pips + $6 per standard lot for EUR/USD.
The minimum deposit required to open a live trading account at Hotforex is $5. Plus, the deposit & withdrawals at Hotforex are commission free. Their support is also very quick, available 24/5 via chat, and 24/7 via emails.
MT4 & MT5 platforms are available for all traders. Their options of trading instruments are very wide including – 49 forex pairs, CFDs on metals, indices, 56 shares, 7 commodities & 7 Crypto pairs.
Hotforex Pros
Regulated with FSCA since 2016 for offering "Derivative instruments". So trading with them can be considered safe.
Their account minimum deposit is $5 with their Micro account. In general, it is low with all their account types.
They offer 6 different account types for various types of traders.
Quick & responsive support.
Hotforex Cons
They don't have a South African phone number for support.
2. Avatrade – Fixed Spread FSCA forex broker
Rated #2 FSCA Regulated Forex Broker
Avatrade is regulated with FSCA since 10/11/2015. They are a well regulated broker globally & offer really competitive fixed spread trading account. We recommend them if you are looking to trade with a fixed spread broker.
Avatrade offers standard fixed spread account. Their EURUSD average spread is 0.9, for GBP/USD it is 1.6 pips. Overall for major pairs, their fees is quite fair without any extra commission other than their spread.
The account minimum is $100. Their leverage is limited to 30:1 for retail traders & 400:1 for Professional traders.
Avatrade offers MT4 & MT5 platforms. Their trading instruments available include 55 currency pairs, CFDs on 624 stocks, 17 commodities, 20 Indices, 5 ETFs & 14 cryptocurrencies.
Avatrade Pros
Regulated with FSCA since 2015.
Fixed spread accounts.
Metatrader platforms available.
Local phone number for support during business hours.
Avatrade Cons
High Inactivity fees.
Their support is not available for 24 hours in day.
Guide to FSCA regulation for forex brokers
What is FSCA (formerly FSB)?
FSCA (Financial Sector Conduct Authority) is a market conduct regulator for financial institutions in South Africa that provide financial products and financial services, this includes Banks, insurers and other non banking Financial Institutions.
FSCA was formed on April 1, 2018 after Financial Sector Regulation (FSR) Act of 2017 came into effect. The act applied Twin Peaks model to the financial sector dividing the responsibilities of financial market regulator in two i.e.: Prudent Authority (PA) and Market Conduct Authority (FSCA). This system was based on other developed markets like: Australia, Netherlands, Belgium, New Zealand and the United Kingdom.
Existing non-banking financial market regulator FSB (Financial Service Board) was given the role of Market Conduct Authority giving it right of oversight on both banking & non-banking financial institutions providing financial products & services that are licensed in terms of financial sector laws of RSA including Banks, Insurers & Capital Markets. FSB was renamed to FSCA to assume the Market Conduct Authority's role, and Reserve Bank was given the duty of Prudent Authority.
In South Africa, all CFDs including Forex are treated as derivatives & non banking financial products and are regulated by FSCA, and all providers are required to be registered under FSCA's Financial Provider (FSP) List.
The Forex & CFD Brokers authorized by FSCA, are required to have a local office, and have 1 local director. The regulated brokers must also comply with all the FSCA's guidelines, this ensures the safety of South African investors in case of any bad activity by the regulated broker.
Ever since FSB was restructured from a super-regulator of non banking financial sector and replaced by FSCA in 2018, the additional responsibilities of FSCA has been providing quality finance education to customers, maintaining financial stability of its customers, spreading of information regarding changes in regulation and overseeing the development of South African financial markets.
This ensures fair treatment of customers and maintains high efficiency and integrity of the financial markets.
For brokers, getting regulated by FSCA gives additional benefits. License from FSCA gives credibility to the brokers, hence ensuring bigger market share. Additionally, getting regulated makes it easier to use local bank account for transactions in local currency with ease.
Why should you trade with FSCA (FSB) regulated brokers?
Though trading through offshore brokers is not restricted currently, but still it is advised to trade CFDs or forex via forex brokers regulated by FSCA.
The reason being that in case the regulated broker commits any fraud or goes bankrupt, the investor's fund could be restored through the local authorities.
Regulation in financial markets is necessary in order to reduce the risk on the trading activities, consequently reducing the potential losses due to bad trading environment & malpractices by the brokers.
The regulatory body in South Africa is FSCA, which has the responsibility of regulating the financial markets by providing protection to the citizens and the economy from any potential money laundering or fraudulent schemes.
Here are some important considerations:
1. FSCA keeps check on the financial trading activities including: CFDs & Derivatives market to see there are no irregularities or misrepresentation and ensure its smooth functioning so that the financial markets are not adversely affected. FSCA ensures this by regulating the Forex Brokers & Derivatives/CFD Brokers.
2. Additionally, any kind of misconduct by the brokers could be dealt with as per local laws which the investor would be familiar with. FSCA doesn't issue license to brokers who either do not meet the regulatory requirements or have some shady history.
Hence, FSCA ensures that the investors' funds are handled with proper care by its regulated brokers. This will safeguard your money from any malpractice or fraudulent procedure, ensure right and fair treatment from brokers and also provide a sense of security from the perspective of legal actions in case of any mistreatment.
3. Apart from regulating the financial markets and protecting it from frauds and misconduct, FSCA also imparts financial education in order to increase awareness amongst investors and brokers with regards to financial regulations and news.
So it is advised for investors to trade forex or CFDs via FSCA regulated forex brokers and one should always check the authenticity of claims of the brokers about their license.
Frequently Asked Questions
Which is the best FSCA (FSB) regulated forex broker?
According to our research, Hotforex is the overall best FSCA regulated forex broker for South African traders, based on its offering & these 5 key factors:
It is regulated with FSCA as "HF Markets SA (PTY) Ltd" & has a local office in Johannesburg.
Their spread & trading fees is very competitive, on average 1.2 pips with Premium account for EUR/USD.
They offer popular trading platforms MT4 & MT5.
They offer very good support via live chat & email.
The funding & withdrawals are free of any charges.
For more details, read our comprehensive Hotforex review that covers our 9 comparison metrics.
How to Verify if a forex broker is regulated with FSCA?
If a forex broker is an authorized Financial Service provider regulated by FSCA, then they will have a registered FSP number.
Step 1: You can check the regulation information of any forex broker by visiting their website. Almost on every broker's website, the regulation information is provided in the footer section or a separate page is dedicated to the regulation details.

For ex: One of the FSCA regulated broker in our comparison i.e. Hotforex gives information about its regulation on the footer section where they have mentioned their company name "HF Markets SA (PTY) Ltd".

You should always look for a Financial Service Provider (FSP) License Number. If the appropriate information is not available on the website, you should ask for the same from the broker. Normally, if the broker is regulated, they will share their FSP number with you.

Step 2: Once you have the FSP Number, it can then be verified from FSCA's website, on its Financial Advisory and Intermediary Services (FAIS) search register here: www.fsca.co.za/Fais/Search_FSP.htm

You just need to enter the FSP number in the above search page. This will show you the regulation status. Look out for the "Authorized" status.

Step 3: Click on "details" button for more the information on that broker's regulation. At the bottom of the information page, you will see the "Products Approved" section. Check from there if your broker is regulated for offering "Derivative instruments".
Which FSCA (FSB) forex broker has the lowest fees?
The important consideration here is trading fees without any hidden charges. Plus, other things to consider are the trading instrument, and do you need broker with fixed spread or are you okay with variable spread.
According to us, 3 brokers – Hotforex, Plus500 (CFD platform) & Tickmill offer competitive variable spread with their platforms. None of them any extra fees while making deposits or withdrawals, but all 3 charge some fees if you don't access your account for few months.
In terms of FSCA regulated forex brokers with fixed spread, Avatrade is the best choice.