Best South African Brokers with NAS100
We've ranked the best regulated CFD brokers that offer NAS100 or NASDAQ CFD indices. Our comparison is based on broker's fees, regulations & 6 other important factors..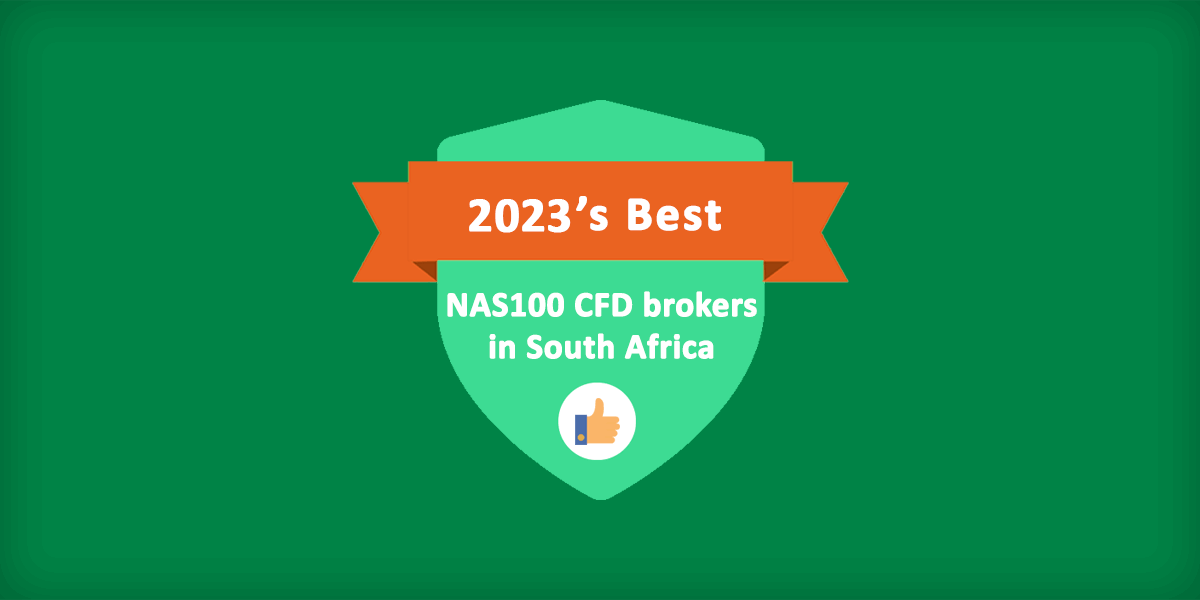 NASDAQ 100 is one of the most popular equity indices of the world. It is the index of the largest global companies listed on NASDAQ by overall market capitalization. It includes companies like Google (Alphabet), Facebook, Amazon, Apple, Tesla etc. NAS 100 is also denoted as US TECH 100.
Traders in South Africa can trade with NAS 100 through CFDs without actually owning the securities.
Many forex and CFD brokers in South Africa allow trading on NAS 100 as a CFD instrument with different spreads and features. Traders in South Africa can speculate the US Tech 100 stock index and can go long as well as short through CFDs on a variety of trading instruments.
We've listed the best regulated CFD brokers offering CFDs on NASDAQ 100 along with basic details of the capital market.
List of brokers with NASDAQ or NAS100 in South Africa for 2021
Plus500 – CFD trading platform with NAS100 instrument
Avatrade – Fixed spread trading on NAS100
FXTM – NASDAQ CFD trading at competitive fees
IC Markets – US Tech 100 Index CFD at low spread
We first selected the CFD brokers that are regulated by FSCA or other top-tier regulations. Then checked the CFD trading fees for NAS100 instruments at all these brokers.
Here is the detailed comparision of all the NAS100 offering CFD brokers.
Best South African Brokers with NAS100
Here is our detailed research on the features: spread, platforms, funding/withdrawals, available trading instruments, support & more on the selected FSCA regulated forex brokers.
1. Exness – Best broker with NAS100
Regulations:

FSCA, FCA, CySEC

Minimum deposit:

$1

NAS100 Average Spread:

4.2 pips
Rated #1 NAS100 Broker
Exness is a FSCA authorized forex & CFD broker. They are also regulated by multiple other top-tier regulations including FCA & CySEC. They offer NASDAQ CFD instrument on their platform as USTECm.
Exness is a market maker forex and CFD broker that is regulated by FCA, FSCA, and CySEC. It offers CFDs on the US Tech 100 index (USTECm) with an average typical spread of 4.2 pips per lot for 1 Contract and a margin requirement of 1% on the Standard account. The lowest spread for the US Tech 100 index with the commission-based zero spread account type at Exness is 1.5 pips per lot. The average pread for this instrument is bit high at Exness.
The broker also offers ZAR based account & accepts multiple transaction gateways including local bank transfers in South Africa with a minimum deposit of $1.
Exness Pros
Exness is an authorized forex broker in South Africa by FSCA.
Email & live chat support is good.
ZAR base currency accounts are available.
MT4 platform & MT5 available.
Exness Cons
Their typical spread for NASDAQ CFD is higher compared to other brokers.
No local phone number is available, but you can request a callback.
2. Hotforex – Low spread NASDAQ offering broker
Regulations:

FSCA, FCA, CySEC

Minimum deposit:

$5

NAS100 Average Spread:

2.03 pips
Rated #2 NAS100 Broker
Hotforex is a reputed CFD & forex broker regulated by FSCA. They offer CFD trading on NASDAQ 100 (USA100) indice.
Hotforex is an STP broker that is regulated by FCA, FSCA, and CySEC. It allows SouthAfrican traders to trade with CFD as well as futures on the US Tech 100 stock index (USA100). The average typical spread on the CFD of NAS 100 is 2.03 pips per lot with a maximum leverage ratio of 1:50.
At Hotforex, traders can also choose the commission-based account type to enjoy much lesser spreads. The minimum deposit is $5 at Hotforex.
Hotforex Pros
FSCA Regulated CFD broker
Ver low typical NASDAQ 100 CFD spread..
No fees on deposits & withdrawals.
MT4 platform is available.
Hotforex Cons
At the moment, we don't find any that should be a major concern.
also read our detailed Hotforex review
What is NAS100 & NASDAQ?
NAS 100 is a prominent stock market index that was initiated on 31st Jan 1985 by the NASDAQ. The index was created to promote the NASDAQ and allow the retailers to trade through a non-financial stock index.
NASDAQ 100 includes 102 equity securities of the top 100 non-financial companies listed on NASDAQ. The 100 stocks do not include any corporation that is involved in financial services. The stocks are selected on the basis of market capitalization and the rebalancing of the stocks is done in December of each year.
The index was initially launched with a base price of 250 in 1985 and was later reset to 125 in 1993. It has been a volatile index but has increased consistently apart from the bearish trends in 2001 and 2008. NAS 100 holds the all-time high record of 13,879.77 on 16th Feb 2021 (as of 22nd Feb 2021). In the calendar year of 2020, the index soared by 47.58% despite the volatile market conditions due to covid-19 and the lockdown. NAS 100 is considered more volatile than any other large-cap index in the US. The volatile movements attract a large number of traders and hence liquidity is not an issue while trading on NAS 100.
NASDAQ 100, also known as US Tech 100 includes various popular stocks like Apple, Tesla, Microsoft, etc. Financial stocks have the ability to steer the stock indices according to market conditions. Trading on an index that does involve financial stocks can allow traders to speculate the growth in the stock market without the influence of financial stocks. Traders can trade through futures and options on NAS 100 although trading through CFDs is the most convenient option for South African traders.
How to Trade with NASDAQ 100 in South Africa?
Traders in South Africa can choose from a wide variety of forex and CFD brokers that are regulated by top-tier financial regulatory authorities. These brokers allow trading through CFDs on various capital markets including indices, commodities, cryptocurrencies, etc. The availability of leverage allows traders to open bigger positions with small initial deposits.
By trading through CFDs, traders do not actually own any of the securities but the price movements of the concerned security are speculated to make profit-making opportunities. Trading through CFDs is more advantageous compared to physical trading due to quick execution and high liquidity. Traders can go long as well as short at any time through any of the supported devices.
Trades on index CFDs are executed in lots where traders can go long as well as short on the concerned index. The lot size can differ from broker to broker but generally, a single lot of CFD on US Tech 100 is 1 unit of the index. The difference between the buy and sell price is called the spread.
CFD trading on indices can be better understood with the help of an example.
Suppose the NASDAQ 100 is currently trading at 13002.00/13000.00.
This means that the buy price or the bid price of the index is 13002.00 and the selling price or the ask price is 13000.00.
If the lot size is 1 unit of the index, then the spread will simply be the difference between the bid and ask price of a lot i.e. 2$.
If the trader wishes to go long on the index, then he can buy one lot of the index CFD by paying the margin requirement.
If the leverage ratio is 1:5, the trader can buy 1 lot of NAS 100 by paying 13002/5 = 2600.4$.
Profits on this trade can only be made when the selling price goes above 13002.00. If the selling price reaches 13102.00, the trader can book a profit of 100$ by closing the position.
If the leverage is 1:100, the position on 1 lot of NASDAQ 100 can be opened with 130.02$ while the profits will be the same. Although, in case if the selling price goes below 12800$ and the position is closed, the trader will face a loss of 200$ which is more than the initial deposit.
Similarly, if the trader wishes to go short on the index CFD, the margin requirement of the selling price needs to be paid and the buying price needs to go below the selling price to book profits.
Traders must note that significant involvement of leverage can enhance the profits on trade but can also increase the risk factor. Charting and analysis through various indicators and tools on trading platforms can enhance the trading decisions and can increase the probability of profits.
For the new traders, it is advisable to gain experience and learn strategies by trading with virtual currencies on a demo account offered by various CFD brokers in South Africa.
CFD trading on indices and commodities are lesser complex than futures and option. Traders will have better profit-making opportunities if the spreads are narrow and lesser commission is charged for trades. However, lower pricing should not be the only factor to consider while choosing a broker.
How to choose a NAS100 broker?
There are few points that must be considered when you are choosing a CFD broker for trading NASDAQ in South Africa.
Here is our checklist that you can follow:
1. Regulations: First & foremost, ensure that the CFD broker must be regulated by a top-tier regulatory authority like FSCA, FCA, etc.
In South Africa, you must only trade with a FSCA regulated broker. In our list, we have only listed the reputed forex & CFD brokers that are regulated by FSCA or FCA or CySEC.
Check the broker's website for their regulatory FSP number. Most brokers list it on their website. As an example, Hotforex South Africa have mentioned their FSCA regulation on their website's footer section.

After that you should verify the FSP number on FSCA's website as explained in our FSCA regulated brokers guide
2. Overall NAS100 fees: Check the overall trading & non-trading fees for trading NASDAQ 100. Most brokers will publicly show their typical spread for each instrument including NAS100. NASDAQ is generally listed as 'US Tech 100' on websites of most brokers.
As an example, this instrument comparison page on Hotforex's website shows their typical NAS100 spread with all their account types.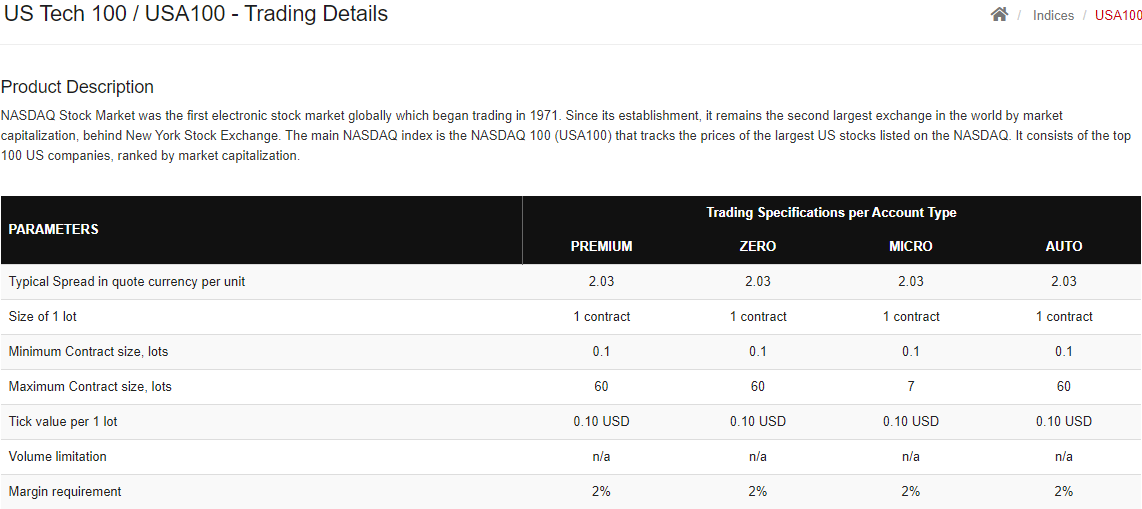 The trading, as well as non-trading fees must be checked and compared to choose the most cost-effective broker.
The below table compares the NAS100 spread & commission with Standard Accounts for 1 Contract at major regulated brokers:
| Instrument | Hotforex (Premium Account) | XM Trading (Ultra Low Account) | Exness (Standard Account) | FXTM (Standard account) |
| --- | --- | --- | --- | --- |
| NAS100 | 2.03 pips | 2 | 4.28 | 4 |
3. Ease of Withdrawals: The convenience of deposits and withdrawal methods must be checked before opening the account. See the reviews & complaints against the broker.
What is the average withdrawal time mentioned on the broker's website for the withdrawal method that you want to select. All the brokers will list all their deposit & withdrawal methods in the client panel or on their website, including the processing time & fees.
This below table on FXTM's website is an example of the time & fees on the withdrawal methods at brokers.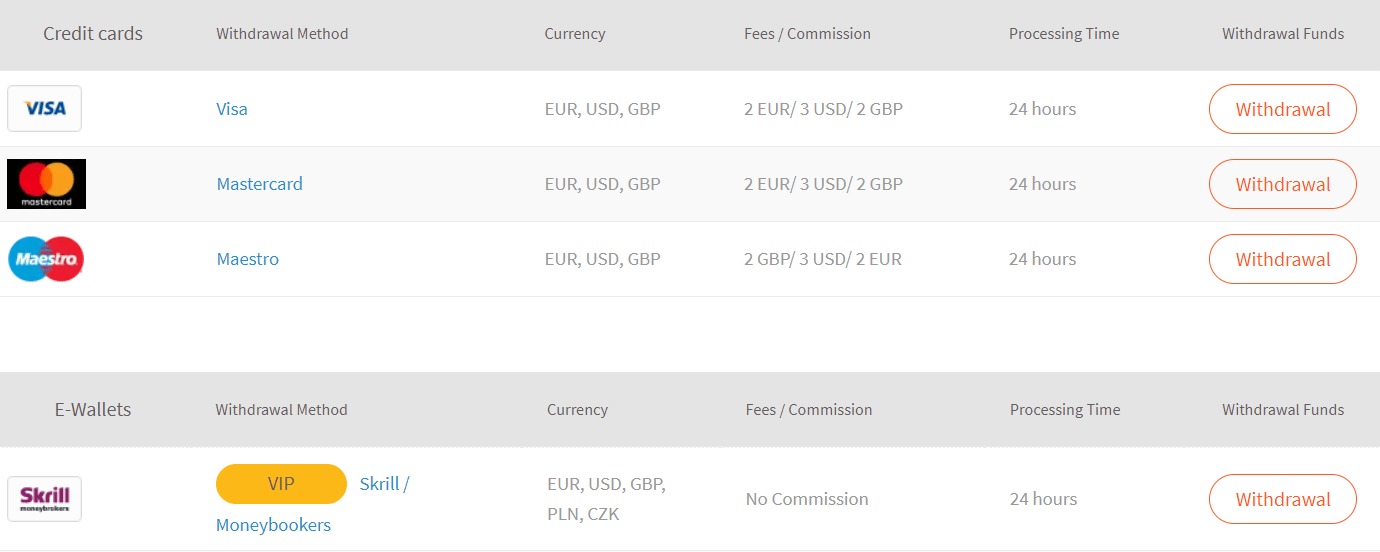 4. Customer Support: The broker must offer a resourceful and helpful customer support staff. This is important as you might run into some issues where you need support, and the broker should be available for you in that case.
Check if the broker has local phone number, 24/5 English Language Live chat support, and quick email support. You can test this by sending queries to a broker & asking them questions, then see how well they respond to your questions & in how much time.
5) Platform's ease of Use: The trading platform should be user-friendly and include charting and analysis tools. You should be able to easily place new orders & close existing orders.
6) Check the reviews: Traders can also check for the reviews by the existing clients of the broker. We have reviewed all the popular brokers in South Africa, so you should check if the broker you are choosing has some important cons that you must know.
Comparison Table of NASDAQ Brokers in South Africa
Below is the comparison table of all the brokers that offer NAS100 CFD instrument to traders in South Africa.
Frequently Asked Questions
Which is the best NAS100 broker in South Africa?
How to NASDAQ offering CFD broker is regulated by FSCA?
There are 70+ FSCA authorized derivatives offering CFD & forex brokers in South Africa. Most of these brokers offer CFD trading on multiple indices including NASDAQ, but not all of them have the same fees, leverage or margin requirements etc.
In this guide, we have compared the most popular regulated brokers that offer NASDAQ CFD trading.
Which NAS100 broker has the lowest fees?
According to our research Hotforex has the lowest typical spread for NASDAQ CFD indices. Their typical spread for this instrument is 2.03 pips for 1 Contract with all their account types. This is lower in comparison to other similar brokers for 1 Contract like Exness (4.28), FXTM (4), XM Broker (as low as 2).
Also, Hotforex does not charge any extra fees for deposit or withdrawals. So, their overall fees is quite low in comparison for NASDAQ CFD instrument.
Can I trade NASDAQ in South Africa?
Yes, you can trade NASDAQ 100 as a CFD instrument via an authorized broker. Most FSCA licensed forex brokers offer NAS100 CFD instrument. But you must note that trading CFDs is risky & only meant for professional traders, so you must fully understand how CFD trading works before trading NASDAQ 100 (USA100) instrument as a CFD.