FXCM Review 2021
FXCM South Africa is regulated by FSCA. FXCM group is well regulated with multiple top-tier regulators i.e. FCA in UK & ASIC in Australia. They offer competitive spread, zero deposit charges & $20 Welcome Bonus*. Read our FXCM Review to decide if you should choose them or not!
FXCM is one of the oldest global forex brokers with office in Johannesburg, South Africa. FXCM ZA is part of FXCM Group that was established in 1999, and regulated by various regulatory authorities. FXCM South Africa (PTY) Ltd is regulated with the FSCA.
They are popular for their reliable and user friendly trading platform which rarely hang while opening or closing the trade. Their spread is not the lowest, but it is still very competitive as compared with other brokers.
For this review, we setup a trading account with FXCM, and have closely tracked their MT4 platform, trading environment, fees, customer support & more.
Overall, we find them to be a genuine and reliable broker for South African traders, based on our check on multiple factors like trading fees, support and account types.
Below is our full review on FXCM's "good & bad side".
Risk Disclaimer: CFDs are complex trading instruments that come with a very high risk of losing money quickly due to leverage. 75.38% of retail investor accounts lose money when trading CFDs with this provider. Before trading with real money, you should make sure that you understand how CFDs work, its risks and whether you can afford to take the high risk of losing your money.
FXCM Pros
FXCM South Africa is a FSCA regulated broker. FXCM Group are also regulated with FCA & ASIC in Autralia, so it is safe to trade with them.
Their spread (as per Spread data sheet in August 2020) is competitive for majors. They have on average 1.4 pips spread for EUR/USD, and 1.5 pips for USD/JPY.
South African traders can get $20 welcome bonus with deposit of $50 (approx. R811).
They have a local phone number for support in South Africa. They also have an office in Johannesburg.
FXCM Cons
FXCM does not offer the latest Metatrader5 platform. They instead offer MT4, Zulutrader & Ninjatrade platforms.
FXCM does not have a wide range of trading instruments on offer.
They charge high $50 inactivity fees on dormant accounts. So if you don't trade in your account for 1 year, you will be charged this fees.
Their Live Chat support is not that fast or responsive.
FXCM- a quick look
| | |
| --- | --- |
| 🏦 Broker Name | FXCM |
| 📅 Year Founded | 1999 |
| 🌐 Website | www.fxcm.com/za/ |
| 🏛️ Registered Address | 114 West Street, 6th Floor, Katherine & West Building Sandton, 2196, Johannesburg, South Africa |
| 💰 FXCM Minimum Deposit | $50 (ZAR 811 approx.) |
| 🗺️ Major Regulations | FSCA in South Africa, FCA in UK, ASIC in Australia |
| 🛍️ Trading Instruments | Forex, CFDs on Shares, Commodities, Indices and Cryptocurrencies. |
| 📱 Trading Platforms | MT4 for PC & Mobile, Zulutrader, TradingView, Trading Station and Ninjatrader |
FXCM Regulation & Safety of Funds
FXCM is a regulated broker & they are also regulated with the South African regulator FSCA. We found them to be very trusted in terms of the regulations.
FXCM is regulated with the top regulatory authorities as described under:
Financial Sector Conduct Authority (FSCA): FXCM South Africa (PTY) LTD with address 114 West Street, 6th Floor, Katherine & West Building, Sandton, 2196, Johannesburg, South Africa is registered with license number FSP No. 46534.

Financial Conduct Authority (FCA): It is registered with the name Forex Capital Markets Limited and as a UK investment firm under registration number 217689.

Australian Securities and Investments Commission (ASIC): FXCM Australia Pty. Limited is regulated by the Australian Securities and Investments Commission with License Number: 309763.
Is trading with FXCM safe?
FXCM is a reputed forex broker that has been around for quite long time. It is also regulated by the major regulators like FSCA & FCA. So your funds with them are safe.
FXCM Fees
FXCM offers really competitive fees with low spread on most pairs. Below is the full breakdown of all the fees charged by FXCM:
Competitive Spread: FXCM does not offer fixed spread. Their spread is variable, so it fluctuates everytime as per the real market conditions. But for now they are offering very tight spread of 1.3 on EUR/USD currency pair. Their spread is very low for most major currency pairs.

Commissions/other charges: FXCM does not charge any commission on opening and closing the trading position like other brokers. But in case of withdrawal using wire transfer, you will be charged $40. Moreover there are no charges on deposit using wire transfer.
Inactivity fees: There are maintenance charges for dormant account at FXCM. They charges 50 units of currency (depending on your base currency) in which your account is created, after a period of 1 year. So if USD is your base currency, then you will be charged $50 for non-activity.

Moreover, your account will be marked as close if the amount after the deduction of inactivity charges is zero.

Rollover charges: Like every other forex broker, FXCM charge a rollover fees for the trade which is left open overnight. It will depend upon the currency pair, your account type, trading activity in the past and also on some other variables.
Overall, we have found FXCM's trading fees to be nominal expect for their inactivity charges. But most brokers charge fees for dormant accounts, so we can say that FXCM's fees is just as low as some other top brokers!
FXCM Account Types
FXCM offers Live accounts as well as demo accounts for South African traders. Reviewed below are the account types at FXCM & their features.
FXCM Demo Account
FXCM offer new traders the option to start trading on their demo account. So you can practice yourself and start actual live trading after you familiarize yourself with the forex market.
Moreover they offer 20,000 USD in their demo account as virtual money to start trading for learning. You can use their demo account to test your strategies. But their virtual money & demo account will be expire after 30 days of inactivity.
Moreover, you must note that demo accounts are different from Live accounts. So the trading environment on both are likely to vary. It is advised that after practicing on demo, you should create a live account with low deposit, and then test their actual trading environment.
FXCM Live Account
FXCM offers only one Live account, and it comes with all their features.
The minimum deposit to start with the standard live account is 50 USD with leverage of 400:1 (30:1 for EU and UK residents).
Below are the features available with the Live Accounts at FXCM South Africa:
FXCM Minimum Deposit: FXCM minimum deposit for a live trading account is $50 (approx. ZAR 811). This is very low as compared with other South African brokers.
FXCM Maximum Leverage: FXCM offers a maximum leverage 1:400 to South African customers.
Enhanced Order Execution: FXCM claim to provide enhanced order execution to make it quick. In forex market the prices are updated around 200 times in a second, and even more in some cases. And sometimes your trade execution can be as fast as 0.017 milliseconds (As per FXCM's slippage report for August 2020). FXCM claim that they execute your order both internally and externally so there will not be any re-quotes.
Negative Balance Protection: They also offer negative balance protection. With this, if your account trading balance goes into negative, then it will be adjusted back to zero.

As per their terms (Clause 25.3), if your losses are upto 50,000$, they will cover it for you. If your negative losses are higher than this amount, the rest has to be covered by you. This is solely at their discretion.
Moreover, FXCM has another account for big traders. With their standard live account a FXCM client can get active trader status by maintain a balance of 25,000 USD. For active traders there is even tighter spread and dedicated support and also there is a less commission on the traded volume.
How to open an account with FXCM
Opening account with FXCM is very simple. You just need to follow the below steps to create an account with them.
Here are the detailed steps that you can follow while opening an account with FXCM:
Step 1) Visit Open Account Page: First of all you need to visit the open account page of FXCM. There you will see the form that you need to fill.
Step 2) Select Country & Platform: Now you need to select your county and the trading platform which you want to use.
Note: You can choose the platform that you prefer. By default it to FXCM TradingStation & you should select this option if you want to trade on FXCM's proprietary platform.
But if you prefer third party platforms like the Metatrader platform, then you can choose MetaTrader 4 as your trading platform from drop down menu. You can choose between FXCM TradingStation, MT4, Zulutrader or Ninjatrader depending on your preference.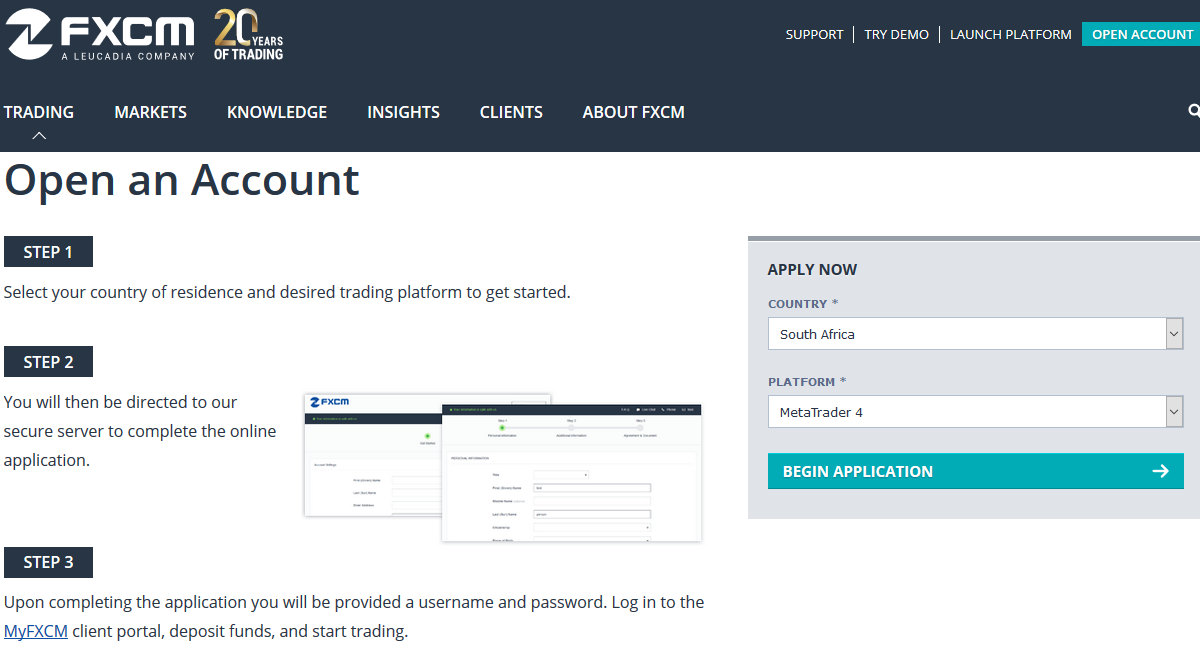 Step 3) Complete the online application: In this next screen, you need to fill your details to complete the registration and you also need to select Base currency in this same section.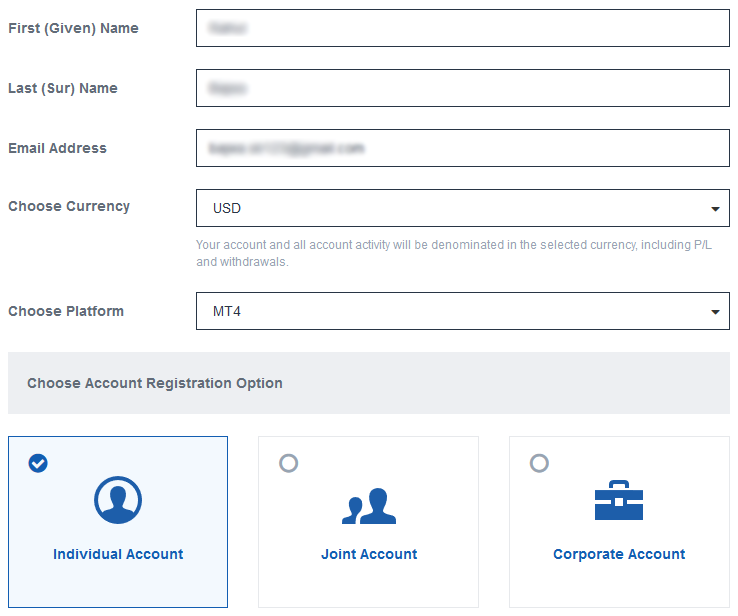 Step 4) Deposit Funds: On the completion of the application, you will get username and password. Now you need to login to your account and make a deposit to start trading with them.
Congratulations! Your account has been set up now. You can also verify your created account by uploading the required documents which should be any ID proof like passport, driving license, etc. and one address proof like electricity or water bill.
Note: It can take up to 24 hours to verify your uploaded documents. Once documents are verified, your account is marked as verified and you will get confirmation mail regarding this.
FXCM Trading Platforms
FXCM have a wide range of trading platforms which include the following:
1) FXCM Trading Station: This is FXCM's proprietary platform, that is available on all devices including Web, Desktop & Mobile. Their platform is easy to use, and user friendly.
2) FXCM MetaTrader: FXCM offers MT4 platform, but they don't have MT5 version. MetaTrader 4 is still a popular trading platform in the forex industry even after the MetaTrader 5 version, and there are some upsides of using MetaTrader 4, as it is tried & tested.
Their MT4 is fast & we did not notice any freezing or issues like downtime during any order. Plus, they also have EAs & news feed available in their platforms. Their MT4 is available for both mobile & desktop.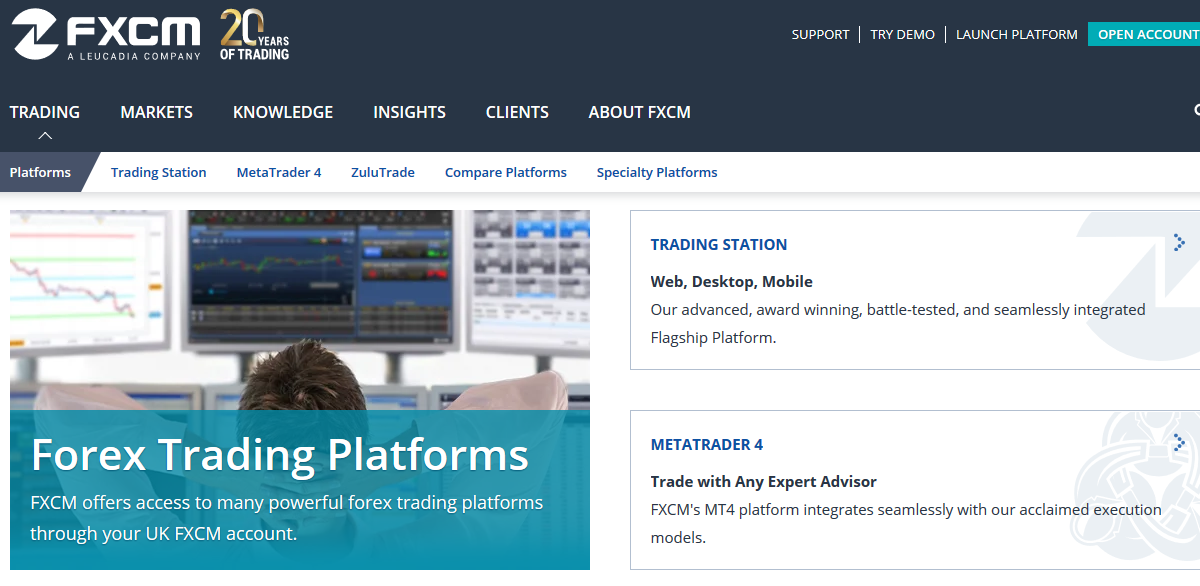 On the downside, they don't have the latest Metatrade 5 version available. If you are looking for a MT5 broker then you should look elsewhere.
3) TradingView: FXCM also offers Free TradingView Pro account when you open Live account with them. With this feature, you can trade & place orders directly from your TradingView charts.
To get this benefit, you need to make a deposit of $300 in your trading account balance, and have a minimum of 500,000 units trading volume within 3 months period after claiming the promotion. You need to send an email to FXCM for getting this promotion.
4) API Trading: FXCM also offers 4 APIs will access to real market data, historical price feed etc.
Other than the above platforms, FXCM also offers Zulutrader, Ninjatrader & their own mobile trading app.
FXCM Deposit & Withdrawal Methods
FXCM supports various payment methods to allow their South African clients to make a deposit with them and withdraw the funds from their account.
Below are the detailed methods using which you are deposit and withdraw funds with them:
Deposit Methods
Below are the funding option that FXCM offers:
1) Credit/Debit Cards: This is a fastest way to deposit the funds in your FXCM account. You can use the debit or credit card like VISA, Master Card, etc. to make a deposit. And this method does not include any charges on transaction, so you will get 100% of your deposited amount.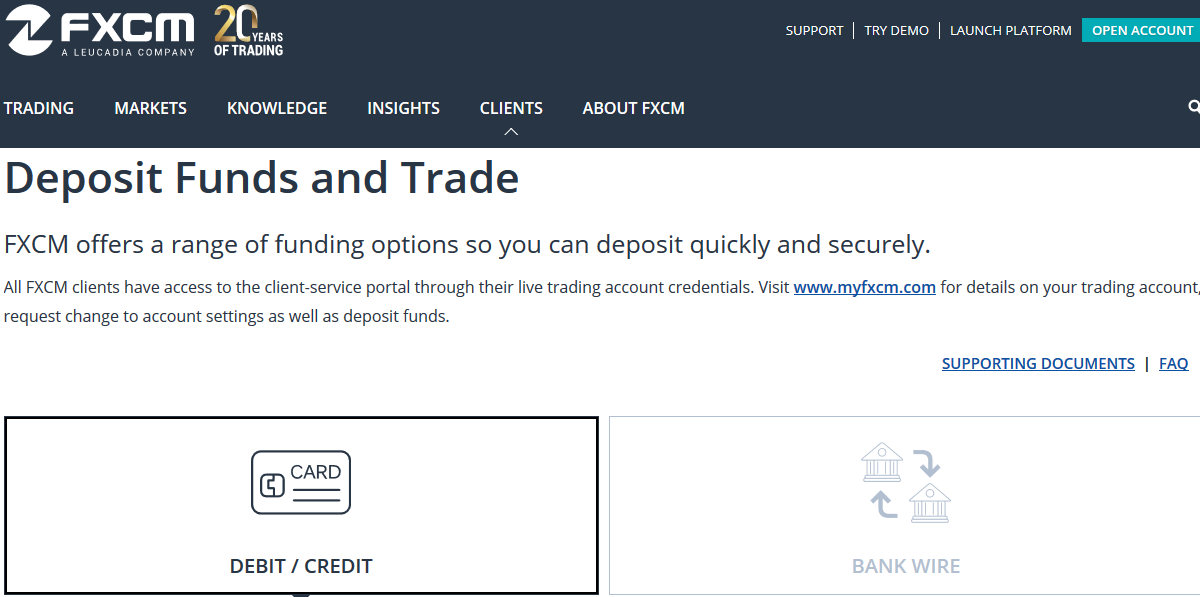 2) Bank Wire Transfer: You can also transfer from your bank account to their bank account. For this method, you will get the details in the client panel after login to your account with FXCM. There are no charges and it is free from their end but your bank will most likely charge you for the wire.
3) Skrill\Neteller Wallets: Traders in South Africa can also make deposits via wallets including Skrill & Neteller.
Withdrawal Methods
The following are the withdrawal options available at FXCM:
1) Credit/Debit Cards: This option is only available for you if you used your card for funding. Withdrawal can be received in the card which you have used on their website to add funds in your account. You can request this withdrawal from your MyFXCM client panel.
2) Bank Wire Transfer: FXCM also offers withdrawals via bank wire. You can send your bank account details to them for this method. But they will charge fees for this method, as normal wire transfer charges may be deducted by your bank or its intermediary depending on your bank.
FXCM Bonus
FXCM have some ongoing bonus offers for South Africans. They have welcome bonus program for new SA traders.
Below are the bonus offers available at FXCM currently.
1) $20 Welcome Bonus: Currently FXCM has $20 Welcome bonus promotion for traders in South Africa. The minimum deposit required to get this promotion is $50 or R811 approx. The promotion is ongoing till 30 June 2021.

This is for new clients or traders online, which will be received after creating and verifying account with them. Normally the bonus is credited with 10 days.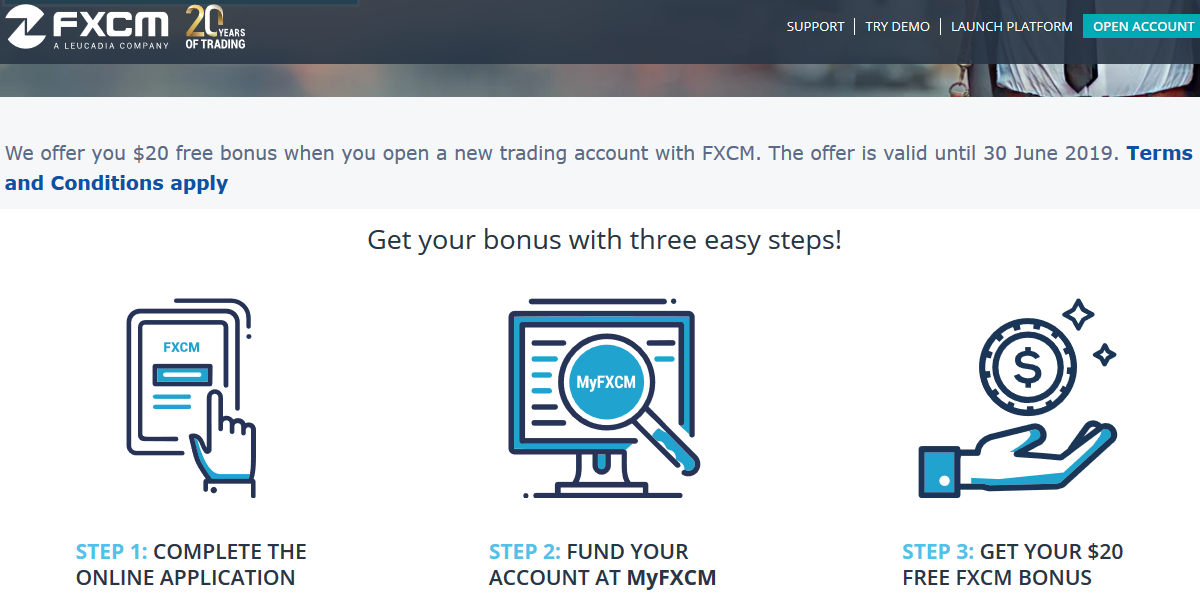 2) FXCM Trading Contest: FXCM South Africa has monthly trading contest on their website for traders in Africa with $1000 Cash Prizes & $700 in FXCM Apps Coupons.
FXCM Customer Support
The good thing about FXCM is that they are providing customer support for 24 hours during 5 days in a week via:
1. Chat Support: Chat Representatives are always available 24 hours for resolving or helping clients with their queries. We have noticed that there is low hold time on chat but their chat becomes very unresponsive for some queries. We think they could be more knowledgeable.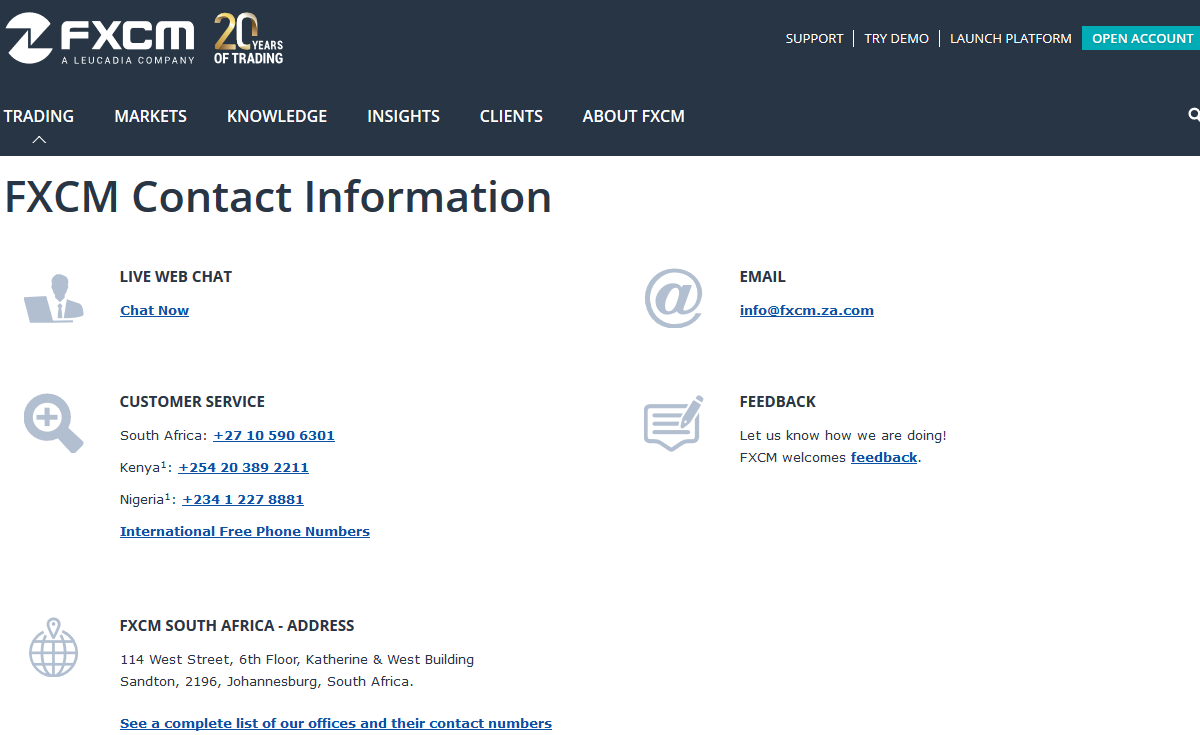 2. Email Support: Visitors can also contact them by sending a mail to their email [email protected] from their email. They normally take upto 24 hours for replying back to clients which is not better as compared to another brokers.
3. Phone Support: The most important and good thing is that FXCM have local phone number to provide support to their client. You can contact them by dialing their number +27 10 590 6301 for any kind of query.
4. South African Office: FXCM has local registered office in South Africa, which we consider to be a pro. You can visit their office at 114 West Street, 6th Floor, Katherine & West Building Sandton, 2196, Johannesburg, South Africa.
Do we recommend FXCM?
Yes, we do recommend FXCM South Africa. But there are some better forex brokers out there if you have to choose only one.
FXCM has been around for years now, and FXCM ZA is regulated with FSCA. And the FXCM Group is well regulated in multiple jurisdictions including Top Tier Regulator FCA in UK, so we can say that they are very safe.
Their minimum deposit of $50 to start trading is also quite low as compared to others brokers in South Africa. They don't have multiple accounts. The fees structure is very transparent, we found them to be very competitive with their spread.
Plus, they have multiple platforms, that provides traders with choice to choose their own platform as per preference. Their support is also good enough.
But they don't have the latest MT5 platform. Some of the withdrawal methods come with high fees.
75.38% of retail CFD trading Investors lose money with this broker.
FXCM South Africa FAQs
Does FXCM offer ZAR account?
FXCM do not offer ZAR based account.But South Africans can deposit in ZAR and funds will be converted to your account currency once received in FXCM
What is the minimum deposit at FXCM?
FXCM has minimum deposit for card transfer is 50$ . Traders can start with base account with mnumim deposit of $50. And deposit this $50 in ZAR which will convertedwhile making deposit.
Is FXCM regulated with FSCA?
FXCM is regulated as FXCM South Africa (PTY) LTD with Financial Sector Conduct Authority (FSCA) under FSP number 46534 since 2016.
How to withdraw money from FXCM?
Traders can request for withdrawal using the same way as they deposit with them. Withdrawal request can be submitted from MyFXCM (client portal). Here
"Do you have experience with FXCM? Please consider sharing your experience with a review below – good or bad – doesn't really matter as long as it's helpful to other traders!"
We only accept user reviews that add value to fellow South African Traders. Unfortunately, not all reviews that you post with us will be published on the website. For your review to be approved, please share your detailed & honest experience with the broker – either positive or negative. Thank you for helping out other traders with your valueable feedback!
Important: We don't accept any payments or kickbacks from any forex broker(s) to delete or change any reviews. We welcome Forex Brokers to reply to reviews on our website & share their side of the story to keep the process honest and fair for both sides.