Best No Deposit Bonus Forex Brokers 2022
We've listed the top no deposit bonus forex brokers that offer bonuses ranging from $10 to $100.
In Forex & CFD trading, an initial capital is required to open a Live account with a broker. This capital is used to place orders in the market.
No Deposit Bonus by a Forex broker is a service extended in form of free capital that the trader gets in his/her real trading account while starting to trade with the Broker. This free capital is the bonus given by the Forex Broker, so you can start trading without risk of investing your money.
These 'No Deposit Bonus' programs are mostly offered by brokers to attract new customers. But, as these 'no deposit bonuses' are provided free of charge, there are certain conditions or terms, withdrawal restrictions etc. that depend from broker to broker.
Although there are quite many bonus programs out there, but no all brokers offer their bonus in South Africa. We have only listed the no deposit bonus by forex brokers that are popular & well regulated globally.
List of Best No deposit Bonus Forex brokers in South Africa for 2022
FXOpen – $10 Forex No deposit Bonus
FBS – $100 No deposit bonus
Hotforex – 100% First Deposit Bonus (on $250+ deposit)
Best No Deposit Bonus Forex brokers Compared
We have compared the bonus conditions & terms for all the forex brokers that offer no deposit bonus to South African traders.
1. XM No deposit Bonus – $30
Ranked #1 No Deposit Bonus Forex broker
XM Broker gives a $30 "No Deposit Bonus" to new traders only if you sign up for it via their special page. XM is a reputed broker so they are considered safe.
Getting XM Broker's $30 No Deposit Bonus is a straightforward process and the amount is credited to the trading account after registration and account verification. This bonus can be used straightaway to start trading with access to the MT4 and MT5 platforms. This account would also provide access to MT4 live trading without making any further deposits.
Note: It should be kept in mind that this bonus cannot be withdrawn, only the profits made can be withdrawn provided certain volume conditions & terms are met.
2. Tickmill No deposit Bonus – $30 (Not available currently in SA)
Ranked #2 No Deposit Bonus Forex broker
Tickmill is a FSCA regulated forex broker, and also regulated by multiple Top tier regulators including FCA. So they are considered safe.
Note: Tickmill's no deposit bonus is not available for South African traders currently as per our latest check.
Tickmill was founded in 2014 and offers attractive trading conditions. They provide various trading instruments like Forex, Stock Indices & Oil, Precious Metals and Bonds. They provide MT4 and Webtrader platforms. They are regulated with Top Tier bodies like FSA SC, FSA UK, and CySEC.
Update: Tickmill's 'No Deposit Bonus' is not available for traders in South Africa currently. New Traders can signup for a Live account with $30 as a bonus into the trading account. This trading account has trading conditions similar to the Pro account, benefits of which include low spreads and commission, multiple asset classes, etc. A point worth noting here is the use of Expert Advisors (EAs) is not allowed on welcome accounts.
Tips for Wisely Using the No Deposit Forex Bonus
It is very easy to see the no deposit bonus as free cash, but it is not. In most cases (with reputed brokers) there will be many terms levied by the broker before you can withdraw any profits made with the bonus.
Traders should treat this bonus as a trading investment to learn and apply their trading strategies in real market conditions.
Following are some tips on how to best use the No Deposit Bonus:
1) All forex brokers that offer no deposit bonus will have the terms and conditions about it – including conditions for withdrawing profits made with the bonus. So carefully read all the terms & fine prints, understand all those conditions before signing up.
For example: In the XM's No deposit bonus terms they mention clearly the requirements that must be met before you can withdraw any profits.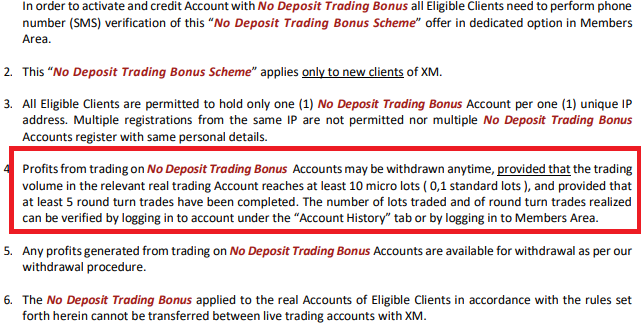 Similarly, all genuine forex brokers that offer No deposit bonus offer will have clear terms page or downloadable file for their exact terms.
If there is any ambiguity in the terms and conditions, make sure to clarify the doubts with the broker's chat & email support before opting for the broker.
2) Some broker may offer bonus that would seem to be really attractive. However, the broker's reputation & regulations should be considered before choosing any such broker, even in case if it is a free bonus. An exciting bonus should not be the only point to start trading with the broker.
3) Always keep in mind that the no deposit bonus is an initial capital for trading and not free cash which can be used otherwise.
The real intention here is to trade properly and earn profits or learn trading CFDs with the broker. One should be clear about their trading goals. Hence, we should keep our trading strategies and requirements in mind in order to put the bonus to its intended use.
No Deposit Bonus is a win-win situation for both the broker and the customer. While the broker will increase its customer base, the customer can train oneself and gain useful insights from trading by using the free bonus.
However, you should be mindful of not falling into false traps and see it as investment capital. You should instead wisely use the bonus to learn trading with a reputed broker & test your strategy in Real market conditions.
How to choose a No Deposit Forex Bonus
The general consideration that you must keep in mind when choosing any No deposit bonus offering forex broker are generally the same factors when choosing a forex brokers.
Here are some points that you should take into considerations:
1) Is the broker regulated: Some unregulated CFD brokers may offer bonus to attract customers into signing up on their platform. The broker could impose terms where you would need to deposit real money before you can withdraw any profits made from bonus account.
Be mindful of such terms. When you are depositing money with an unregulated or 'Offshore regulated' forex broker, there is a high risk that you will face withdrawal issues. And there would be no grievance redressal in such a situation as the broker is not regulated in SA or any other major jurisdiction.
Regulated forex brokers have to be compliant with the policies of the regulators. So, by trading with a regulated broker you are reducing your risk of bad practice by the broker.
Remember, just because the broker is offering free bonus does not mean that there is no risk for you if choose it.
Important note: As per our research, most of the CFD brokers in South Africa which are regulated don't offer any no deposit bonus offers. So, you will likely be choosing a broker that is not regulated locally, and this is high risk.
2) Don't ignore the fees: Check the spread & commission charged by the broker for each CFD instrument that you want to trade. If the fees is much higher than normal then there is lower chance of profit during a trade.
Also check the broker's fees for deposits & withdrawals. Make sure that the broker is not charging a very high fees during withdrawals.
The intention of the scam broker with no deposit bonus could be to not offer any withdrawals to customers that make a profit with no deposit bonus account.
Another important thing to know about fees is that It is common for no deposit bonus brokers to attract traders with their offers, and encourage you to actually deposit real money for CFD trading. But once you deposit the funds to trade, you will find that the trading conditions & the fees on the bonus account & the one with your money may be different.
So, it is important to consider point 1 to ensure that your third party risk associated with the broker is low in terms of them cheating you or wasting your time.
3) Trading Conditions: Is the broker offering fair trading conditions. Or does their platform hang or freeze during your order opening/closing etc.
Are the range of trading instruments limited for customers using their bonus? Does their broker put certain restrictions on trading, like inability to trade during certain hours, or some CFDs?
It is fair to say that any broker that does not have a stable platform must be avoid. Just because a broker is offering bonus, does not mean that you can ignore this point.
You should treat the bonus only as a way to practice CFD trading with a reputed & well regulated broker. And not be tempted by bonus offers from brokers that are unregulated. This mostly leads to problems in the future.
Frequently asked questions: No Deposit Bonus Forex brokers
Which forex brokers offer No deposit bonus in South Africa?
Many forex brokers offer No deposit bonus & most of them accept SA based traders. But we have only reviewed & tested the welcome No deposit bonus by 3 popular brokers:
XM – $30 bonus: ASIC regulated broker.
FXOpen – $10 Bonus: FCA regulated broker.
FBS – $100 No deposit Bonus FCA regulated broker
Can I withdraw the No deposit Forex bonus?
This depends on the broker, but generally the profits made with trading bonus are withdraw-able provided some conditions are met. Almost all brokers that offer No deposit welcome bonus impose strict terms & trading volume requirements before you can withdraw any profits.
It is best to read the terms of the bonus before signing up, so that you don't get surprises later.
Are no deposit bonus brokers safe?
Unfortunately not all brokers are safe. Most brokers that offer no deposit bonuses are not trusted. That is why it is really important to only choose a broker that is reputed & well regulated. If a regulated & popular broker is offering No deposit bonus then there are lesser risks.
As per our check XM Broker, FXOpen are brokers that are regulated with at-least 1 Top Tier regulator & offer no deposit bonus. But you should still carefully read terms of these brokers before signing up for any of their bonus.