FxPro Review 2021
FxPro is a UK based regulated forex broker. They are regulated with top-tier regulators i.e. FSCA & FCA in UK. They offer moderate spread, zero deposit charges. Read our Fxpro review to decide whether they are safe for South Africans or not.
Fxpro is a London based forex broker that was founded in 2006. They serve South African clients, and are regulated with top tier regulators including with FSCA, and FCA in UK.
We consider it safe to trade with them as they are highly regulated & have been around for long time.
FxPro's trading fees is not the lowest but it is still very competitive. They have average spread for most forex pairs (around 1.5 pips for EUR/USD, 2.1 pips for USD/JPY). Plus, their trading platforms are quite wide including cTrader & latest MT5. Their support is also very competent.
Here's a transparent look at the FxPro's fees, platforms, regulations, account types, bonus, customer support & more!
FxPro Pros
Fxpro is highly regulated with top-tier regulators. They are regulated locally in South Africa with FSCA and internationally with FCA (UK).
They offer very low spread with their cTrader account i.e. 0.4 pips for EUR/USD. The commission per lot is also fair at $0.45 per mini lot.
They offer multiple trading plaforms including MT4, MT5, cTrader & their proprietary FxPro Edge.
No fees on deposit & withdrawals.
Their customer support is very good and available 24/5 from Monday to Friday.
FxPro Cons
Moderate Spread with MT4 & MT5 accounts. But it is still very fair.
High Minimum deposit of $500 for all accounts.
FxPro has no bonus or promotion available for South Africans.
No local phone number or Address in South Africa.
FxPro – a quick look
| | |
| --- | --- |
| 🏦 Broker Name | FxPro Group Limited |
| 📅 Year Founded | 2006 |
| 🌐 Website | www.fxpro.com |
| Registered Address | 13-14 Basinghall str., City of London, EC2V 5BQ, UK |
| 💰 FxPro Minimum Deposit | $500 |
| ⚙️ Maximum Leverage | 1:500 |
| ⚖️ Major Regulations | Financial Sector Conduct Authority (FSCA), Financial Conduct Authority (FCA), Cyprus Securities and Exchange Commission (CySEC), Dubai Financial Services Authority (DFSA), Securities Commission of The Bahamas |
| 🛍️ Trading Instruments | Forex Trading, Metals, Cryptocurrencies |
| 📱 Trading Platforms | MT4, MT5 and cTrader, FxPro Edge |
Regulation & Safety of funds
FxPro is regulated in South Africa, UK & with other European regulators. They are regulated under the following regulatory authorities:
Financial Sector Conduct Authority (FSCA): FxPro Financial Services Limited is registered with Financial Sector Conduct Authority (FSCA) in South Africa with authorization number 45052 since 2015.

Financial Conduct Authority (FCA): FxPro is regulated as FxPro UK Limited with FCA with license number 509956 since 2010.

Cyprus Securities and Exchange Commission (CySEC): They are also regulated with Cyprus Securities and Exchange Commission as FxPro Financial Services Limited since 2010 under license number 078/07.
Dubai Financial Services Authority (DFSA): FxPro Global Markets MENA Limited is authorized under reference number F003333 with DFSA since 2017.
Securities Commission of The Bahamas: They also got license from SCB i.e. Securities Commission of The Bahamas under reference no. SIA-F184.
The important question, is trading with Fxpro safe?
Yes, FxPro is one of the oldest Forex broker in the world, they have been around for quite a while. Also, they are regulated with 2 of the top-tier regulators i.e. FSCA in South Africa & FCA in UK, so trading with them is safe for South African traders.
FxPro Trading Fees
FxPro's trading fees is not the lowest in comparison with other Forex brokers. Their non-trading fees is also high, but it is ok.
Here is a full breakdown of the 4 fees charged by FxPro:
Moderate Spread: FxPro offer floating spread with all their trading accounts. Their spread is not the lowest but still quite competitive i.e. 1.5 pips on average for EUR/USD with MT4 & MT5 account types, and it is lower with their cTrader account (around 0.4 pips on average for EUR/USD + trading commissions).

Below image is the table of FxPro's spread for some of their currency pairs:


$4.5 Commission with cTrader Accounts: FXPro charge a trading commission (plus spread) with the cTrader account type. The spread for FX & Metals is much lower with this account types, than their MT4 & MT5 accounts. The commission is $4.5 per Standard Lot traded. For all other account types there are no commissions.
Zero Deposit Charges: FxPro does not charge any fees for adding funds to your account with them to start trading. Card deposits with them are normally processed within 10 minutes, with no transaction fees.
$25 Withdrawal fees for wire: There are $25 withdrawal fees in case of Bank Wire transfer. But if you will request withdrawal in your card or E-Wallets after trading then there are not charges for withdrawal.
$15 Inactivity Charges: If your account is inactive for 12 months then there will be one time inactivity charges of $15, plus $5 monthly fees on subsequent months of inactivity. The exact dormant account charges will depends on the jurisdiction you are registered under at FxPro. If your account is registered under Bahamas jurisdiction then you will be charged after 3 months on inactivity and for Cyprus it will be after 12 months of inactivity.

Below is the screenshot of FxPro's client agreement with the mention to their Inactivity fees:

FxPro's overall trading fees is not the lowest, but it is still competitive.
FxPro Account Types
Fxpro offers 3 different account types & they also offer demo accounts for all their accounts. Moreover, special support is available for all account types depending upon your minimum deposit & volume of trade. The minimum account balance for all trading account is $500.
The following 3 features are available for all Account types at FxPro:
Instant and Market Execution: FxPro offer both Instant and Market Order Execution depending on your account types. Your position will be executed at the VWAP (volume weighted average price). When there is high volatility in the market and order is not executed at the quote price, then order will be executed at the next available price on the market at that time.
Negative Balance Protection: FxPro also offer negative balance protection for their customers. So if your balance goes into negative then FxPro will reverse it to zero. There are no limits for the max negative balance protection amount.
ZAR Base Currency: With Fxpro, South Africans clients can choose ZAR base currency for their trading accounts. The minimum deposit is ZAR 7000 if you are selecting Rand as your base currency.
Now here is the list and description of all the trading account types offered by FxPro:
FxPro Demo Account
FxPro offer Demo account which is available for all MT4, MT5 and cTrader account types.
The maximum leverage for Demo account is 1:500.
FxPro Live Trading Account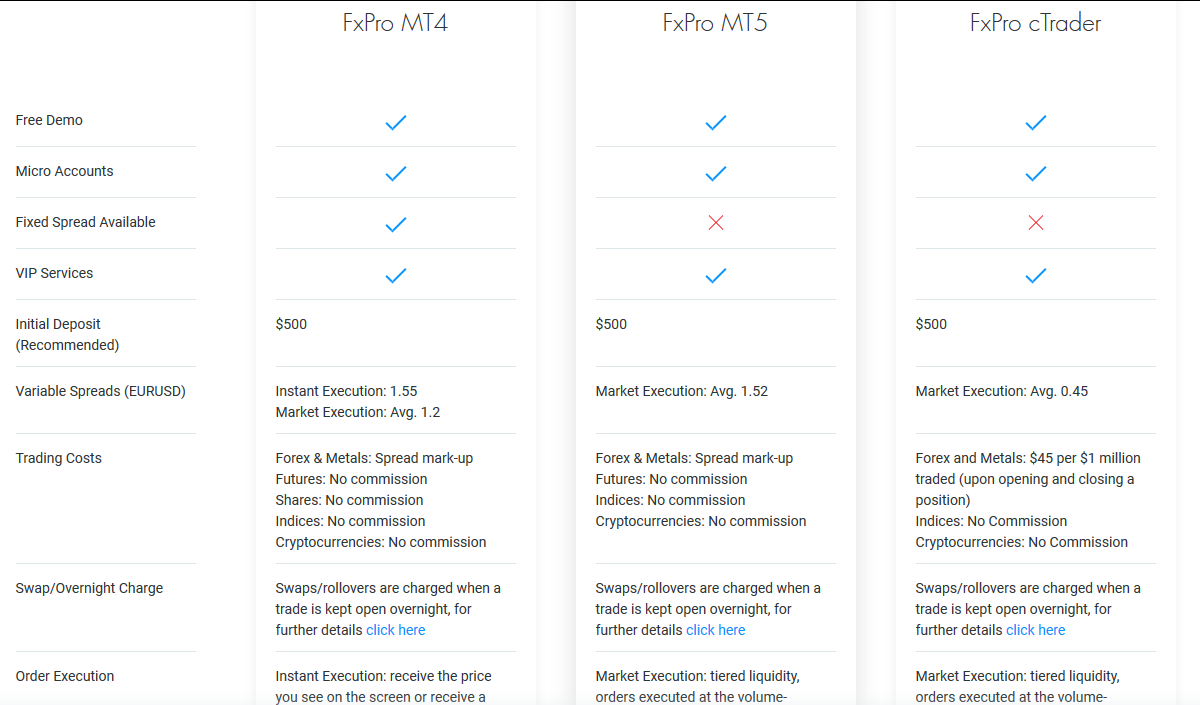 There are 3 types of live trading accounts offered by FxPro as listed below:
1. MT4 Account: You can choose between instant order execution or market execution with FxPro's MT4 account. The account minimum is $500 & the spread is floating.
2. MT5 Account: This account offers market execution, variable spreads, no requotes. The spreads on this account are the same as with the MT4 account, the only difference is that you will get MT5 platform for trading.
3. cTrader Account: FxPro charges commission of $4.5 per Standard Lot on trades with cTrader account. The spread with this account is extremely tight when compared with their MT4 and MT5 accounts. This account is recommended for high volume traders.
How to open account with FxPro
Opening an account with them include few steps only. You need to follow the below steps to open an account with them:
Step 1) Click Register Button: First of all, you need visit FxPro.com. There you need to click on Register button at top right side of the home page of their website. This will take you to their sign up form page.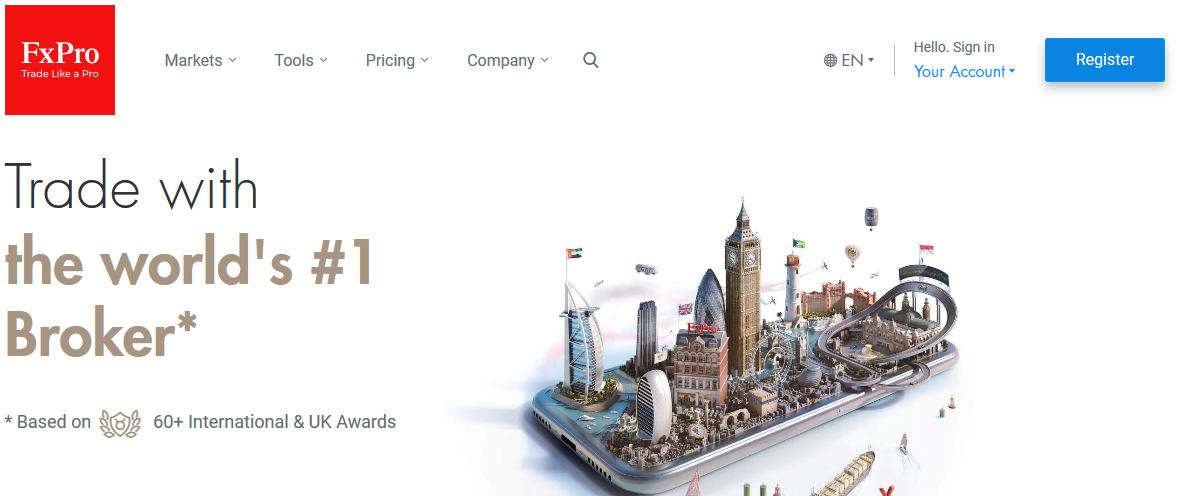 Step 2) Complete your Signup with FxPro: Now you need to fill the basic information to register your email with them. You need to enter your name, country, email and then click on Register > button.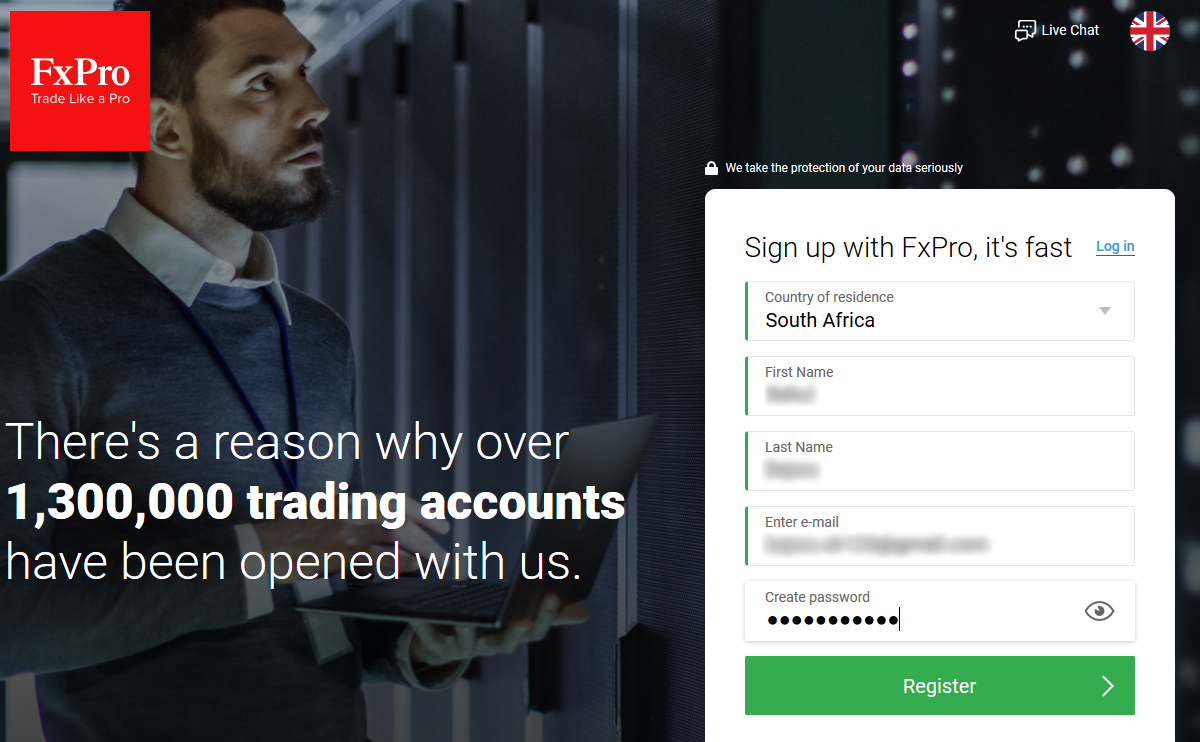 Step 3) Fill your Residential Address information: After entering your personal details, you need to fill your Address, Phone Number, Country of Residence information by following the instructions on the screen.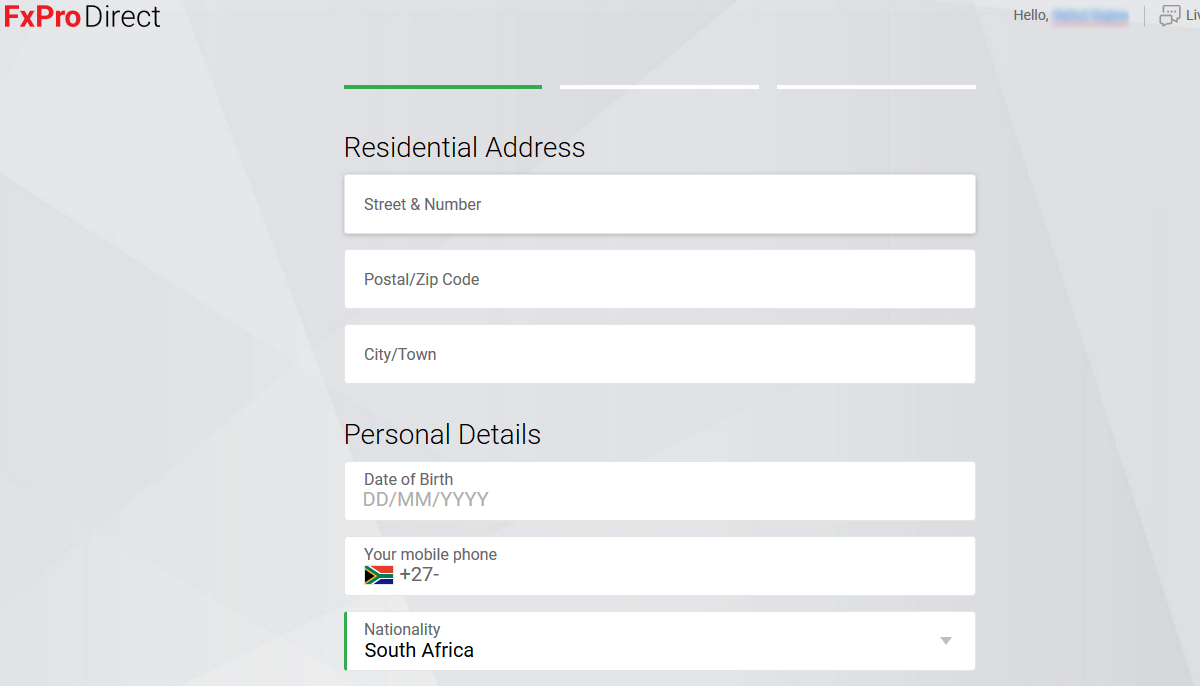 Step 4) Fill Employment Information: On this page you need to fill the basic information related to your source of income and monthly income.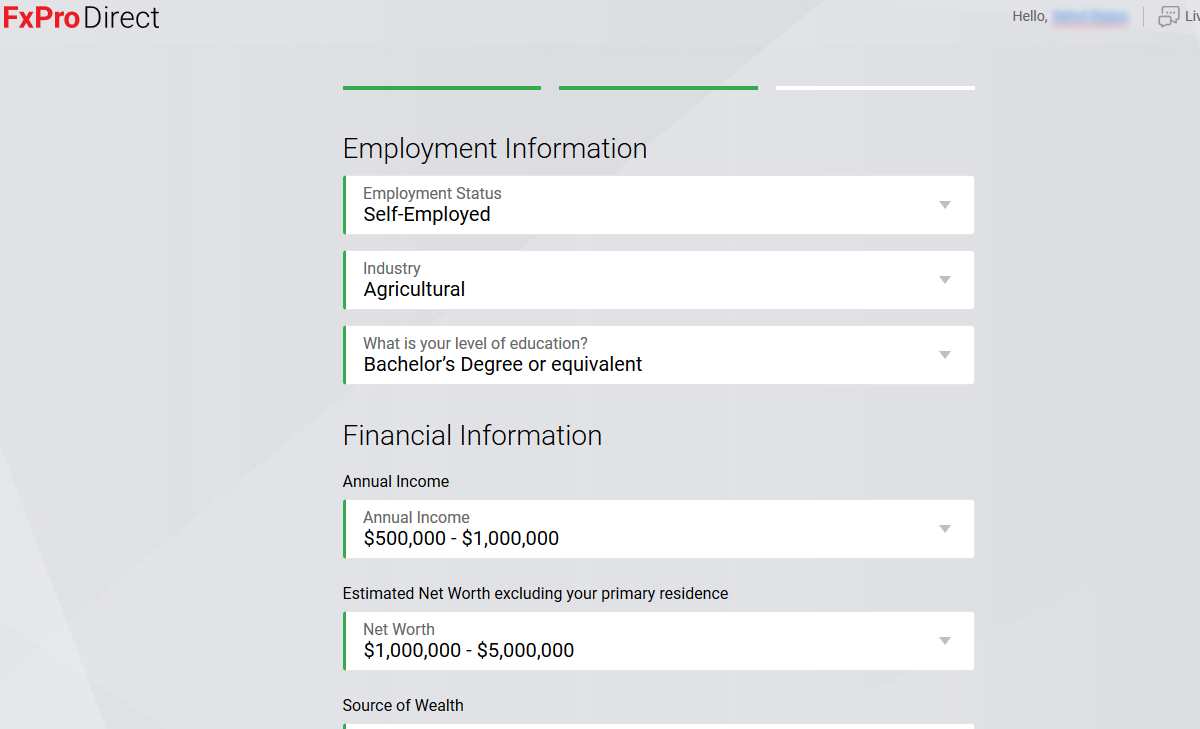 Step 5) Trading Account Setting & Verify your account: Now you will be redirected to a page where you need to select the trading account type. After that, to complete the registration you also need to upload the scanned copy of 2 documents i.e. your ID proof and Address proof for verification.
Note: Once you have submitted these documents to FxPro, it can take upto 24 working hours to verify the documents uploaded by you. Once they have verified your account, you will receive the account verified confirmation message via email from FxPro.
You can check your email for account/platform login details and can start trading with those details.
FxPro Trading Platforms
FxPro offer 4 trading platforms which are MetaTrader 4, Meta Trader 5, cTrader and FxPro Edge.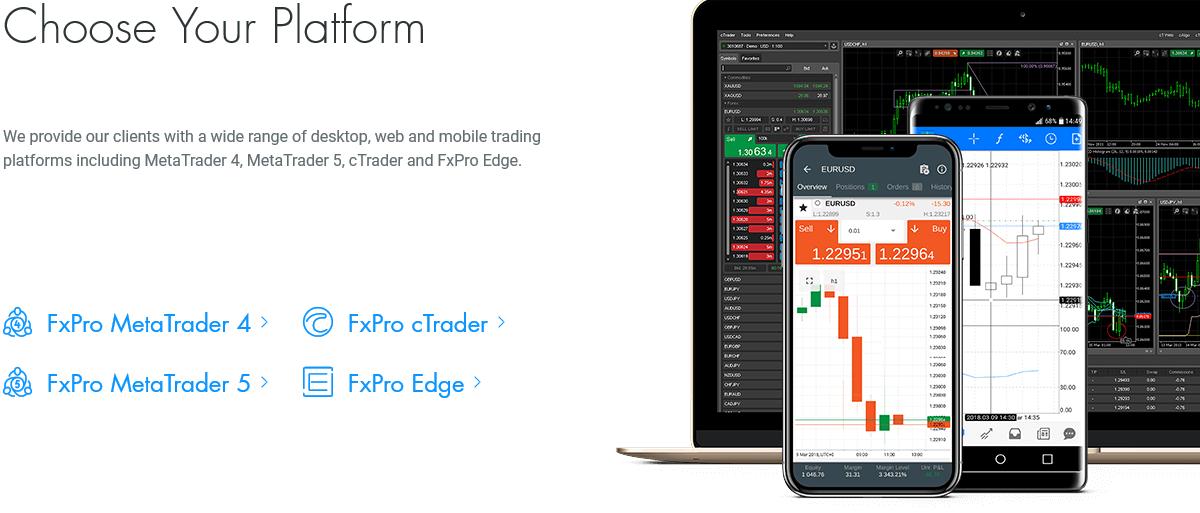 Below are the FxPro trading platforms available for South African traders:
MetaTrader 4: MT4 is the most commonly used trading platform in the forex industry. In Meta Trader 4, one can use the advanced charts to know or understand the forex market conditions. There are also more than 35 trading indicators to technically analyse the fluctuation in the market. You can also set automated trading in MT4 trading platform which is a good option for a beginner. It also support multiple language and multiple order types.
MetaTrader 5: MT5 is a advanced version of MT5 which have some advanced trading features which are not available in older version. One of checked charts in MT5 using different time frames. A Wide range of market information and technical indicators are available to analyse market condition. It also support different order types.
cTrader: FxPro offers this platform for high volume traders. The user interface of this platform is very clear/ Moreover customization options are also available to customize various available tools.
FxPro Edge: FxPro Edge is their proprietary spread betting platform specially designed for UK customers. It is not available for South African traders.
FxPro Deposits & Withdrawals Options
FxPro allow their customers to add funds and withdraw funds with them using various payment methods which are listed below:
Deposit Methods
Debit and Credit Cards (No fees & funding in 10 minutes): You can use your Debit or Credit Card like VISA, Mater, Maestro Card to add funds in your account. It can take maximum 10 minutes to process the payment made using the debit or credit card.

E-Wallets (Free & 10 minutes processing time): One can transfer funds using Neteller, Skril, PayPal, Union Pay. This method usually takes no more than 10 minutes to process payment. Moreover payment transfer using E-Wallets are free from FxPro ends.
Bank Wire Transfer (usually processed in under 24 business hours without any fees): The Transfer from your bank to FxPro bank's account is free. But your bank may charge according to their terms and conditions. Payment processing time in case of bank transfer is upto 24 hours.
Withdrawal Methods
FxPro does not charge anything from their clients in case of withdrawal funds. Most of their withdrawal options are free and take less than 24 hours of processing time.
Debit and Credit Cards: You can send your debit or credit card details via support email or chat to receive funds from them. The card should be one used on their website to add funds to your account, you cannot request withdrawal in card other than the one used during funding.
E-Wallets (no fees & processed in 24 hours): Withdrawal can also be processed by sending the E-Wallets details like Neteller, Skrill, PayPal to them. There are no charges for transferring using E-Wallets but your funds should be earned from the trading.
Bank Wire Transfer (no fees from FxPro & 24 hours processing time): Your funds will be credited to your bank account within 24 hours once transfer is processed by them. You can send your bank account details to them via email or chat.
FxPro Bonus
FxPro does not offer any bonus or promo for existing as well as new clients.
Currently there is no bonus or promo by FxPro for South Africans traders. But if they announce any bonus in future then we will update in this review post. So keep connected for update.
FxPro Customer Support
FxPro's customer support is far better than most other brokers. Their support hours are 24 hours during Monday to Friday via below mediums:
Quick Chat Support: You can talk to FxPro for chat support by visiting the contact page on their website. By default their chat bot will load, which is good for quick answers to most frequent questions. But if there is some query that is beyond their chat bot then the chat is transferred to real agents. We have tested and noticed that there is no hold time on their chat. Their chat representatives are very responsive and knowledgeable in most of the issues.

Fair Email Support: You can send a mail to their email [email protected] They normally reply within few hours & no later than 24 working hours.
No local Phone Number: FxPro does not have local phone number in South Africa. But you can contact them anytime at their international phone number +44 (0) 203 151 5550.
FxPro's support is very competent & friendly. We found their Live chat support to be is extremely easy to contact during the trading hours.
The only thing we don't like in their support is that they don't have a South African phone number. But then again, you can use their chat or request a callback at your preferred time.
Do we recommend FxPro
Yes, we do recommend FxPro to South African Traders.
We like them for their local FSCA regulation, their very low spread in cTrader account, great customer support and no deposit and withdrawal charges.
But on the downside, FxPro does not have local address and phone number in South Africa. Moreover, they do not have educational tools or tutorials to help their customers. Also their spread is a higher with their MT accounts, but it is not too high to be honest, as we have seen many other brokers with higher spread.
Overall, FxPro is a very reliable and safe forex broker for South African traders. Hence we recommend them.
FxPro South Africa FAQs
Does FxPro offer ZAR account?
Yes. With FxPro, Traders from South Africa can select base currency as ZAR with which account selected trading account become ZAR account with minimum deposit of ZAR 7000.
What is the minimum deposit at FxPro?
FxPro has a minimum deposit of $500 with their basis MT4 account for all traders. But in case of ZAR as base currency the minimum deposit is ZAR 7000.
Is FXPro regulated with FSCA?
FxPro is regulated as Financial Services Limited with Financial Sector Conduct Authority (FSCA) in South Africa with FSP number 45052 since 2015.
How to withdraw money from FxPro?
You can request for withdrawal from the client panel or by writing to them via support email/. There are no charges by FxPro on withdrawal & processing withdrawal take upto 24 hours.
"Do you have experience with FxPro? Please consider sharing your experience with a review below – good or bad – doesn't really matter as long as it's helpful to other traders!"
We only accept user reviews that add value to fellow South African Traders. Unfortunately, not all reviews that you post with us will be published on the website. For your review to be approved, please share your detailed & honest experience with the broker – either positive or negative. Thank you for helping out other traders with your valueable feedback!
Important: We don't accept any payments or kickbacks from any forex broker(s) to delete or change any reviews. We welcome Forex Brokers to reply to reviews on our website & share their side of the story to keep the process honest and fair for both sides.