Best Forex Brokers in South Africa 2023
We tested 40+ brokers & then selected the 10 best Forex brokers for South Africans that are regulated with FSCA, FCA or CySEC.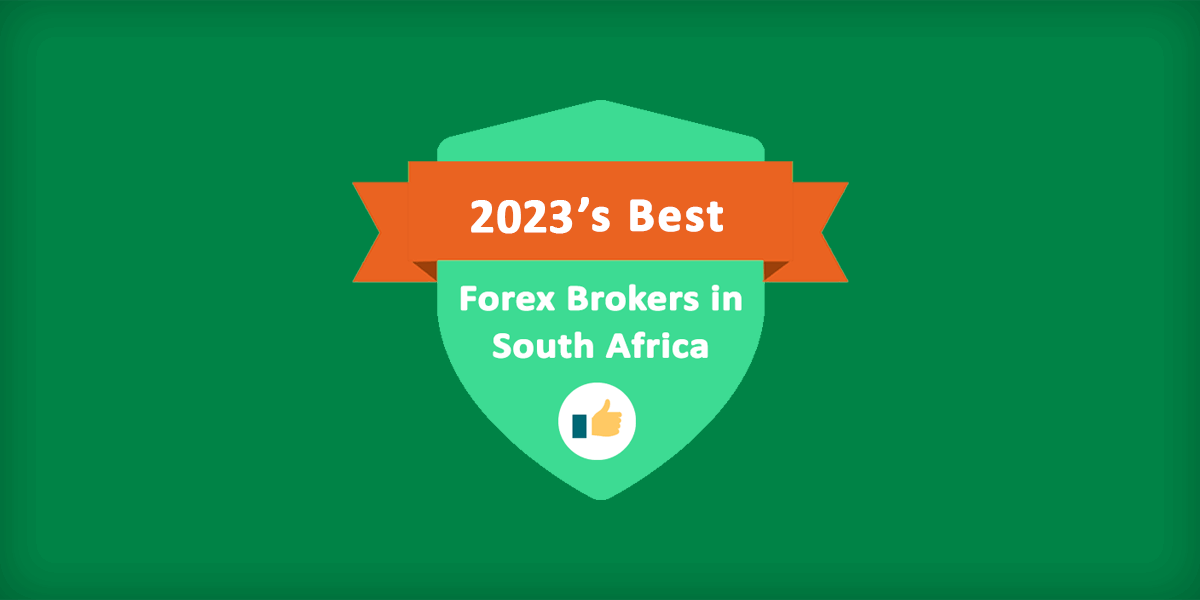 There are over 50+ Forex Brokers that accept South African traders. Most of these brokers claim to offer more or less the same features & trading environment.
So how do you decide which broker is best for you?
At Forexbrokers.co.za, we did the full research for you so that you don't have to.
First we narrowed down the list & selected only the regulated & credible brokers that work in the South African market.
Then we signed up with each broker & analyzed multiple factors including: minimum deposit, trading fees (average/typical spread for major instruments, commissions & even fees on deposits/withdrawals), maximum leverage, convenience of trading platform (mobile & desktop), ease of withdrawals, technical support. We even put in consideration the actual user reviews and ratings of real traders.
Now without further waiting…
Best South African Forex Brokers
Here's our complete list of 10 best performing forex brokers in South Africa. We have compared their Tier-1 & Tier-2 regulations, fees (spread & non-trading fees), time taken during deposits & withdrawals, trading execution time & support offered (last 4 months):
1. Tickmill – Best Forex Broker in South Africa with low spread & FSCA regulated
2. FxPro – Good Regulated NDD Forex Broker with Low Fees & Local Withdrawal methods
3. HF Markets – FSCA Regulated broker with Low Fees & Zero deposit/withdrawal charges
4. Exness – Low minimum deposit forex broker in South Africa
5. Octa – Forex broker with Low Spread & Copy Trading
6. JustMarkets – Forex broker with Raw Spread Account
7. AvaTrade – Fixed spread Forex broker
8. XM Trading – Fast Execution & low spread
9. IC Markets – Best Forex Platform for Professional Traders
10. Plus500 – Good Crypto CFD platform
11. BDSwiss – Good Forex broker with 0 pip spread Raw account
12. FXTM – Regulated Forex broker with Instant execution
How we selected the best Forex Brokers in South Africa
There are a few points that South African traders must check before signing up with any Forex or CFD broker.
1. Safety First: Regulatory Compliance is must
Regulation matters because it ensures the safety of your funds & protects you in case of any bad practice like fraud or manipulation by the broker. In South Africa, you must check whether the broker is regulated by FSCA or not.
Any good broker will be compliant with major Regulators & will not have complaints (in the past) against them.
If the broker is regulated & registered with more than 1 of these Top-tier Regulatory authorities (without any complaint against them), then we consider them to be safe for trading, and depositing your funds.
But you should not ignore FSCA regulation of the broker. If the forex broker only holds license from foreign regulator (even if from Tier-1 regulator), you should still consider it riskier than a locally regulated broker. This is because you will mot get the same investor protection from regulator of foreign licensed broker in case the broker goes under.
To check if your forex broker is licensed or not, you should search for your broker's name or their regulation number, on search on Regulator's (FSCA, FCA or ASIC) websites, as most of them have public search available. Below example is the image of what FSCA's FAIS Financial Service provider search interface looks like.

Also, if you are searching for approved brokers on FSCA, only checking the "Authorized" status is not enough. Make sure to verify if the broker is approved for offering derivative instruments. You need to ensure that the broker that you are choosing is approved for offering derivatives trading. For example, below is how the "Approved Products" category would look like for a broker regulated for offering Forex & CFD trading.

So next time before choosing any broker, properly do your research, and check if the broker is regulated or not. If the broker claims that it is regulated, then search the name of the broker on the websites of the Regulatory authorities: fsca.co.za (FSCA's website) & fca.org.uk (FCA's website) to verify the broker's claim, and also check if there have been any complaints against the broker in the past.
If the broker that you are about to trade with is not regulated or has a valid complaint against it or has been fined in the past for some bad practice, then its best to stay away from that broker. Also, as another rule, never choose a broker that is not regulated with at-least 1 top regulator i.e. FSCA, FCA. CySEC or ASIC.
The following are the Top-tier Regulators for Forex & CFD trading in various countries. If a forex broker is regulated by more than 1 of these major regulators then it is considered to be a low risk brokerage.
Forex Brokers like HotForex, Exness, Tickmill & FXTM are licensed with at-least 2 top-tier regulators, including with FSCA in South Africa. So these brokers are considered to be low risk.
It is also important to note that some brokers may register their clients under Offshore regulators for lesser compliance. You should avoid such brokers & instead choose forex brokers that are licensed by Top-tier regulations & register your account under a major regulation like FSCA in South Africa.
Always ask your broker about the regulation under which your account will be opened. Most good brokers will transparently answer this question. Also, almost all of the regulated brokers will highlight the name of the "Entity" under which you are registering & their Regulatory Information on the account opening form.
So make sure to verify that your account is opened under a Top-Tier Regulated entity.
Another aspect to consider in the FSCA licensing of the forex broker is whether they are an approved ODP (Over-The-Counter Derivative Provider).
As per FSCA licensing, any broker offering derivatives as the counter-party must be an authorized ODP. But most of the FSCA regulated forex brokers currently have their license status as 'Applied' or 'Application Withdrawn'. Only a few CFD brokers have their license status as 'Approved'.

For example, Exinity Limited, which operates the brand FXTM is a licensed ODP as per FSCA ODP search page.
Any forex broker that is not an approved or licensed ODP, cannot offer CFDs as the counter-party. Only the approved brokers are authorized to offer derivatives to SA traders.
Some of the brokers like HFM, Tickmill, Exness who have large trading volumes are still not licensed ODP. Therefore, they cannot offer CFDs or any derivative instruments as the counter-party. The can only be a non-dealing broker.
When choosing any forex broker, South African traders must carefully check & validate the licenses which are issued by the FSCA to the broker they are choosing. If a broker does not have the required license, but they are still onboarding clients for an unapproved product, then they are not does so legally.
2. Forex Broker's Fees
Forex brokers charge fees through their spreads, commissions on trades (in some cases) & rollover (for overnight open positions). Some brokers also charge extra fees during deposits & withdrawals, but don't actually show it as their fees.
Tracking the fees charged by a broker & then comparing it with other brokers is not easy, but we are here to help you with this.
Here's a breakdown of the 4 types of fees forex brokers charge:
Spread: This is the difference between the ask & the bid price. It's the most common fees charged by forex brokers. The lower the spread of a broker, the better it is for you.

Another important point to note is that some forex brokers have fixed spread accounts, like AvaTrade. Most brokers have variable or floating spread accounts where the actual spread varies depending on the market conditions, it could be higher or lower than the broker's 'typical or average spread'. But the spread at a Fixed spread broker like Avatrade remains the same as what is listed as the typical spread for every instrument on their website.

Before signing up with any forex broker, you should check the broker's contract specification page as it normally has information on the broker's spread. Like below is the screenshot from the XM's forex spread overview page.

This above example highlights the 'Average spreads' at XM with their Standard Account. For a major like AUD/USD, their average spread is 1.9 pips with Standard Account. The average spread is normally calculated over a period by the broker. The actual spread during trading this instrument on XM's platform may be higher or lower because XM is a variable spread broker.

Commissions (for ECN Account): Most ECN type brokers will offer lower spread, but will instead charge you commissions (for both opening & closing the position) based on your trading amount & volume.

Below terms from FXTM Broker's website shows the terms of their Advantage account fees.

Forex Brokers normally mention their commission for "each side" of the trade/order. So if the broker mentions that they charge $2 commission per lot per side, then it means that the broker is charging $2 for opening the position & another $2 during closing of the position. The total commission would be $4 with this example.

Also, the commission could vary depending on the CFD instrument. For example: BDSwiss have $5 commission on forex, $2 in CFD indices & 0.15% commission on share CFDs. So you should check the total fees commission for the exact instrument that you want to trade because it is quite possible that the fees for that instrument is lower at another regulated CFD broker.

Let's take another example. HotForex (HFM) mention their commissions with Zero account in South African Rand as well for traders who have opened account with local currency as their base currency. Their commission is R80 for majors, and R110 for other currency pairs. So, you should also check is the exact commission for currency pairs that you want to trade. As the commission could be higher for that instrument.

Another important point is that if you are a high volume trader, then the fees structure with ECN accounts will be more transparent & have lower trading costs for you.
Rollover Fees: Forex brokers charge small fees if you want to keep a position open overnight. This fees is called the Rollover fees or Swap rates. This fees depend on your broker & the currency pair that you are trading.

The Swap fees at different brokers are different & this fees can add up if you are holding a position overnight. For example, the Swap fees charged by XM for Long EUR/USD 1 Standard Lot for a trade open for 1 Night is USD -5.05, and it is USD -1.15 for Short Position. For the same conditions the Swap Fees charged by HotForex is USD -4.40 USD for Long & -0.50 USD for Short.

Similarly, at Exness the Swap Long EUR/USD 1 Standard lot is −3.54 USD & you earn 0.97 USD for Swap Short for overnight trade open for 1 night. So, in this example, you would notice that XM is charging the highest fees for this trade with both Swap Long & Short on EUR/USD. You should take this fees into account if you are going to hold your position overnight.

You will see the Swap charges of a broker with the contract specifications of the instruments. For example, HF Markets have listed their Long & Short swaps for each currency pair under their Forex Trading page.

Positive Swap means that your forex broker will pay you for holding that position overnight. This is because of the interest rate differentials. For example, USD/JPY has a negative Swap for Short positions, because of the negative interest rate differentials between the US & Japanese yields.

It is important to note that some forex brokers may not pay you a Swap fees, even for currency pairs that should have a positive carry. For example, generally in the forex market investors are Long USD/JPY for a positive carry. But the retail forex/CFD brokers like HFM, Exness etc. have zero Long Swap for USD/JPY, meaning they don't pay any interest for holding that position overnight.

Swap is another way in which there can be large differences in the overall fees at different forex brokers. For example, Tickmill has a positive Swap of 10.63 for Long USD/JPY, whereas most other brokers have negative or zero swap for the same position, this makes their charges lower for trading this currency pair in comparison (depending on your position & holding period).

You should use the Swap Calculator on the broker's website to see the exact Swap that you will have to pay or you will earn for the overnight position for a particular position. This fees would vary depending on the broker & you may earn a positive Swap at some brokers for the same order while another broker may charge you.

These fees could add up if you broker is charging you high Swap Fees & you keep your position open for few nights. So, compare the Swap Long & Swap Short Fees at every broker for the instruments that you want to trade & then decide which broker would be favorable for you.

Deposit & Withdrawal fees: Many brokers also charge payment gateway fees & processing fees on deposits/withdrawals. For example: eToro charges $25 processing fees for every withdrawal, but XM Forex, HotForex & Tickmill on the other hand have zero fees on deposits/withdrawals (depending on your amount).

You will find the deposit & withdrawals charges listed on the broker's deposit/withdrawal page on their website. This below screenshot of table from Tickmill's website highlights their deposit & withdrawal commissions. They charge zero commission on all funding & withdrawal methods.

You should also check the fees with deposits & withdrawals via Internet Banking Transfers. Some brokers like Exness & HotForex offer this for free without any extra fees, but some brokers may charge high fees during conversions to your account base currency from Rand if your account's base currency is not in other currency like USD or EUR.

Inactivity Fees: Some brokers also charge fees for Inactivity. Under this fees, if you don't place trades for a certain period then you would be charged a fees for not trading.

For example, FXTM charges an inactivity fee of 5 USD per month after 6 months of Inactivity. This fees will be deducted from your account balance.

In general, all forex brokers mention their Inactivity Charges under their Terms (which you agree to during account opening). It is usually calculated from the last day of your trading activity or account use (depending on your broker).
To save your time, we have already calculated & compared the fees of all the brokers for you in our comparison.
In the table below, we have compared the typical spread (in pips) of our 4 top rated forex brokers for their standard accounts (according to the Contract Specification information on their websites):
Below Comparison Table Shows the Swap Fees comparison of EUR/USD & GBP/USD (both long & short) at major SA forex brokers.
Note: All 4 brokers compared above have variable spread, so the actual spread may be higher than the value listed in the above comparison table. The actual live spread will fluctuate based on the market conditions. And the actual Swap Fees would also vary, and you should check using the broker's Swap Calculator.
Based on our comparison of the standard accounts offered by different brokers, typically XM broker & Exness had the lowest spread for most currency pairs, while FXTM generally had the spread on the higher side (with their Micro Account).
Also overall, HotForex has competitive spread for most FX pairs & other CFD instruments like NASDAQ, Gold with Premium account. All 4 brokers listed in above comparison table have variable spread, so the actual spread may be lower or higher than their typical spread for an instrument. The actual spread is based on the Live market conditions.
For ECN brokers, Exness & HotForex are very competitive with their spread. For Example, HotForex has much lower spread (plus $6 commission per 1 lot for forex majors & $8/lot for all other currency pairs) with Zero account, while Exness has spread from 0 pips + USD 7 per lot commission with their ECN type Pro Accounts. FXTM also has really tight spread & low commissions with their MT5 Advantage account. Tickmill too has Pro Account which is an ECN type account with Raw Spread & only $4 commission per 100,000 units (Standard Lot).
When checking the 'trading fees' at ECN broker, check the commission charged + any spreads. For example, we checked the fees for EURUSD at FxPro with their cTrader account (commission + spreads).
The typical spread with this account for trading EURUSD is 0.46 pips + the commission is $3.5 per standard lot. If you are trading 100.000 units (1 Standard lot), then your fees will be $8.1 (3.5 + 4.6) for 1 Standard lot, or an equivalent of 0.81 pips spread. This fees overall is moderately low, and other brokers also charge similar fees for similar account types.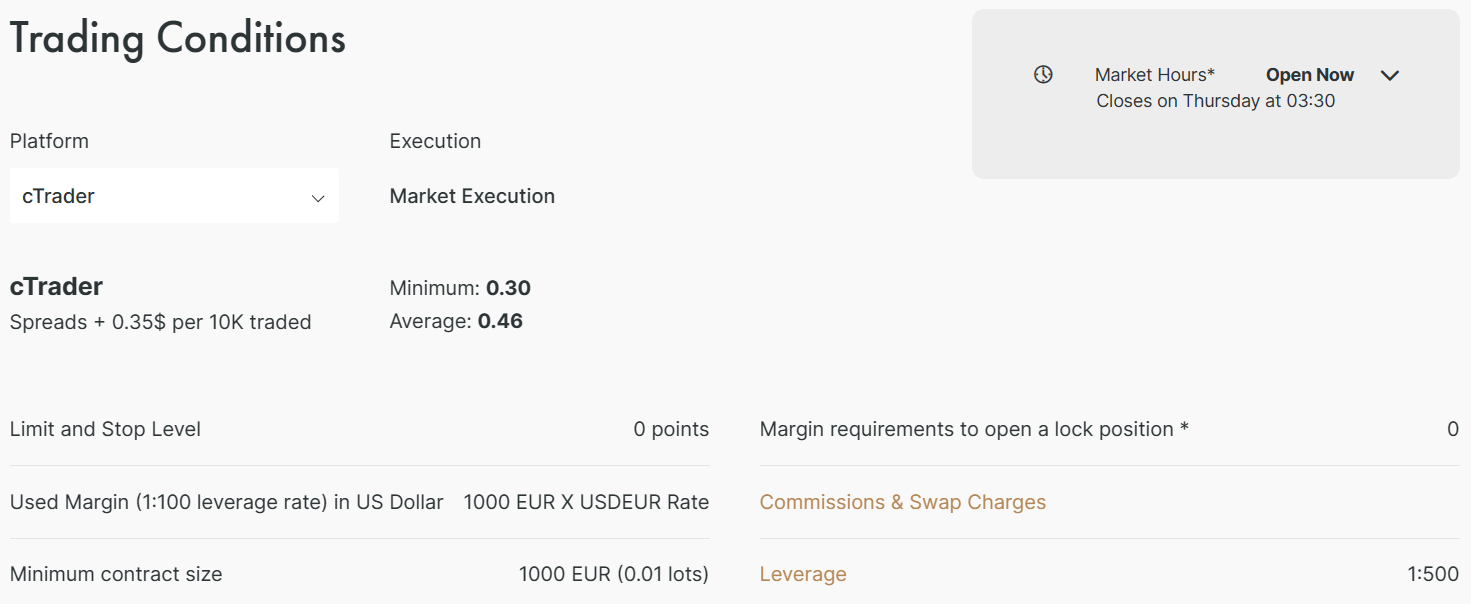 Even when checking the fees for ECN type account at any forex broker, calculate the overall cost that you will pay to trade that currency pair. The compare if the fees is lower if you only traded at spread only broker (over commission + spreads), then decide if it makes sense for you in terms of trading charges.
3. Trade Execution Speed Matters
Another factor to consider is if the broker offers quick order execution speed. Fast execution eliminates slippage & re-quotes. Forex brokers either offer market execution or instant execution of orders.
If you are an intraday trader that opens/closes many positions daily, then it should be even more important for you to opt for a broker with the best trade execution speed. 
But there is no method to test the execution speed other than actually placing trades on the broker's live platform. Some brokers will offer good execution on demo but won't offer the same speed during live trading. So, if you are about to choose a broker then, you should actually their live platform trading conditions with minimum funding & low position size.
During our trading execution tests, 2 brokers, XM Forex with their Ultra Low Account & FXTM with Micro Account had fast order execution (as both these brokers have instant execution account types). The brokers HotForex, Exness & Tickmill also have quick market execution.
It is important to note that during volatile market conditions, you are likely to get requotes at brokers that offer instant execution. This is because the bid & ask prices are volatile & brokers by the nature of their execution model may not be able to fill your order immediately. But market execution brokers (mostly market makers) are able to offer instant fill of your orders without requotes but there is likely to be slippage.
In order to avoid slippage, you should choose you should choose instant execution.
Also, you should test the execution of the exact CFD instruments or currency pairs which you actively trade. For example, if you mostly trade crosses of ZAR (South African Rand) currency pair, then you should check the execution for this exact pair. Many brokers have good execution for majors, but when trading exotic currency pairs, there can be re-quotes or off-quotes.
Here is an example of a quote for EUR/ZAR on MetaTrader at a major forex broker. During less trading sessions like Asian session, there are generally issues with execution of orders for some currency pairs & spread widening as well.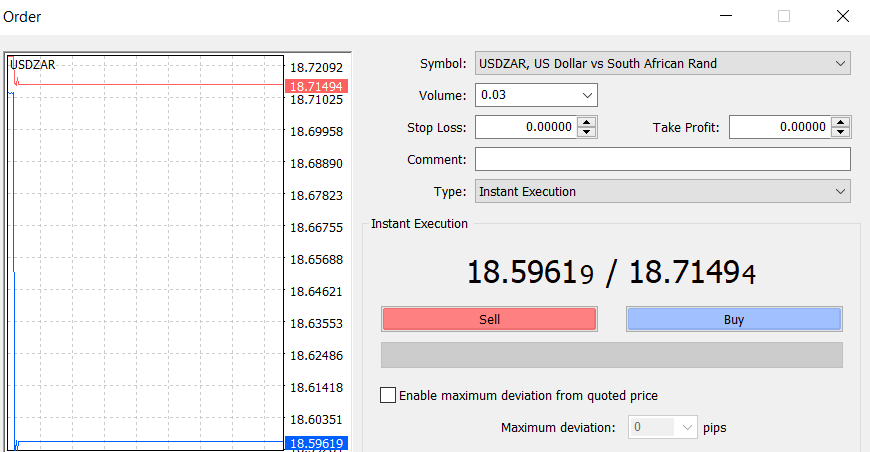 This issue is most visible when you trade CFDs on indices at forex brokers. If you notice persistent issues with quotes when trading instruments of your choice, you should switch to a different broker that offers better conditions for your desired markets.
Most of the good brokers have a terms or trading conditions page on their website regarding their execution policy. You should check the broker's execution policy, and look for terms like market execution, no re-quotes, real-time execution etc. Read the 'terms' of the broker or their FAQs page (or directly ask the broker's support), to understand the type of execution being offered to you. 
Also, look for Risk control features your forex broker offers you. These should include ability to restrict/set your trading account's leverage (to even 1:1), guaranteed stop-loss protection, negative balance protection.
If your forex broker does not offer you these features, it is possible that you would lose more than your equity during unfavorable market conditions where there is slippage & you don't get your position stopped out at your original stop loss.
4. Ease & Fees on Deposits and Withdrawals
Adding funds & making withdrawals with a broker should be fast & easy. You would agree, right?
Most brokers transparently show their funding/withdrawal time & methods on their websites. You should always check that first & compare which methods suit you. For example, most traders in SA prefer bank transfer or EFT method, but not all brokers offer local funding & withdrawals in local currency.
Like this page on Tickmill's website where they transparently show their deposit & withdrawal commissions for various methods.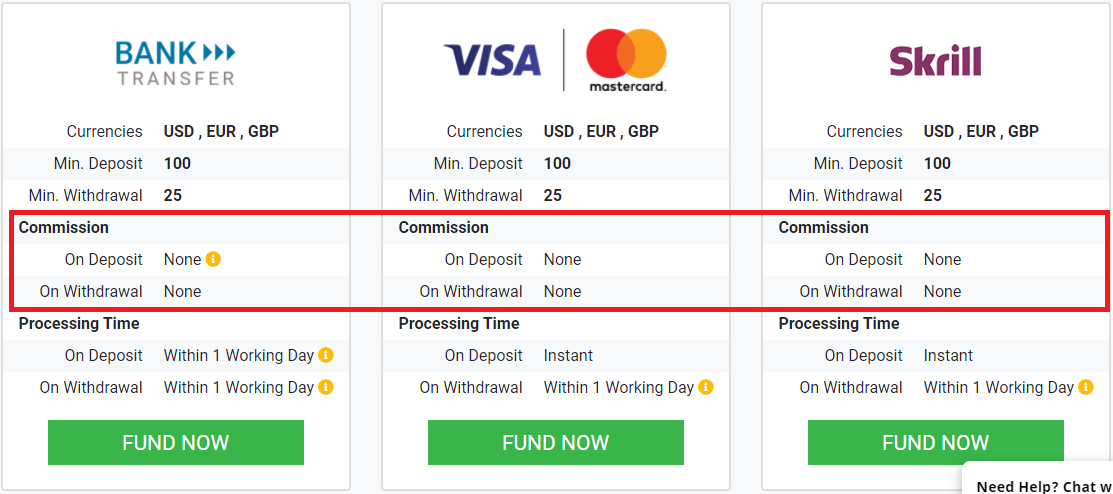 You should also carefully look into the withdrawal fees, because some brokers offer zero fees on deposits but charge high fees during withdrawals.
Some brokers like Exness, Tickmill, HotForex even offer local bank transfer (Internet Banking) deposit & withdrawal options in South Africa. If you prefer local bank deposits, then we recommend Exness, Tickmill & HotForex. But if you prefer card & other wallet methods, then XM & HotForex are very good as well.
Normally, it is best if your broker offers funding & withdrawals in South African Rand via EFT or Internet Banking. Generally, this method is easiest to use, faster & with lowest fees. For ex. if your broker only offers wire transfer option, then it may be difficult to fund your account, and withdrawals would also be slower & with higher fees as compared to local internet banking.
Overall, we find Tickmill, HotForex, XM & Exness offer the fastest deposits & withdrawals and all 4 brokers charge zero fees on funding & even on withdrawals. FXTM is also quick in processing payments, but they lack in the fees as they charge "Fees/Commission" with most of the withdrawal methods that are suitable for South Africans.
Note that forex brokers can take upto 48 hours to transfer funds to your bank account. Their deposits are mostly instant, but the withdrawals to bank are slower. You will fund the exact time to withdrawal on the broker's funding/withdrawal pages. For some methods like Skrill, Cryptos, the withdrawals are also processed within 5-10 minutes.
5. Account Base Currency (for South African Traders)
Your account base currency is the currency in which your trading deposits, profits are converted. Eg: If you choose Rand as your base currency then all your account deposits, profits in your account with the broker with be held in South African Rand.
The most popular base currency option is USD, but as per our research trading accounts in local currency are very popular among traders in South Africa.
As per our research, there are a few foreign & local forex brokers that offer ZAR account i.e. with Rand as a base currency option for your trading account. These include popular brokers HFM, Exness, FxPro, XM Broker & Plus500, which you can check in the research linked above.
Brokers will generally display their account base currency options on their Account Types page. Like this page on XM's website which shows different account currency options:

During the signup & opening of any new account, brokers would generally ask you to select your 'Account Current' or 'Base Currency'. This will be the primary currency of your trading account. Do note that you can open multiple trading accounts from your broker account (at most brokers) & different trading accounts can have different account currencies.
Account currency should be a really important consideration for South African traders, if you are looking to make local deposits and withdrawals in Rand because of the following reasons:
Save Exchange Rate Losses: During deposits or withdrawals, your brokers or your bank can charge your high exchange rates or transfer fees for conversions to USD or EUR (whichever is your base & deposit currency).
Fast local deposits & Withdrawals: Many brokers that offer Rand base currency normally also accept deposits & offer withdrawals via local bank accounts in South Africa. If you are choosing Rand as your account currency, then the local transfers will generally be much faster than wire in another currency account.
Trade ZAR pairs (all crosses): If you generally trade forex pairs with Rand quote currency i.e. USDZAR, GBPZAR etc. then it is beneficial to hold your trading account under the same currency. This is because if you trade these pairs, then once you close the trade, your profits/losses will be in Rand.

But if your account currency is let's say USD, then the broker will convert that profit into USD & may charge fees for that conversion.
6. How good is their platforms (on all devices)?
Almost every broker has multi device platforms including webtrader, desktop application & mobile app; although there are a few exceptions like Plus500 which does not have any desktop version.
According to us, a good mobile trading app would allow you to open your account quickly, be quick to place & close trades, get price alerts, news feed, place orders. We have compared the best forex trading apps for South African traders based on 9 factors, and you should read this research for information on what we checked in the broker's apps.
But here are the brief factors on how we conducted the check on broker's platforms.
DeskTop & Webtrader: A lot of the forex & CFD brokers offer standard Metatrader platform, that is available on all devices. There won't be a lot of variation on the MT4 or MT5 interface, but the actual execution of orders & broker's experience could be vastly different. Even though demo account may not be best test, it is still a good idea to test the platform on demo first to get used to it for you open a Live account.

Moreover, there are some brokers that have their own proprietary web based platforms like Plus500 & Etoro.

Mobile Trading App: If you are a trader that prefers to use your mobile device for trading then broker's app should be one of the main considerations for you.

You should ask these questions these for starters: Is it available for Android, iOS? What instruments are available in the app & are your desired currency pairs there? Is it fast to use?
It is best to choose a broker that offers support for all devices.
Plus, remember to check the trading app's negative reviews before you download it. You can check the app's review from Google's Play store & iOS App store. In general, a good app will have a lot more positive reviews than negative. Go deep into the negative reviews too to find out if there are any repetitive issues being reported by app's users.
Another important point to look for in the app is its security. Check if there has been any incident in the past related to broker's security, like data leaks of their clients data. There have been some brokers which experienced security issues.
7. Is the broker's Customer Support good?
The forex broker's customer support is a really important factor in our comparison. We tracked the support of every broker that we have listed here.
We especially liked XM's chat support as they are quite responsive & knowledgeable (during our tests). Also, the live chat support at HotForex is responsive. But on the other hand, Exness's support via live chat is much slower than other brokers.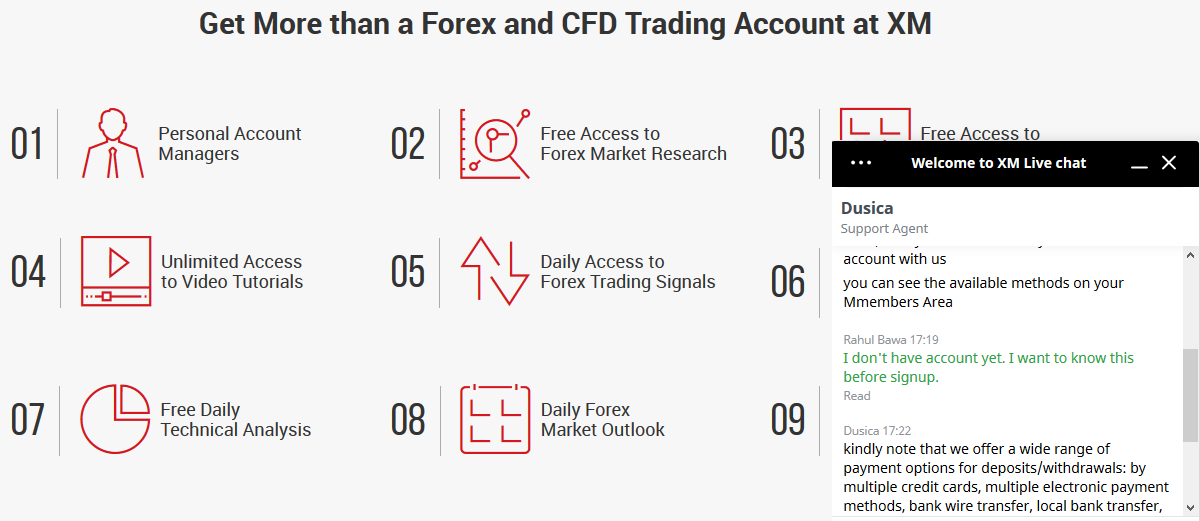 A good broker would offer 24 hours support during the weekdays via Live Chat, preferably have a local phone number in South Africa & have Email support 24/7 that answers in less than an hour. But not all brokers offer 24/7 support. For ex: Avatrade offers customer support during their business hours only, so there may be high waiting time with them for support related issues. Also, there might be a few minutes of delay while connecting with chat support at some brokers.
We compared the customer support by contacting all the brokers in our review via Live chat & email. Overall, we found XM & HotForex had the best customer support. Both these brokers have quick chat support that is available 24/5, without much hold time. Normally, their replied in under 6 hours for emails sent to their support email.
While some brokers have slower support than others & it can some effort to get support. Like Exness's email support is very slow in responding to queries, and in most cases you will have to wait for a few minutes to connect to their Live chat support.
Also, during chat with Exness's support, we noticed that it took few minutes for their support agents to respond to queries. Their email support in some cases did not reply back to our emails, and when they did, it took a few days. On average, we got a response to our email within 1-2 days, but in some cases the responses were much more delayed. That is why we did not like Exness's support very much.
A good way to test the support is by sending a few emails to the broker's support email & testing the live chat during business hours. You should perform these tests over a period, so you can have the idea on how responsive their support is.
8. Range of Trading Instruments
Another factor that you should consider is the number of CFD trading instruments available on the broker's platform. Many traders now trade CFDs on metals, commodities, indices etc. Always check beforehand if the instrument that you want to mostly trade is not available at the broker or not.
Most forex brokers have a webpage on their website where they list the range of available instruments & contract specifications for each instrument which can include lot size, typical spreads, lowest spreads etc. Normally, brokers create separate pages for each type of CFD instrument like Forex, metals, indices, commodities etc.
As an example, Forex trading instrument page on HotForex SA's website has list of all their Forex trading pairs, along with typical spread for each currency pair, and you can also sort the table data.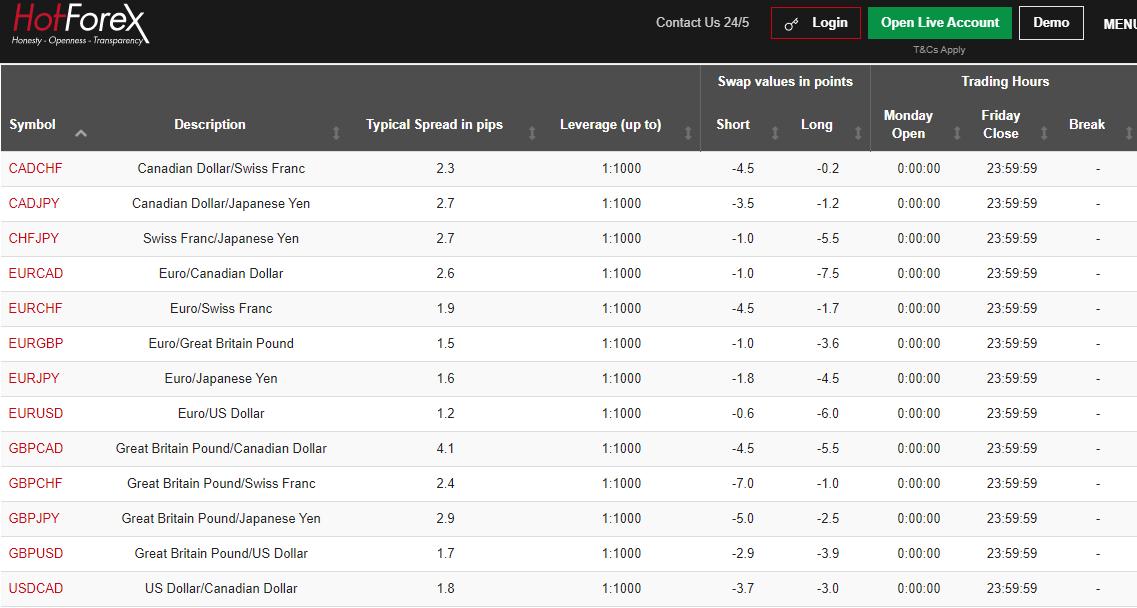 Other than forex, you should check if the broker offers NASDAQ or NAS100, crypto CFDs, Gold CFDs etc. These are the most commonly traded CFD instruments other than currency pairs, by the traders in South Africa as per our research, but some brokers don't offer all these instruments. For example, many brokers like FXTM, OctaFX etc. don't offer Crypto CFDs.
Make sure to always check beforehand if all the trading instruments that you want to trade are provided by the broker. And check what fees the broker charges for the instrument you want to trade. For example, you may want to trade Gold & NASDAQ CFDs mainly, then you should compare the overall fees for these instruments at all the regulated forex CFD brokers.
Another important thing is to compare the overall trading fees for trading each instrument. Some brokers charge high Swap fees for trading CFDs, and this will increase the overall costs if you are a Position Trader. In this case, you should look for a broker that preferably does not charge you Swap fees for overnight positions on CFDs for commodities, stocks etc.
How do Forex Brokers make money?
The fees charged by forex brokers is usually in the form of spreads & commissions.
If the EUR/USD Buy quote is 1.0508, and Sell Quote is 1.0501, the difference of 1 pip is the brokerage charge. It can be higher at some forex brokers, but the lowest we have found is 0.5 pips at Exness.
How much money do I need to open Account with a South African Forex Broker?
The lowest minimum deposit is R16 at some popular forex brokers in SA.
But your deposit should be according to the position sizing you are going to trade. For example, if you are going to trade 1 mini lot (10,000 units) of EUR/USD, then your deposit should be around R15,000 to keep the leverage to 1:10 maximum & manage your risk properly.
Also depending on your account type, the minimum requirements to open the account would be different. It can range even be R7500 or $500 for ECN account types.
Is your Forex Broker Safe?
There are many scam & unregulated forex brokers in South Africa. The scam platforms are not even regular broker, but they target general public by promising high returns from forex market.
Note that no licensed platform can promise you returns from any markets. Trading in financial markets has substantial risks which can lead to loss of capital.
For our research, we use multiple metrics to check whether the broker is trusted or a scam. In our criteria, the most important factor is the regulation of broker with FSCA & other tier-1 regulators FCA & ASIC.
Even when dealing with FSCA licensed broker, you should validate the license type that has been acquired by the broker. It must have the proper license that allows it to issue or act as intermediary for CFDs products it is offering.
Frequently asked questions