Best Forex Brokers in South Africa 2020
We tested 30+ brokers & then selected the 10 best Forex brokers for South Africans that are regulated with FSCA, FCA or CySEC.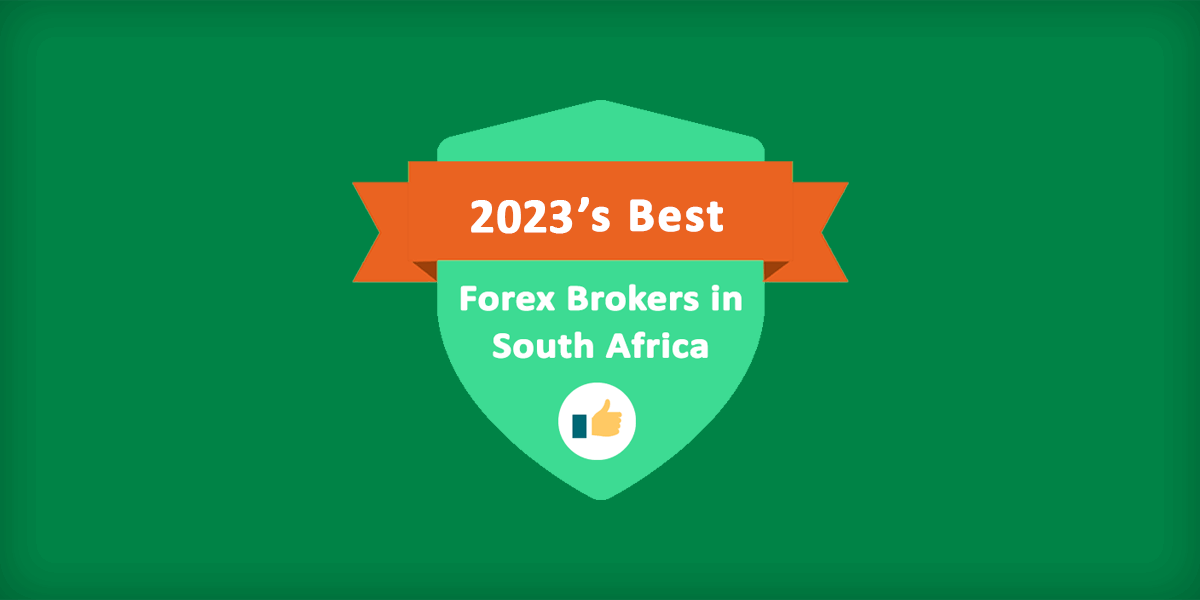 There are over 50+ Forex Brokers that accept South African traders. Most of these brokers claim to offer more or less the same features & trading environment.
So how do you decide which broker is best for you?
At Forexbrokers.co.za, we did the full research for you so that you don't have to.
First we narrowed down the list & selected only the regulated & credible brokers that work in the South African market.
Then we signed up with each broker & analysed multiple factors including: minimum deposit, trading fees (average spread, commissions & even fees on deposits/withdrawals), maximum leverage, convenience of trading platform (mobile & desktop), ease of withdrawals, technical support. We even put in consideration the actual user reviews and ratings of real traders.
Now without further waiting…
10 Best South African Forex Brokers
Here's our complete list of 10 best performing forex brokers in South Africa. We have compared their regulation, fees (spread & non-trading fees), time taken during deposits & withdrawals, trading execution time & support offered (last 4 months):
1. Hotforex – Best Forex Broker (FSCA Regulated, Low Fees, Zero deposit/withdrawal charges)
2. XM Trading – Fast Execution & low spread
3. Avatrade – Fixed spread forex broker
4. Exness – Low spread & instant withdrawal options
5. FXTM – FSCA regulated broker with Instant execution
6. FXCM – Good Overall FSCA Regulated broker
7. FxPro – FSCA Regulated broker
8. Tickmill – NDD Forex Broker
9. Plus500 – Good Crypto CFD platform
10. IC Markets – Best ECN Brokers
How we selected the best Forex Brokers in South Africa
1. Safety First: Regulatory Compliance is must
Regulation matters because it ensures the safety of your funds & protects you in case of any bad practice like fraud or manipulation by the broker.
Any good broker will be compliant with major Regulators & will not have complaints (in the past) against them.
If the broker is regulated & registered with any or most of these Regulatory authorities (without any complaint against them) then we consider them to be safe for trading.
For this, you should search for your broker's name or their regulation number, on search on Regulator's (FSCA, FCA or ASIC) websites, as most of them have public search available. Below example is the image of what FSCA's FAIS Financial Service provider search interface looks like.

Also, if you are searching for approved brokers on FSCA, only checking the "Approved" status is not enough. Make sure to verify if the broker is approved for offering derivative instruments. You need to ensure that the broker is approved for offering derivatives trading. For example, below is how the "Approved Products" category would look like for a broker regulated for offering Forex & CFD trading.

So next time before choosing any broker, properly do your research if the broker is regulated or not. If it's regulated, then it's also best to search the name of the broker on the websites of the Regulatory authorities: fsca.co.za (FSCA's website) & fca.org.uk (FCA's website) to see if there is any complaints against the broker that you are about to choose.
If the broker that you are about to trade with is not regulated or has a valid complaint against it, then its best to stay away from that broker. Also as another rule, never choose a broker that is not regulated with atleast 1 top regulator i.e. FSCA, FCA. CySEC or ASIC.
2. Forex Broker's Fees
Forex brokers charge fees through their spreads, commissions on trades (in some cases) & rollover (for overnight open positions). Some brokers also charge extra fees during deposits & withdrawals, but don't actually show it as their fees.
Tracking the fees charged by a broker & then comparing it with other brokers is not easy, but we are here to help you with this.
Here's a breakdown of the 4 types of fees forex brokers charge:
Spread: This is the difference between the ask & the bid price. Its the most common fees charged by forex brokers. The lower the spread of a broker, the better it is for you.

Before signing up with any broker, you should look for the broker's contract specification page as it normally has information on their spread. Like below is the screenshot from the XM's forex spread overview page.

Commissions (for ECN Account): Most ECN brokers will give you market spread (which are often very low), but will instead charge you commissions (for both opening & closing the position) based on your trading amount & volume. If you are a high volume trader, then the fees structure with ECN accounts will be more transparent & have lower trading costs for you.
Rollover Fees: Forex brokers charge small fees if you want to keep a position open overnight. This fees is called the Rollover fees or Swap rates. This fees depend on your broker & the currency pair that you are trading.
Deposit/Withdrawal fees: Many brokers also charge payment gateway fees & processing fees on deposits/withdrawals. For example: Etoro charges $25 processing fees for every withdrawal, but XM Forex on the other hand has zero fees on deposits/withdrawals(depending on your amount).
To save your time, we have already calculated & compared the fees of all the brokers for you in our comparison.
In the table below, we have compared the typical spread (in pips) of our 4 top rated forex brokers for their standard accounts:
Note: All 4 brokers offer variable spread so the actual spread may be higher than the value listed in the above comparison table. The actual live spread will fluctuate based on the market conditions.
Based on our comparison of the standard accounts offered by different brokers, typically XM broker & Exness had the lowest spread for most currency pairs. Also overall, Hotforex had very competitive spread for most FX instruments with Premium account. All 4 brokers listed in above comparison table have variable spread, so it may be lower or higher than their typical spread based on the actual Live market conditions.
For ECN brokers, Hotforex is very competitive with their spread. In general, Hotforex has much lower spread (plus $7 commission per 1 lot) with Zero account. FXTM also has really tight spread & low commissions with their MT5 ECN account.
3. Trade Execution Speed Matters
Another factor to consider is if the broker offers quick order execution speed. Fast execution eliminates slippage & re-quotes.
If you are an intraday trader that opens/closes many positions daily, then it should be even more important for you to opt for a broker with the best trade execution speed. 
But, there is no method to test the execution speed other than actually placing trades on the broker's live platform. Some brokers will offer good execution on demo, but won't offer the same speed during live trading. So if you are about to choose a broker then, you should actually their live platform trading conditions with minimum funding & low position size.
During our trading execution tests, 2 brokers XM Forex & FXTM had the best market execution (as both offer instant execution in most cases).
Most of the good brokers have a terms or trading conditions page on their website regarding their execution policy. You should check the broker's execution policy, and look for terms like no re-quotes, real-time execution etc. 
4. Ease & Fees on Deposits and Withdrawals
Adding funds & making withdrawals with a broker should be fast & easy. You would agree, right?
Most brokers transparently show their funding/withdrawal time & methods on their websites. You should always check that first & compare which methods suit you.
You should also carefully look into the withdrawal fees, because some brokers offer zero fees on deposits but charge high fees during withdrawals.
Some brokers like Exness even offer local bank transfer deposit & withdrawal options in South Africa. If you prefer local bank deposits, then we recommend Exness. But if you prefer card & other wallet methods, then XM & Hotforex are very good as well.
Overall, we find XM & Exness to offer the fastest deposit & withdrawals and both charge zero fees on funding & even on withdrawals. FXTM is also quick in processing payments, but they lack in the fees as they charge "Fees/Commission" with most of the withdrawal methods that are suitable for South Africans.
5. Is the broker's Customer Support good?
The forex broker's customer support is a really important factor in our comparison. We tracked the support of every broker that we have listed here.
We especially liked XM's support as they are quite responsive & knowledgeable.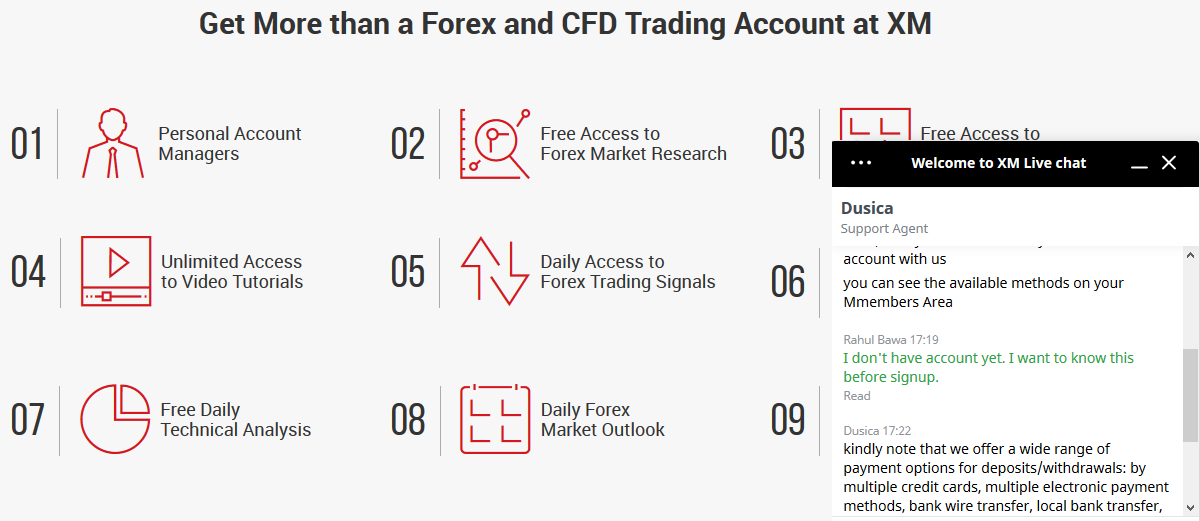 A good broker would offer 24 hours support during the week via Live Chat, local phone number & Email. But not all brokers offer 24/7 support. For ex: Avatrade offers customer support during their business hours only, so there may be high waiting time with them for support related issues.
Overall, we found XM, Hotforex & FXTM had the best support. All these 3 brokers had quick chat support that is available 24/5 & are very quick in answering most queries.
Frequently asked questions