Best Lowest Spread Forex Brokers 2021
See our comparison of low spread forex brokers in South Africa. We have compared the overall trading fees (not just the spread).
Every forex trader seeks the lowest spread as it can marginally affect the profit or loss from the trades. Lower spreads mean lower trading costs for you. Some forex brokers in South Africa have fixed spreads while most of them have variable spreads.
However, only the spread shouldn't be the only basis to select a forex broker. You should look for overall trading fees charged by the broker, and if they are regulated.
7 Best Lowest Spread Forex Brokers for 2021
Hotforex – Lowest Spread from 0 pips with Zero Spread Account
Tickmill – Low Spread broker with No Commission Classic account
Exness – Standard Accounts with low fees
XM Broker – Low trading fees
Despite having least or zero spreads, some brokers can still be costly as they require higher deposits or can involve hidden charges.
Multiple types of accounts are offered by the forex brokers in South Africa. The ECN type of accounts involve raw spreads but can still be costly for most traders as they charge higher commissions for opening and closing a position. The minimum deposit requirement for opening such accounts is also higher than other accounts.
To give a better perspective of the spreads and commission, along with other major aspects of a forex broker, we have researched few reputed brokers that accept South African Traders.
We have listed brokers that offer the lowest spread and overall trading and non-trading fees with their standard account types.
Best Forex Brokers with Lowest Spread in South Africa Compared
We will compare the spread, commissions & other non-trading fees of each broker in our list.
1. Avatrade – Overall Best forex broker with Lowest Fixed Spread
Benchmark EUR/USD Spread:

0.9 pips fixed spread.

Minimum deposit:

$100

Regulation:

FSCA (FSP No. 45984)
Ranked #1 Low Spread Forex Broker in South Africa
Avatrade has been offering forex trading services since 2006 in multiple jurisdictions. They are regulated by 3 Tier-1 and three tier-2 regulatory authorities 0 including FSCA in South Africa (FSP number 45984).
The spreads at Avatrade are fixed and no commissions are charged for the standard account. We checked the spreads on major currency pairs from the standard account at Avatrade.
The data in the table below is as per the information provided by Avatrade on its official website.
| Currency Pair | Spread (fixed) |
| --- | --- |
| EUR/USD | 0.9 pips |
| USD/ZAR | 85 pips |
| GBP/USD | 1.6 pips |
The withdrawal and deposit methods are simple and convenient. Avatrade does not charge any extra fees on deposits or withdrawals, which is good.
But, Avatrade charges an inactivity fee if no trades are executed for 3 consecutive months. The inactivity fees are $50 for the USD account, €50 for the EUR account, and £50 for the GBP account.
Avatrade Fees Pros
FSCA regulated & authorized service provider.
Fixed spread account with low spread on majors.
No extra fees on deposits or withdrawals.
Avatrade Fees Cons
Inactivity charges of $50 USD, after a certain period of account inactivity.
2. Exness – Very Low variable spread
Ranked #2 Low Spread Forex Broker in South Africa
Exness is a low spread forex broker that is regulated by FSCA. Their average spread is low with Standard account.
Exness does not charge any commission with Standard account. Their average EURUSD spread is 1 pip, for GBPUSD it is 1.5 pips. They don't charge any extra fees for deposit & withdrawals.
3. Plus500 – Low spread & Zero deposit withdrawal charges

CFD Service. Your capital is at risk.
Benchmark EUR/USD Spread:

From 0.8 pips (as per data table on Plus500 website)

Minimum deposit:

$100

Regulation:

ASIC (AFSL number 417727), FCA (509909)
Plus500 is a reputed international CFD trading platform. Plus500 was founded in 2008 and is also listed on London Stock Exchange (LSE) which makes it highly trustworthy. Plat500 platform is regulated by various top tier regulatory authorities including ASIC in Australia (AFSL number 417727), FCA in the UK (license number 509909), and multiple other regulators.
Plus500 charges variable spread for each currency pair, but no commission is charged for forex trading. We checked the spreads for major currency pairs for the standard account, which is also called a retail account. As the spreads are variable we took the average of the spreads during the peak trading hours.
| Currency Pair | Spread (on average for reference only, the actual spread is variable/Dynamic) |
| --- | --- |
| EUR/USD | 0.8 pips |
| USD/ZAR | 85 pips |
| GBP/USD | 1.3 pips |
The data in the table is as per the information provided by Plus500 on its official website.
There are 'non-trading' fees at Plus500 which we classify as other fees. As per their User Agreement, only 5 free withdrawals are offered per month. After that $10 USD is charged for each withdrawal. The minimum threshold for withdrawal is $100, below which, additional 10$ is charged. Each method of withdrawal has a different fixed rate associated.
Plus500 also charges an inactivity fee if no trades are executed for 3 consecutive months. The inactivity fee is $10 per quarter.
The CFD trading fees at Plus500 is lower than most of the competitors in South Africa, but their 'non-trading' charges are average.
Plus500 Pros
Well regulated, so considered safe.
Low spread for most currency pairs.
No deposit charges & no commissions per trade.
Plus500 Cons
5 Free withdrawals per month, and charges involved for subsequent withdrawals.
Inactivity charges.
read our Plus500 review where we compare their overall fees, regulations & more in detail.
A Beginner's guide to selecting Lowest Spread Forex Brokers
What is spread in Forex & why it matters?
Spread is the difference between the bid and ask price of any currency pair in forex trading. In simple words, it is the difference between the buy rate and sell rate, a fees charged by the broker.
If the broker is buying at a low price and selling at a high price this means that the spread will increase and the broker will gain a higher spread from the trades.
Spreads can greatly affect the profits and losses in forex trading. Choosing a broker with lower spreads is a smart strategy, but relying entirely on the spreads to choose a broker can be hazardous for the traders. Some brokers charge little or no spread, but the commissions involved per trade is significant.
Is spread the only fees charged by CFD brokers?
Some brokers can even compensate for their low spread through non-trading fees like deposit/withdrawal fees, account opening, or inactivity fees. An insightful trader must be able to find out the best-suited broker for oneself that can allow higher profit and offer better customer services at lower fees.
For example: FXTM charges withdrawal fees with some of their methods.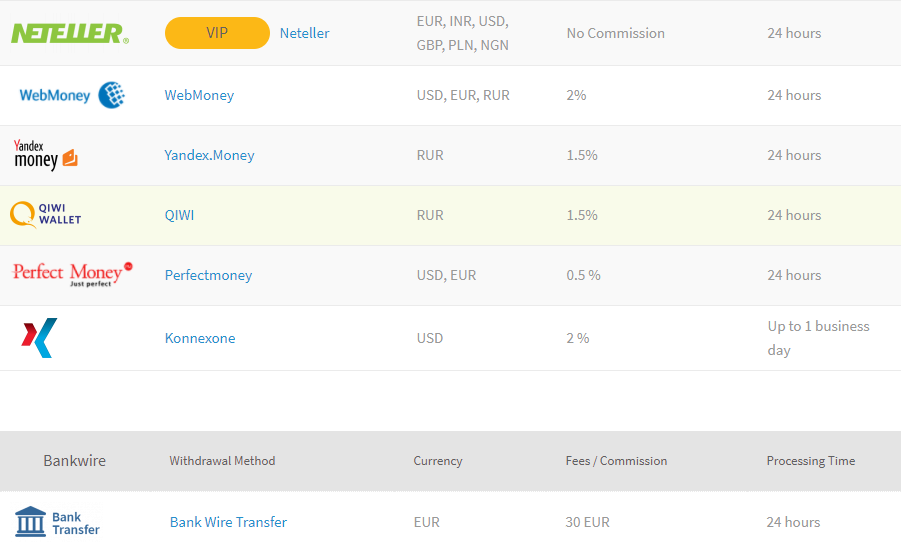 Always check the overall fees, the trading fees which includes the spread, commissions & the non-trading charges like fees on deposits, withdrawals, inactivity etc. Also compare the fees on the exact instrument that you want to trade, and only after full comparison should you make your decision.
How can you check a forex broker's spread?
The accurate spread will definitely be what you see on live platforms. But still you can get an idea of the broker's spread from their website, if you need this information before signing up.
Most brokers have a page for trading conditions on their website, with table that lists the latest/updated live spread on their platform.
For example: Avatrade South Africa have a page related to "Financial Instruments" under Trading Info section on their website. The following table shows the comparison of their spread of each instrument available on Avatrade's platform.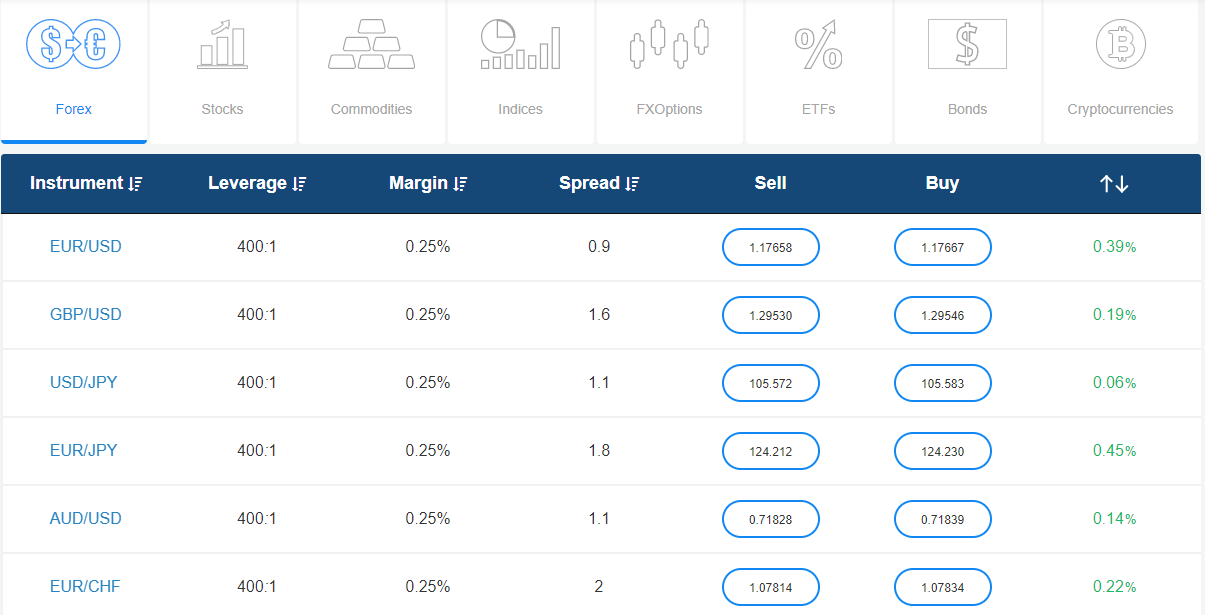 Frequently asked questions: Lowest Spread Forex brokers
Which forex brokers offer the lowest spread in SA?
For our research we compare not just the spread, but the overall trading & non-trading fees. We found these 3 forex brokers have very competitive fees & low spread accounts
Avatrade Fixed spread broker with 0.9 pips spread for major currency pair EUR/USD.
Hotforex – Premium account: This is a no commission account with low spread, zero funding/withdrawal charges.
Plus500 – Low Spread platform: Their spread starts from 0.8 pips on average for EURUSD, and there are no other commissions on the trade.
Which forex brokers with low spread have lowest deposit?
Some brokers offer deposit requirements of as low as ZAR 76 with ZAR Accounts (around $5).
Hotforex, XM Trading, Exness, FXTM, all have very low deposit requirements. Moreover, Avatrade & Plus500 too have quite low deposit requirements at $100.
Which forex brokers have 0 pips spread?
Some forex brokers offer Raw spread accounts, where the spread is as low as Zero pips, but there are commissions per lot.
Hotforex has Zero Spread account, and the spread with this account type is as low as 0 pips for some pairs (depending on the market conditions). But Hotforex charges $6 commission per Standard Lot with this account. And the minimum deposit required to open Zero Spread account is $200.
Similarly, brokers that offer ECN type accounts – like Tickmill has a Low spread with Pro Account ($100 minimum deposit) but $4 commission per Standard lot). PepperStone & IC Markets have similar accounts.