FBS Review 2022
FBS Broker is regulated with Top-tier regulators like FSCA, ASIC & CySEC, which makes them a low risk broker for traders in South Africa. Based on our research, they are offering high leverage, and have very low minimum deposit.
FBS is an international CFD broker that has been in operation since 2009. Over the last 12 years, FBS has developed a reputation for being a reliable and safe broker. FBS caters to South African traders and even has a license from the South African financial regulator FSCA.
FBS allows traders to trade a variety of instruments including stocks, metals, indices, bonds, and forex. In addition, FBS is one of the few brokers that offer access to 30 Crypto CFDs.
Overall, FBS is considered to be a relatively expensive broker with spreads averaging 3 pips. However, they do have several types of accounts and some of them are more reasonable than others.
FBS is a good option for new traders. They have a beginner-friendly trading environment and they have lots of educational material for traders to learn from. They also offer demo accounts so that new traders can practice in real-world conditions without losing money. Further, they also offer copy trading services, so that new traders can learn from experts.
In this review, we'll cover every aspect of trading with FBS including safety and regulation, accounts, trading platforms, bonuses, deposit and withdrawals, and more.
FBS Pros
Regulated with FSCA in South Africa.
No commission on trading with most account types.
Offer Copy Trading.
Offer Demo account.
Has Local EFT Deposit & withdrawal methods for traders in SA.
FBS offer leverage upto 1:3000.
FBS Cons
Inactivity fees if the account is not used.
ZAR Base currency Trading account is not available.
High Spread under Cent Account.
FBS South Africa – A quick look
| | |
| --- | --- |
| 👌 Our verdict on BDSwiss | #12 Forex Broker in South Africa |
| 🏦 Broker Name | FBS Markets Inc |
| 💵 Average EURUSD Spread | Floating spread from 0.5 pips with Standard account |
| 📅 Year Founded | 2009 |
| 🌐 Website | www.fbs.com |
| 💰 BDSwiss Minimum Deposit | 1 USD |
| ⚙️ Maximum Leverage | 1:3000 with Standard Account |
| ⚖️ BDSwiss Regulation(s) | FSCA, FSC, ASIC, CySEC |
| 🛍️ Trading Instruments | 40 currency pairs, Commodities, Stocks, Indices. |
| 📱 Trading Platforms | MT4, MT5, FBS trader & CopyTrade |
Safety and Regulations
If you're a CFD trader, then you need to know the importance of trading through a safe and reliable broker. The best way to gauge safety is to see how long the broker has been operating for and which financial authorities have accorded it a license.
FBS is a well-licensed CFD broker and has a strong record of safe performance.
Financial Sector Conduct Authority (FSCA): FBS is regulated by the Financial Sector Conduct Authority (FSCA) of South Africa and holds the FSP license number 50885. The license is held under the name 'FBS Markets Pty Ltd'.

International Financial Services Commission (IFSC): In addition, FBS is licensed by the International Financial Services Commission (IFSC) of Belize and holds the regulatory number IFSC/000102/198. The license is held under the name of 'FBS Markets Incorporated'.

Cyprus Securities and Exchange Commission (CySEC): Further, FBS is licensed by the Cyprus Securities and Exchange Commission (CySEC) and has the license number 331/17. The license is held under the name of 'Tradestone Ltd.'

Australian Securities and Investments Commission (ASIC): Lastly, FBS holds a license from the tier-1 financial authority ASIC of Australia. They have the license number '426359' and are registered under the name of 'Intelligent Financial Markets Pty Ltd.'
FBS also offers negative balance protection to its traders. This means that an investor or trader cannot lose more money than the amount they have deposited in their trading account.
It's clear from the above particulars that FBS and its group companies hold licenses from reputed financial authorities. This makes FBS a reliable broker in terms of safety.
FBS Account Types
Traders with FBS have the option of choosing between five different account types. These account types are: Standard, Micro, Cent, ECN, and Zero Spread. Each of these accounts are different from each other. They all have their own advantages and disadvantages. For example, traders who trade in high volumes should opt for the Zero Spread account.
The base currency of each account type is either EUR or USD. FBS does not have the option of using ZAR as a base currency, yet. Even though deposits can be made in ZAR, the currency is converted into USD or EUR before you can enter into trades with it.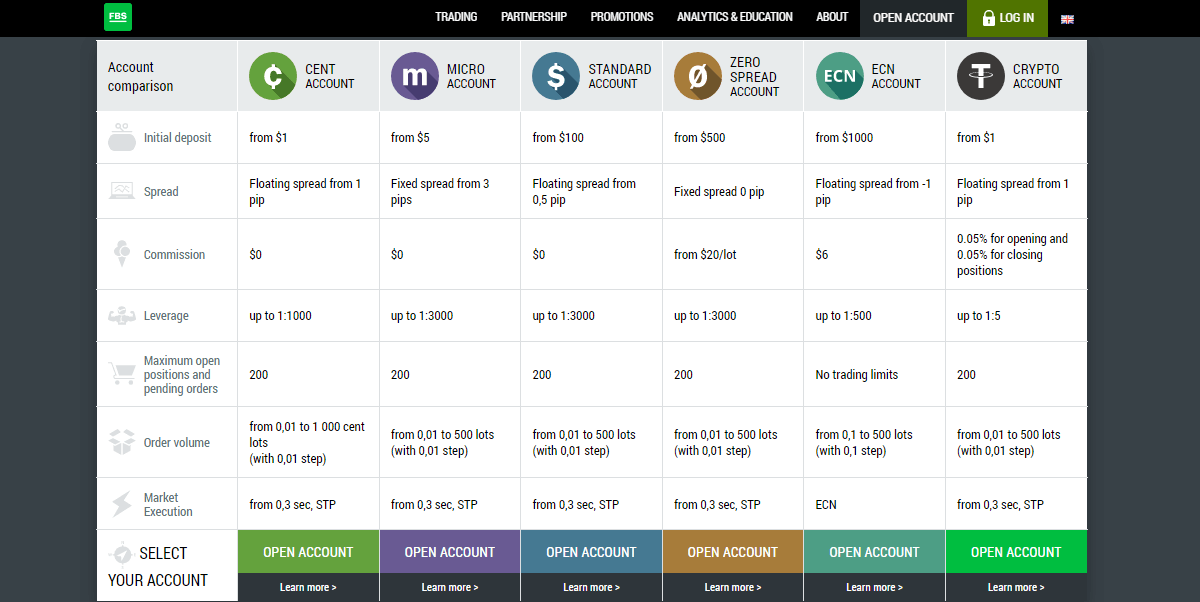 Here is a breakdown of all five account types:
ECN Account: The ECN account is a popular account type even though it charges a high minimum deposit of $1000. Traders will be charged a floating spread that starts from zero pips.

Even though the spread is kept tight, this account also charges a commission of $6 for every trade. This makes ECN accounts suitable for high-volume traders. This account type allows for a leverage of up to 1:500.

Zero Spread Account: Traders have to make an initial deposit of at least $500. In that respect, it is more affordable than the ECN account. This account type carries fixed spreads which start from zero pips (as suggested by the name).

However, traders will also be charged a commission which starts from $20 per lot. You can obtain high leverages through this account which can be up to 1:3000.

Micro Account: The micro account is suitable for new traders who do not trade with high volumes. There is no commission under this account type. However, the spreads are quite wide. The floating spread starts from at least 3 pips, which is on the higher end of the scale. Traders can use a leverage of up to 3000:1. The initial deposit needs to be at least $5.
Standard Account: The initial deposit needs to be at least $100. This account carries a floating spread of at least 0.5 pips. There is no commission under this account type. The leverage can be a maximum of 1:1000. The standard account is a jack-of-all-trades type of account and is suitable for most types of traders.
Cent Account: An initial deposit of $1 needs to be made to open such an account. The floating spread starts from 1 pip. There is no commission. Traders can opt for leverage of up to 1:1000. The Cent account is ideal for traders who need a cost-effective way to trade CFDs.
Islamic Account: Each of the account types mentioned above can be turned into a swap-free account. The swap-free account is meant for followers of Islam who need an interest-free way to conduct their trades.
Overall, the advantage of opening an account with FBS is that you have a lot of choice in the type of account you can open. There are accounts that are specifically meant for new traders, low-volume traders, scalpers, hedgers, high-volume traders, and more.
FBS Bonus
FBS offers a large number of promotional programs for traders to take advantage of. Here is a breakdown of some of the most popular promotional offers.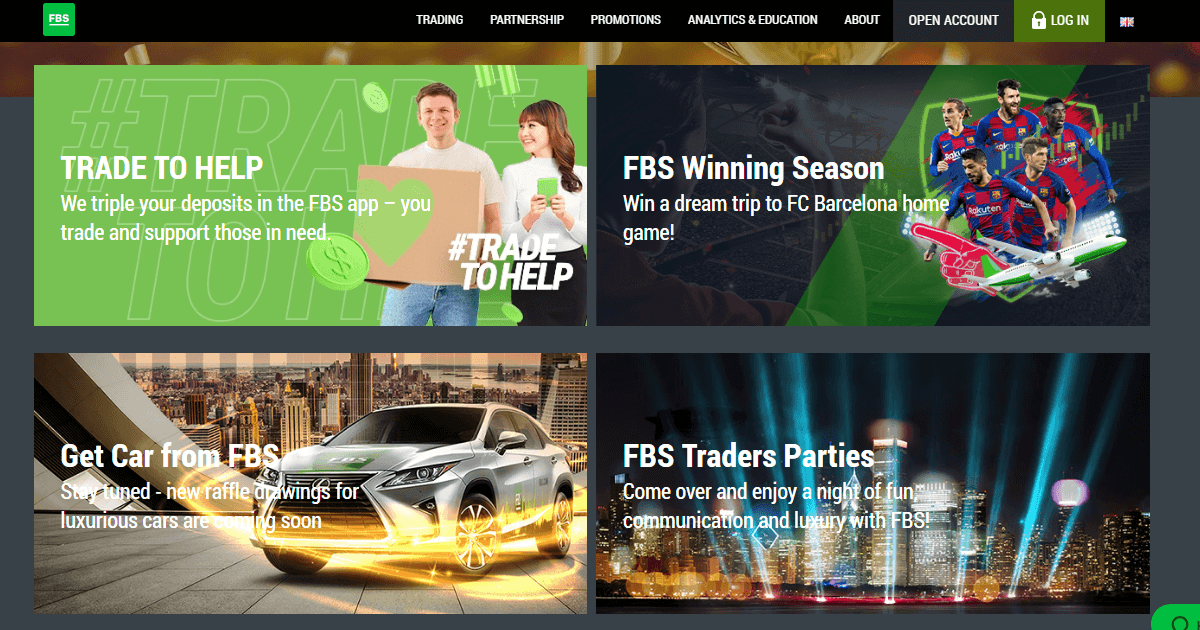 100% Deposit Bonus: The 100% deposit bonus is meant for traders. If the bonus is activated, you can double the amount you have deposited to your trading account. The bonus is available for an unlimited period of time. The bonus is available on any amount of money that has been deposited.

It is credited automatically to your account if you have activated the bonus while making the deposit.

The 100% deposit bonus is a great offer for anyone looking to open an account with FBS. You can instantly double your money through this offer.

There are certain terms and conditions that are attached to this bonus that you should check out before making a deposit.

Get a Car from FBS: This promotional offer enables winners to receive a car from FBS. Previous winners of this raffle have won cars such as an Audi A4, a Range Rover Evoque, a Mazda Hoki, and more. These winners range from a variety of countries including Vietnam, Russia, Jordan, Egypt, and more.

At the time of writing this review, this promotional offer was inactive. However, it is expected to start participation soon.

Leverage 1:3000: FBS is one of the few global CFD brokers that offers a leverage of up to 1:3000 to its traders. This option helps traders to see large profits from their successful traders. However, traders should be warned that high leverage also means greater risk for your trades. If a trade is unsuccessful, then you can end up losing a lot of money.

This offer is only available for traders who are using the Standard and Zero Spread account types.

Cashback: The Cashback is a new promotional offer run by FBS. It enables traders to receive a cashback for every trade that they make. Frequent traders can even increase the amount of cashback that they receive for every trade.

To avail of the offer, traders need to activate the cashback offer through the FBS platform. The cashbacks can be up to 20% of the total spread paid.
Deposits and Withdrawals
FBS accepts deposits and makes withdrawals in a variety of ways. The exact deposit and withdrawal options vary from country to country.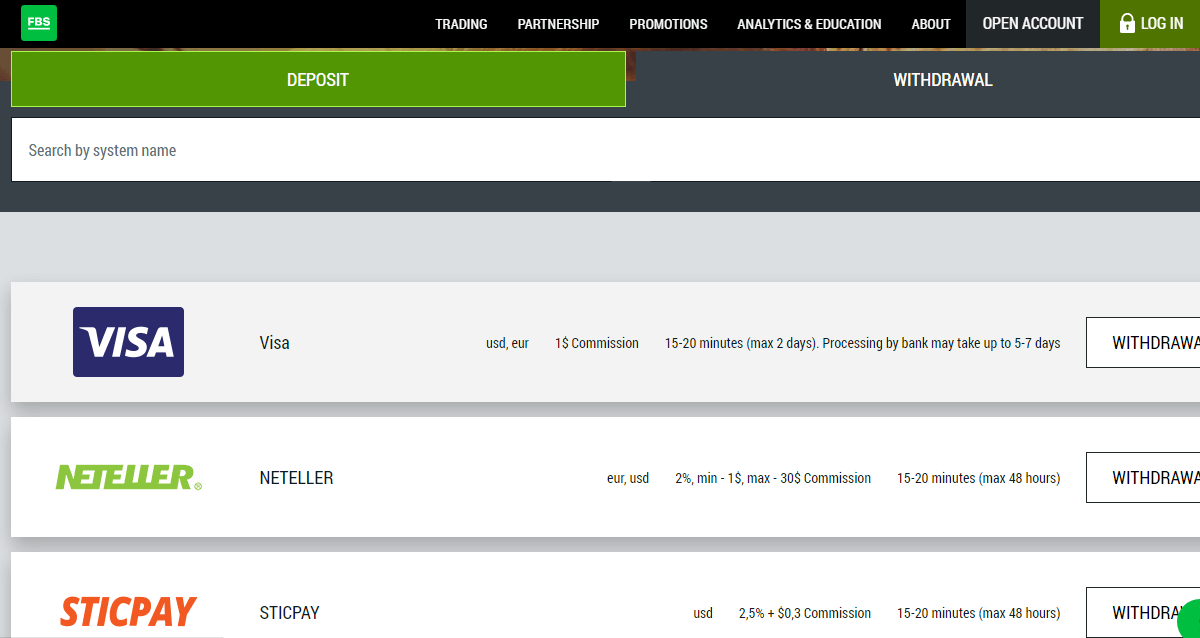 FBS Deposit Methods
Internet Banking: For South African traders, net banking is the most convenient way to make a deposit or withdrawal. Netbanking options include Nedbank, Standard Bank, ABSA, FNB, and other banks. However, a fee may be charged for transferring funds through this method.
Debit & Credit card:Another popular way to transfer funds is through credit or debit cards issued by Visa.
E-wallet: South African traders can also use payment service providers such as Skrill or Neteller to make their payments.
FBS Withdrawal Method
Wire Transfer: Traders can request a withdrawal using Wire Transfer directly to his/her bank account. For a wire transfer, you need to send your bank details to them. The minimum amount in case of Wire Transfer should be $50. And this process will take 7-10 business days for the amount credited to your account.
Credit or Debit cards: You can also request to transfer the funds (minimum $1) to your VISA card which was once used on their website for making payment. The amount will take up to 3-4 business days to credit to your card/account.
E-wallets: This is the fastest method to accept withdrawal as this will take only 30 minutes. For this, you need to send your username of E-Wallets like Stickpay, Skrill, Neteller, etc. And the minimum amount should be $1 in case of E-wallets withdrawal.
It should be remembered that FBS does not offer accounts denominated in ZAR. This means that any amount deposited will be converted into USD or EUR before you can make trades with them. The applicable exchange rate and cost of exchange will apply for every deposit and withdrawal.
Deposits can be made instantly to your account, while withdrawals can take up to 48 hours. The exact time period for a complete transfer will depend on the type of payment method.
FBS Trading Platforms
FBS offers the option of choosing between three trading platforms. These platforms are MetaTrader 4, MetaTrader 5, and FBS Trader. We will discuss each of them in turn.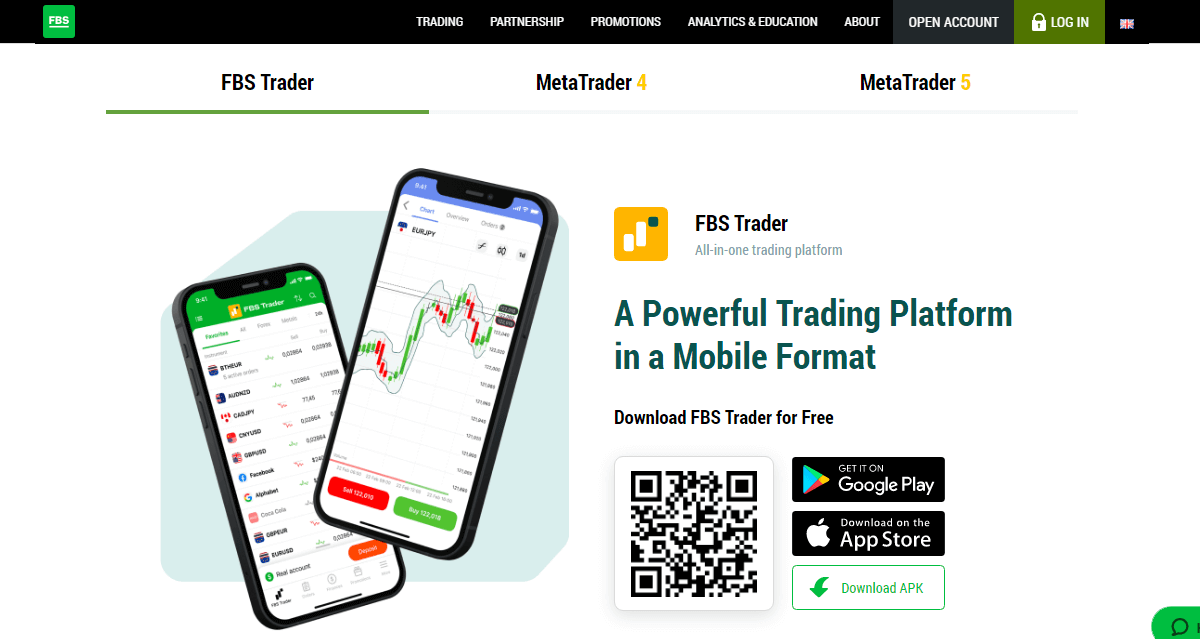 FBS Trader: FBS Trader is a relatively new trading platform and is FBS's own proprietary trading platform. Through this platform, traders can trade through their smartphones. Both Android and iOS smartphones are supported.

However, this trading platform is not available for desktop use. Hence, only traders who intend to only trade through their smartphones should opt for this option.

The platform also comes with a few technical indicators so that you can make informed trades. New traders can also avail of a Quickstart bonus which provides $200 to those who have just started using the FBS Trader.

Traders can also deposit and withdraw funds directly through the trading platform. It also allows 24/7 trading services.

A customer support system has been built into the app itself so that traders can get quick help from customer support executives through live chat.

MetaTrader 4: The MetaTrader 4 or MT4 is the most popular trading platform amongst traders. The platform is available for Windows, macOS, Android, iOS, and Linux. Further, you can even access directly through a web browser without the need to download any software.

It is a versatile platform that is quite easy to use.

This platform has several technical indicators which can be used to inform your trades. Further, the platform allows you to take advantage of features such as 1-click trading, streaming news, full data back-up, and more.

MetaTrader 5: The MetaTrader 5 or MT5 is a more advanced version of the MetaTrader 4. It supports the same devices that are supported by the MT4 (mentioned above).

The added benefit of using the MT5 is that it offers a higher number of technical indicators and more advanced features when compared with the MT4. The MT5 is especially meant for experienced traders.
Do we Recommend FBS South Africa
Overall, we recommend FBS for South African traders.
They are a safe broker to use since they are licensed and regulated by the FSCA of South Africa. They are also regulated by a tier-1 global financial authority for added security.
They have a long track record and they use safety practices such as segregation of funds and negative balance protection.
On the flipside, FBS fees are on the higher end of the scale.
However, there are certain advantages to trading with FBS such as several promotional offers, lots of trading instruments, good customer support, and many ways to make a deposit or withdrawal.
Further, FBS offers several account types for traders to choose from, and it is likely that every kind of trader will find an account type that suits his trading profile.
FBS is a low risk broker choice for South African traders especially since it is regulated by the FSCA.
FBS South Africa FAQs
Is FBS regulated by FSCA in South Africa?
Yes, FBS is regulated with Financial Sector Conduct Authority (FSCA) as FBS Markets Pty Ltd under the licence number 50885. FBS is also regulated with FSC, ASIC, CySEC so we comnsider them a safe broker for traders from South Africa.
Does FBS offer ZAR base currency Account?
Traders with FBS can select ZAR as the base currency account while signup. The minimum deposit is 16 ZAR ($1) with Cent account.
What is the minimum deposit on FBS?
The FBS minimum deposit is $1 (16 ZAR) with Cent trading account. FBS accepts deposist using different payment methods like card, internet banking and E-Wallets without any charges.
"Do you have experience with FBS? Please consider sharing your experience with a review below – good or bad – doesn't really matter as long as it's helpful to other traders!"
We only accept user reviews that add value to fellow South African Traders. Unfortunately, not all reviews that you post with us will be published on the website. For your review to be approved, please share your detailed & honest experience with the broker – either positive or negative. Thank you for helping out other traders with your valueable feedback!
Important: We don't accept any payments or kickbacks from any forex broker(s) to delete or change any reviews. We welcome Forex Brokers to reply to reviews on our website & share their side of the story to keep the process honest and fair for both sides.