AvaTrade Review 2022
AvaTrade is our #6 rated Forex broker in South Africa. They are regulated with top-tier regulators FSCA (South Africa) & ASIC, so it is considered safe to trade with them. Read our AvaTrade review to know more about their fees, accounts, support & more.
AvaTrade, which operates as an entity 'Ava Capital Markets Pty' in South Africa, is a regulated broker which adheres to guidelines laid out by Financial Sector Conduct Authority (FSCA) of South Africa.
The company is headquartered in Dublin, Ireland, has a global presence and is highly regulated by various financial institutions. They offer a wide variety of instruments to trade including Forex and CFDs via stocks, commodities, indices, ETFs, bonds and Cryptos.
Avatrade caters to all kinds of traders by offering MT4 and its own proprietary software AvaTradeGo and AvaOptions to trade. You may use Expert Advisors (EAs) on their MT4 platform offering and their package also includes automated trading in ZuluTrade where you can mirror the trading strategies of successful traders.
Avatrade is a fixed spread forex broker & they offer a single account type to retail traders. We compare their fees, safety, platforms, withdrawal time & also give our verdict on if you should choose them or not.
AvaTrade Pros
AvaTrade is regulated with FSCA.
Avatrade have a competitive spread for forex & some major CFDs. For EUR/USD their spread is 0.9 pips.
No Deposit & Withdrawal Fees is charged by AvaTrade.
They have Negative Balance Protection.
They offer Fixed Spread account.
AvaTrade Cons
AvaTrade is a Market Maker forex broker with its own dealing desk.
No Variable account types offered, only 1 single account type.
ZAR Accounts are not available
Inactivity fee is very high.
Unavailability of Internet Banking in South Africa for deposits & withdrawals. Withdrawals at AvaTrade are generally slower than other brokers.
AvaTrade – A quick look
| | |
| --- | --- |
| 🏦 Broker Name | Avatrade South Africa |
| 📅 Year Founded | 2006 |
| 🌐 Website | www.avatrade.co.za |
| 🏢 Address | Dublin Exchange Facility, International Financial Services Centre (IFSC), Dublin 1, Ireland. |
| 💰 Avatrade Minimum Deposit | $100 |
| ⚙️ Maximum Leverage | 1:400 |
| ⚖️ Regulation | FSCA (South Africa); FSA & FFA (Japan); FSC (BVI); ASIC (Australia); CBI (Ireland) |
| 🛍️ Trading Instruments | Forex, Crypto CFDs, Stock CFDs, Options, Indices CFDs, Commodities CFDs, ETFs CFDs, Bonds CFDs. |
| 📱 Trading Platforms | MT4, proprietary AvaTradeGo for PC, Mac, Android, iOS and web browser |
Regulations & Safety of Funds
AvaTrade is licenced and regulated under various jurisdictions:

Is Avatrade Legit?
AvaTrade is a well regulated CFD broker & are licensed by multiple top-tier regulators around the world. They are also regulated with FSCA in South Africa, so we consider them a legit broker & depositing funds with them is considered safe.
The client funds under Ava Capital Markets Pty are held in segregated accounts in ABSA bank. Negative balance protection is also available to clients based in South Africa.
Overall, they are considered low risk.
AvaTrade Fees
Trading Fees is a really important consideration as this is the cost you have to pay to the broker for every trade. So it is important to make sure that it is a low as possible.
Here is the breakdown of the various fees charges by Avatrade:
Fixed Spread (0.9 Pips for EUR/USD): AvaTrade is a fixed spread broker which mean that the spread will remain the same, no matter what the market conditions may be. For EUR/USD, their fixed spread is 0.9 Pips, which is very competitive. Forex Gold CFD it is 0.34 pips.

Some other regulated brokers like HotForex, XM & Exness offer lower spreads with their ECN type accounts. But for Standard or Micro Accounts the spreads at AvaTrade are comparatively quite low.

Zero Commissions: AvaTrade does not charge commissions on any trade. The only fees with the trade is the fixed spread.
Swap Fee (for overnight positions): Swap fee is the amount paid if you hold your position overnight, and this fees depends on the net interest rate difference. For a major like EUR/USD, their Swap fees is -0.0026% for Short & -0.0067% for Long side respectively. Their Swap is moderate compared to other CFD brokers.

If you are planning to hold your positions overnight, it is important to understand the mechanics of how this fee affects your total profitability.

No Deposits and withdrawal charges: AvaTrade does not charge any deposit and withdrawal fee, so you will get 100% of your deposit & withdrawals.
Inactivity fee: You will be charged this fees if your account is inactive for last 3 months. The fees will be 50 units of your base currency i.e. $50 if you have USD as your base currency.

Moreover, after 12 months of non-use, an administration fee of $100 is also charged by Avatrade.
AvaTrade's fee is very transparent. They offer competitive fixed spread for Forex, but it is not the lowest. Other brokers like XM & Hotforex offer even lower spread for EUR/USD & other pairs.
AvaTrade Account Types
Avatrade offers a Demo Account & a Live Account. Below is the description of the account Types available at AvaTrade.
Avatrade Demo Account
If you are looking to test out your strategy or are learning to trade, then we advise you to open a demo account with Avatrade before trading with your own money.
Creating a Demo Account with Avatrade is very easy. You just need to enter Name, email and phone and sign-up. Alternately, you may use the Social Media for login.
Their demo account will replicate their live trading environment & spread, so you can test that before actually trading on their live platform.
Avatrade Real Account
Unlike other brokers, Avatrade only has a single Real trading account. So there are no choices or let's say confusions.
What is the minimum deposit at AvaTrade in ZAR?
The minimum deposit is $100 at AvaTrade South Africa for retail traders. They don't offer ZAR base currency account, and local bank deposit in ZAR is not available.
Here are the common features of Real account at AvaTrade:
USD/EUR/GBP Base Currency: You can choose your base currency for your account during sign up with Avatrade. This will be the currency in which all your profits & withdrawals will be made.
Fixed Spread: Almost all the other regulated brokers that we have compared so far offer floating spread, but Avatrade offers fixed spread. This means that you will be charged the fixed spread for every trade regardless of the market conditions.
$100 Minimum deposit: Their minimum deposit requirement for Live account is $100, which is higher than some other brokers. Moreover, Once you have setup the base currency of your account, you cannot update it later. To use a different currency, you need to add a new account and set it up with your desired currency choice.
Instant order Execution: AvaTrade offers instant execution for all market orders, so are no re-quotes or slippage. But they claim to offer very good execution & we found their execution to be very fast.
Negative Balance Protection: AvaTrade offers negative balance protection which is a positive thing. So even if your balance drops to negative then they will still correct it to zero.
AvaTrade's accounts are very clear, but the account choices are limited (there is only 1 account). On the positive side, this avoids confusion as there is only a single live account with everything in it.
How to open account with AvaTrade
Opening an account with AvaTrade is very simple and include only few steps only.
Here are list of steps that you need to follow to open account with them.
Step 1) Click on Register Now: Open the home page of AvaTrade website and click on Register Now button at the top left side of the screen.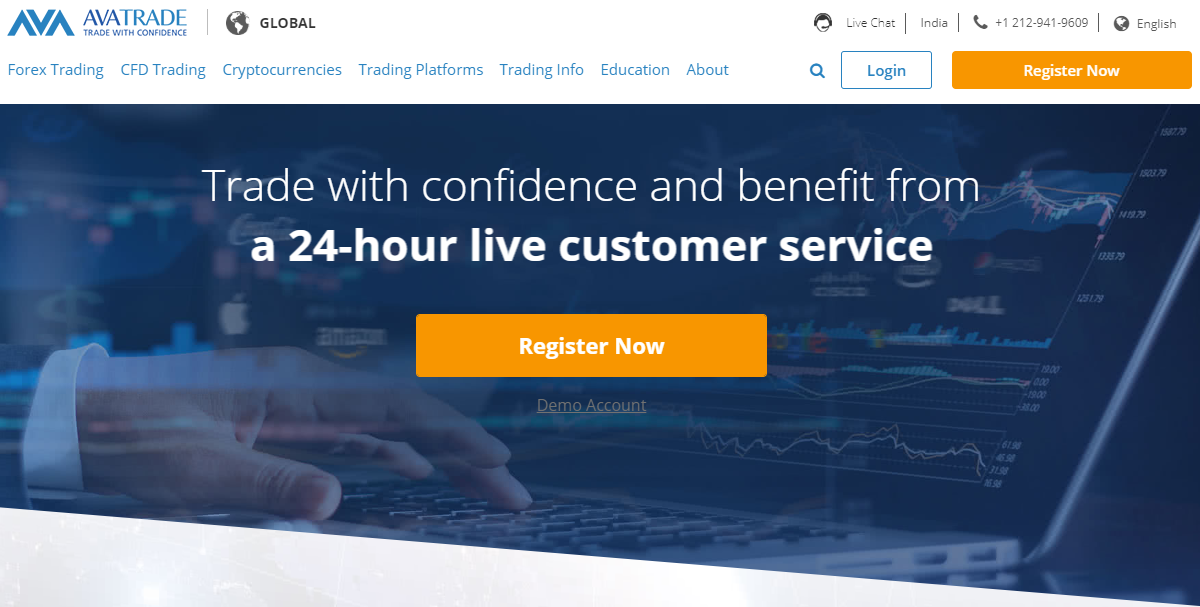 Step 2) Sign Up for Free: SIGN UP FOR FREE pop will open where you need to enter your details or you can signup using your Facebook or Gmail account.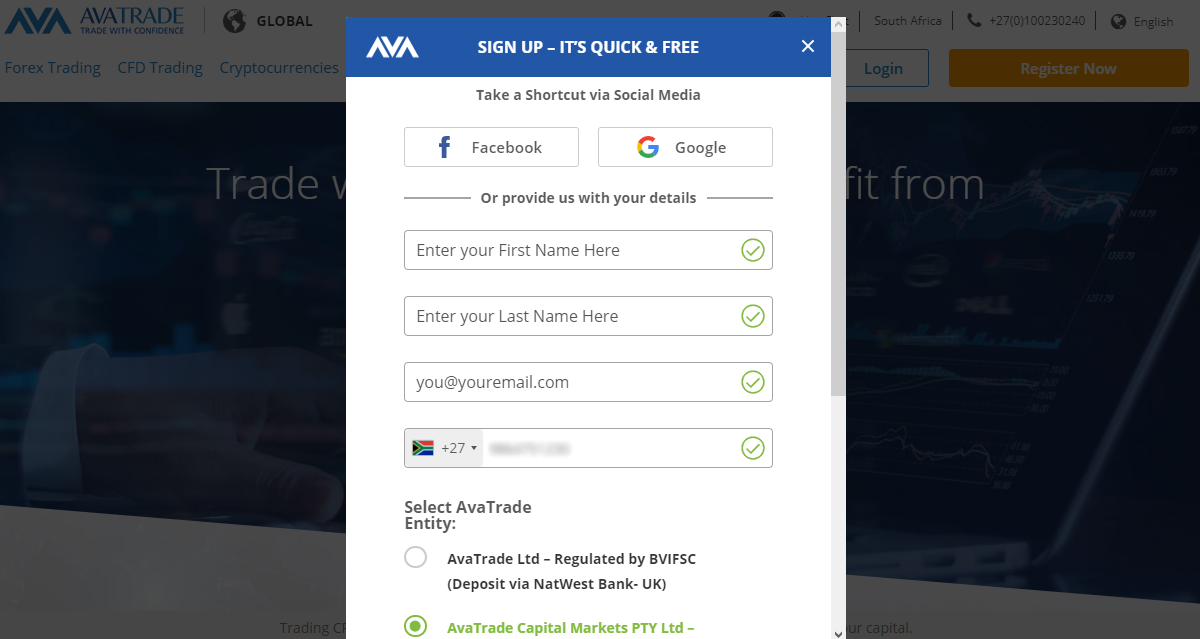 Step 3) Fill Personal Details: Now you need to fill your details as instructed on the screen. You also need to Select the Trading platform and base currency on same page.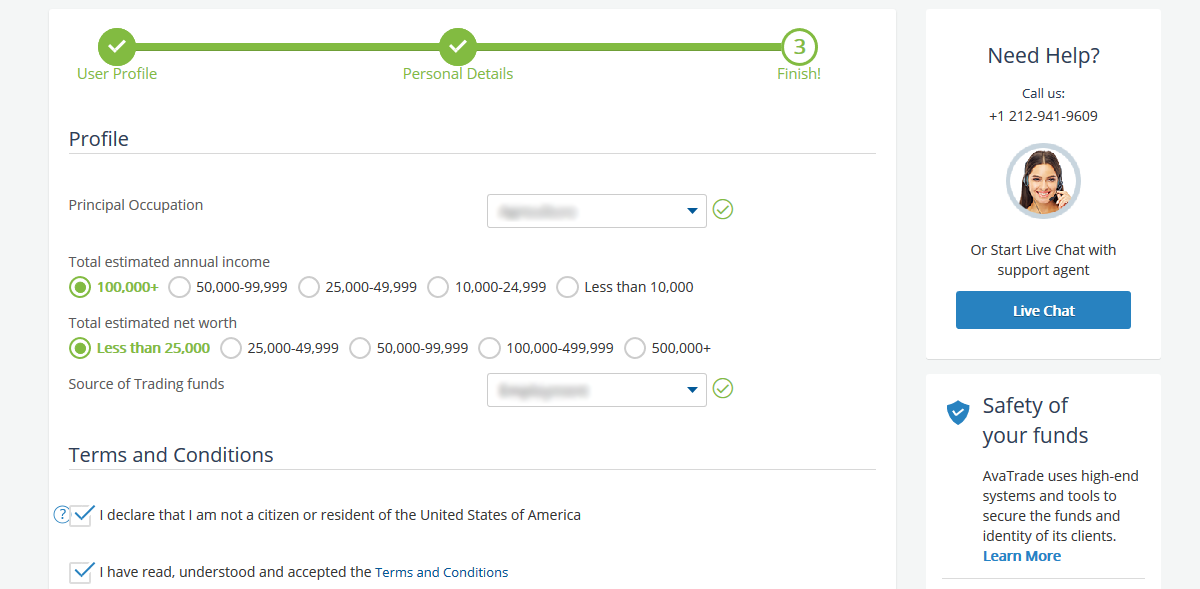 Step 4) Verify your account: After completing the registration form, you need to verify your account. You are required to submit 2 documents for KYC i.e. ID Proof & your Address Proof. The Address proof can be any Utility bill, but it cannot be your Mobile phone bill.
Note: After submitting the documents AvTrade can take maximum 24-48 hours to check and verify the uploaded documents.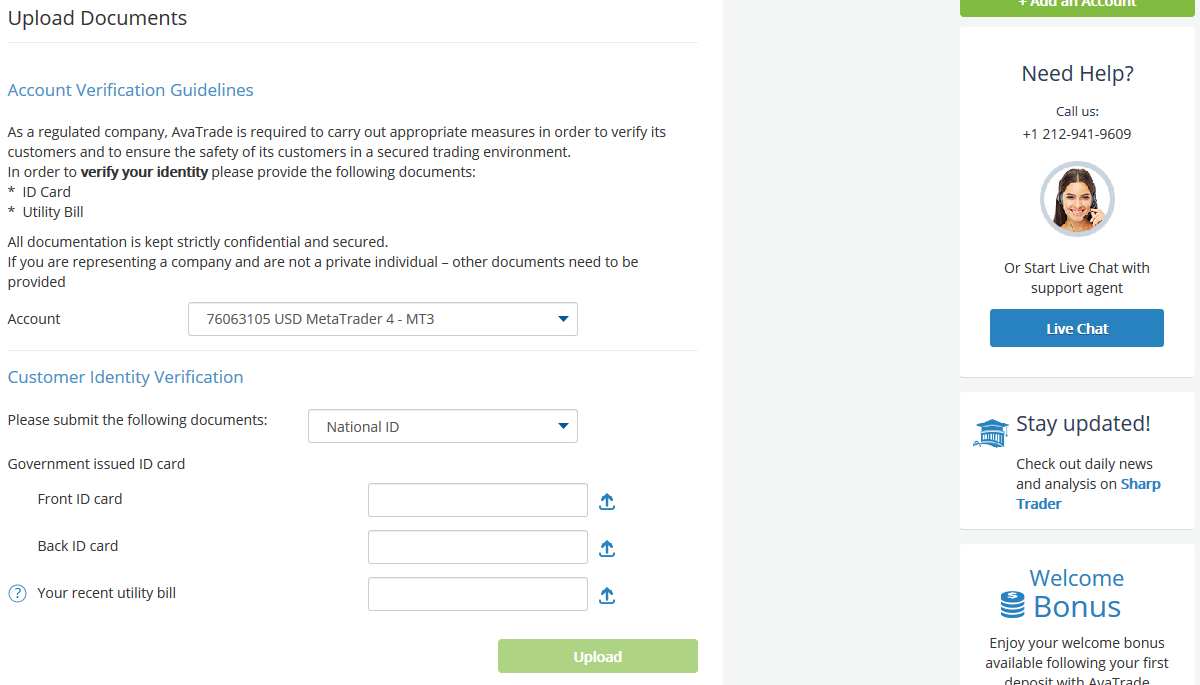 Step 5) Fund your account: When account verification process is completed, you need to add funds in your account to start trading.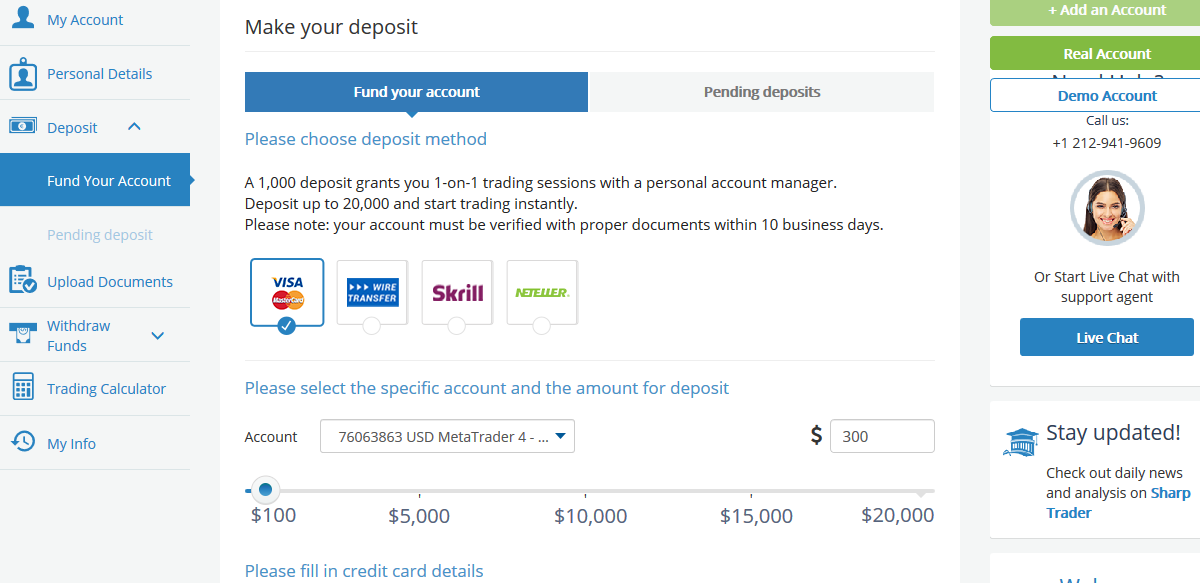 Congratulations! Your account will be set up after following the above steps. Please check your email for more details and for login information. You can now start trading after logging in to your account.
AvaTrade Trading Instruments
AvaTrade offers more than 250 instruments to trade. Apart from Forex trading, it offers trading in Stocks, Commodities, Indices, Options, ETFs, Bonds and Cryptocurrencies via CFDs. CFDs stands for Contracts for Difference.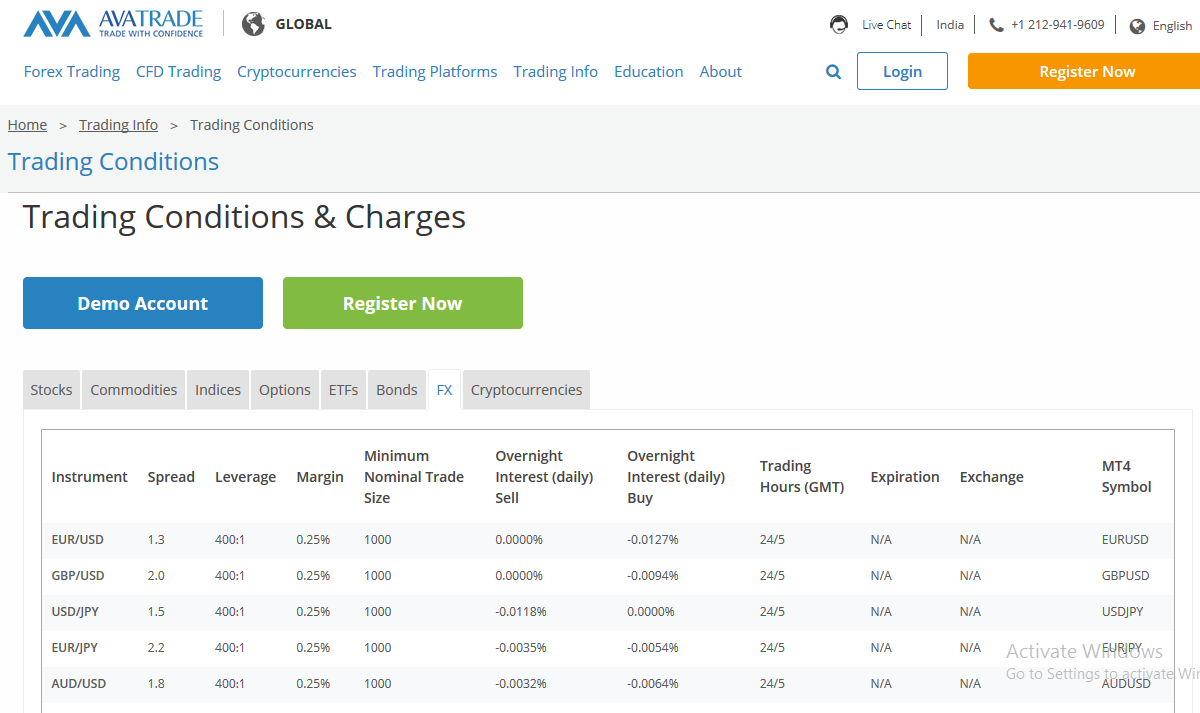 This type of instruments allows parties to trade the underlying asset without actually owning the asset and profit/loss based on the price fluctuations based on the underlying asset. The underlying asset may be anything like a stock, commodity, ETF, Index etc.
There are advantages to CFDs including low margin requirements, access to global markets, low transaction fee. But they are less regulated than traditional markets, the spread may eat away the profits if there is little movement in the market.
High leverage may also increase potential losses. Let's have a look at the trading instruments and their number of offerings on AvaTrade:
Instrument (#)
Forex Pairs 55
Crypto CFDs 10
Bond CFDs 2
ETFs CFDs 4
FX Options 42
Spot Metal Options 2
Indices CFDs 19
Commodity CFDs 17
Stock CFDs 64
AvaTrade offers 10 Popular FX pairs and 45 minor pairs.
AvaTrade offers to trade Cryptos via CFDs 24X7, starting from a deposit of just $100. There are 10 different crypto instruments to trade, the leverage offered is 1:20 and you can start trading immediately after opening the account.
AvaTrade offers for ETFs CFDs include VXX and GDX. VXX is the ticker for CBOE volatility Index which is a measure of volatility of S&P500 stock Index options while GDX is a measure which has exposure to global gold mining companies.
Commodity CFDs offers include metals comprising Gold, Silver, Palladium and Copper & Energies including Crude Oil, Natural gas, Heating Oil, Gasoline trading & Agriculture commodities including Corn, Sugar, wheat, coffee, soybean, cocoa and cotton.
Stock Index CFDs tracks and measure basket of related stocks. You can trade as many as 19 Indices on AvaTrade. The major index NASDAQ is available at AvaTrade with the symbol US_TECH100 on their platform. The max. leverage with most of the Indices is 1:200.
Alternately, you may trade stock CFDs of as many as 64 popular global companies and leverage offered is upto 1:20.
Bond CFDs on offer include Japanese and European government bonds on a 1:20 leverage with no commissions on trades.
A small comparison with its competitors reveals AvaTrade offers higher number of trading instruments:
(#) AvaTrade FXCM Pepperstone Oanda
Currency pairs (#) 55 41 80 55
Stock index CFDs (#) 19 12 14 16
Commodity CFDs (#) 17 7 14 32
Cryptos (#) 10 1 5
AvaTrade Trading Platforms
AvaTrade presents a wide range of platforms for both manual and automated trading.
1) Mobile Platform: AvaTrade has a dedicated platform for both Android and iOS called AvaTradeGo along with the traditional MetaTrader4. There is no offering of MetaTrader5. AvaTradeGo has improved the social trading capacity where you can follow a wide section of traders. Some of the recent customer reviews indicate its proprietary platform, AvaTradeGo has an interactive layout but is buggy and has some limited features.
You can trade spot and options, FX through AvaOptions which is available for Android. It also lacks a lot of features according to the recent reviews.
2) Desktop Platform: AvaTrade offers its own dedicated platform and MetaTrader4 for the desktop trading which is compatible with Windows, Mac and Linux Operating Systems. There is no offering of MetaTrader5 hence we feel the choice is limited for the customer. ZuluTrade, its desktop, web and mobile application offers social trading feature. DupliTrade, is MT4 compatible platform and gives the feature to follow experienced traders' signals and strategies in real-time.
3) Web Trading: Web Trading is available from MT4 platform as well as the proprietary AvaOptions.
AvaTrade Deposits & Withdrawals Options
AvaTrade offer 3 options to deposit and withdraw the funds for their customers in South Africa. But option to deposit & withdraw via Internet Banking in South Africa is not available.
Here are the various methods using which you can deposit or withdraw funds with them.
Deposit Methods
Clients or traders can funds their AvaTrade account using:
Credit/Debit Cards: You can use your credit or debit cards like VISA Card, Master Card etc to make a deposit to start trading.
E-Wallets: They also allow to deposit funds using E-Wallets like WebMoney, Neteller, Skrill and Paypal
Bank Wire Transfer: Transfer from your bank to their bank account. The minimum deposit in case of Bank Wire Transfer is $500/€500, £500 (depending on your account currency). Traders from SA can make local bank transfer to ABSA Bank.
You can check the bank account number after login to your account with them.
Withdrawal Methods
Withdrawal methods are also same as of deposit methods. But withdrawal can take up to 5 business day to complete the transfer process. You can withdraw the funds using:
Credit/Debit Cards: You can receive the funds in your card that you have used for making deposit with them. As per our experience with them this is the fastest way to receive the withdrawal, but it can still take 24-48 hours.
E-Wallets: You can also receive withdrawal in your E-Wallets. Withdrawals made via this method can take up to 48 hours.
Bank Wire Transfer: The withdrawals via Bank wire transfer at AvaTrade can take upto 10 days to receive in your Bank Account. You need to enter your bank in your Account. The Minimum amount for Wire transfer is $100.
Local Bank Transfer: Traders from SA can request withdrawals via local bank transfer to any bank account in SA. The minimum withdrawal amount is $500 & the withdrawals are generally processed in 48-72 hours. There is no extra fees with this method.
Note: Like other brokers, your account must be verified before you can request a withdrawal at AvaTrade. You need to submit your KYC documents i.e. ID proof & Address proof for verification.
But compared to other brokers, the withdrawal at AvaTrade are slow. And unlike other regulated brokers like HotForex & Exness, AvaTrade doesn't offer local bank transfer option for deposit & withdrawals.
AvaTrade Bonus
AvaTrade offers deposit bonus for new clients only, and for the 1st time deposit. There is no recurring bonus or offers for existing clients in South Africa.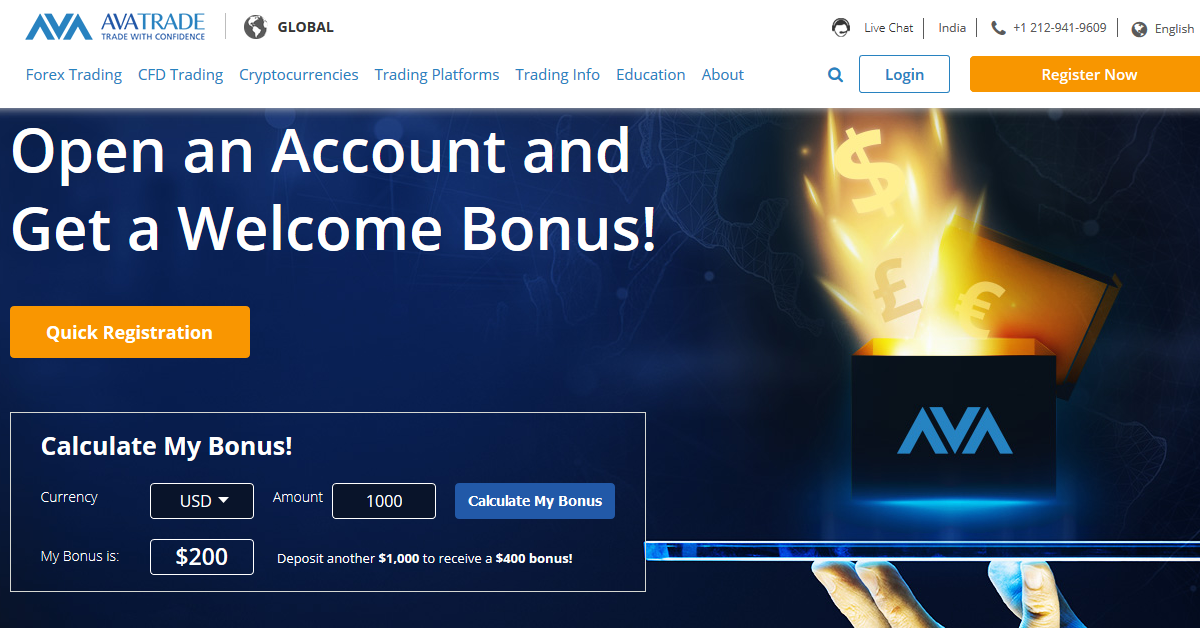 Here are the bonus offers available at Avatrade currently:
20% Deposit Bonus (Minimum Deposit $1000): AvTrade offer 20% deposit bonus for their new clients. But this bonus is only for first time deposit, you can open new account and make first time deposit. The minimum deposit required for this deposit bonus offer is $1000.
Their bonus offering are very limited & the minimum deposit required to claim the bonus is also really high. Moreover, we also did not find any loyalty program that rewards existing traders.
Avatrade could do better in terms of bonus offerings.
AvaTrade Customer Support
AvaTrade customer support is only available during their business hours i.e. from 07 AM to 11 PM (South African Time) from Monday to Friday in a week.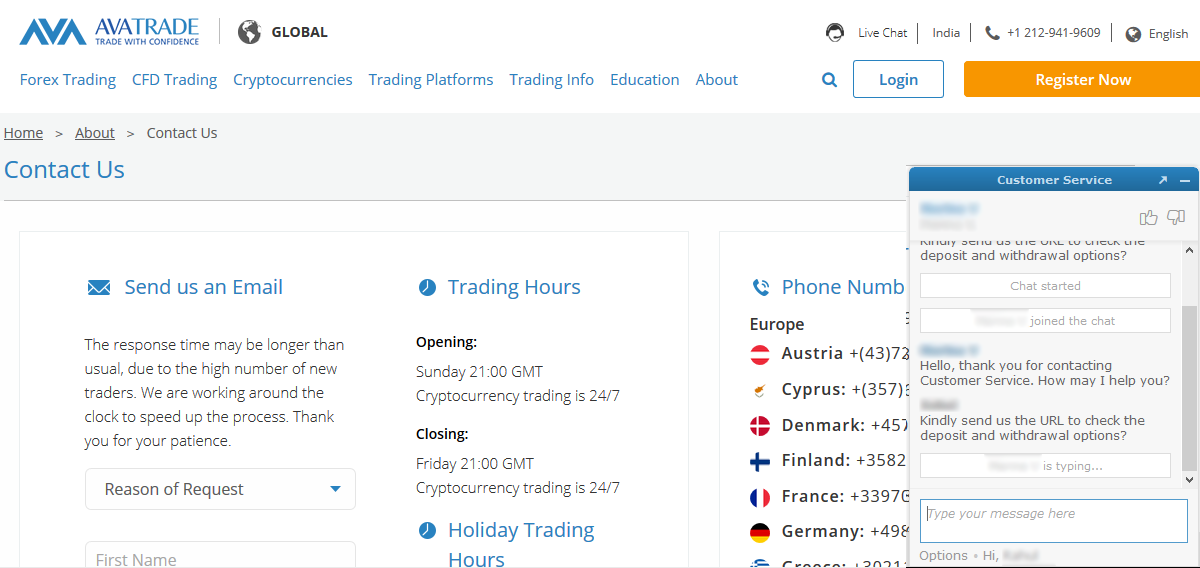 You can reach Avatrade's support via:
Chat Support: There is a live chat support at their website. We tested their chat and there was almost zero hold time everytime. But we found their chat to be very slow & less responsive (and even less knowledgeable for some questions) in answering the questions.
Local Phone number: You can also contact them via phone line at their local number in South Africa +27(0)319800174. You can also submit request to call back via email or chat support. It is important to note that their phone support is only available during their business hours. Their support is also available on Whatsapp.
Email Support: For any query or issue, you can also send a mail to them at their email [email protected]. They reply to all queries within 24 hours.
Local Office: AvaTrade have a local office address in Sandton, Johannesburg listed on their website.
Moreover if you will make a deposit of $1000 with them then they can also assign a special support representative to you, who will assist you with any query much faster.
But overall, their support could do better by being available for 24 hours during weekdays.
Do we recommend AvaTrade?
Yes, AvaTrade is a good forex broker if you are looking for a fixed spread FSCA regulated forex broker.
They are regulated with South Africa's FSCA and also have competitive fixed spread for forex. Also, local Internet Banking option is available for funding or withdrawals.
But, we have found their support to be lacking in some features, and they are not available 24 hours. Their bonus offers are limited. They also don't have ZAR accounts. Some users have even complained about very slow withdrawals with them.
Their fees for major forex pairs is very competitive but for CFDs on commodities like XAU/USD & indices & NASDAQ, the fees is a bit higher than other brokers.
There are other regulated brokers in South Africa that offer lower trading fees based on volume for CFDs & have better support. We feel that you can find better brokers, if you need very good support.
P.S. You can look for our recommended forex brokers list to find an AvaTrade alternative.
AvaTrade FAQs
What is the minimum deposit at AvaTrade South Africa?
The minimum deposit amount with AvaTrade South Africa is $100 for opening a Real trading account. Avatrade only has a single trading account type for retail traders & they have fixed spread for each instrument.
Does AvaTrade offer ZAR Account?
No, AvaTrade does not offer ZAR account currency option for South African clients. Currently only USD, EUR & GBP base currency options are available. But clients can make bank wire deposit in ZAR (Rand) to Avatrade's account and then it will be converted to USD or your account currency on AvaTrade's platform.
Is AvaTrade regulated by FSCA in South Africa?
AvaTrade is authorized by Financial Sector Conduct Authority (FSCA) in South Africa with FSP number 45984 since 10/11/2015. Also, Avatrade is regulated by multiple top tier regulators including ASIC in Australia.
Does AvaTrade offer MT4 platform?
Yes, AvaTrade offers Metatrader 4 & MT5 platforms for mobile, desktop & web. They also offer their AvatradeGo App for Android & iOS.
"Do you have experience with AvaTrade? Please consider sharing your experience with a review below – good or bad – doesn't really matter as long as it's helpful to other traders!"
We only accept user reviews that add value to fellow South African Traders. Unfortunately, not all reviews that you post with us will be published on the website. For your review to be approved, please share your detailed & honest experience with the broker – either positive or negative. Thank you for helping out other traders with your valueable feedback!
Important: We don't accept any payments or kickbacks from any forex broker(s) to delete or change any reviews. We welcome Forex Brokers to reply to reviews on our website & share their side of the story to keep the process honest and fair for both sides.