Pepperstone Review 2022
Pepperstone is an ASIC & FCA regulated forex broker that accepts South African traders. They offer competitive spread, wide platform choices, and good support. Read our in-depth Pepperstone Review to find their pros & cons.
Pepperstone is an Australian forex broker that also offers its services to South African traders also. They were established as Pepperstone Group Limited 2010, and are regulated with ASIC in Australia and FCA in UK.
They are not regulated with FSCA (regulator in South Africa), but their Australian & UK regulations still make them a very safe broker.
Their spread is very competitive, support is great, and their platforms are also good. Moreover, Pepperstone offers a wide range of forex trading services with 59 currency pairs. But the negative things are that their commodity, CFDs offerings are very limited, and they also don't offer cryptocurrency trading. Also, their FX trading leverage is restricted to 1:1 for majors, which some traders may not prefer.
We analysed Pepperstone's fees, platforms, bonus, customer support & other important factors that could affect South African traders. Read our detailed review to find out all their "pros & cons".
Let's start!
Pepperstone Pros
Pepperstone is an ASIC & FCA regulated forex broker, so we consider it to be safe to trade with them.
Their average spread is competitive for most majors. It is around 1.0 – 1.3 pips for EUR/USD with their standard accounts.
They offer wide trading plaforms including the latest MT5, and the cTrader.
Their Live chat support is responsive.
Pepperstone Cons
Pepperstone is not yet regulated with FSCA, and their application (FSP no. 49497) is currently under processing.
They charge high fees on some deposit & withdrawal methods.
They have no bonus available currently.
They don't offer local phone support in South Africa.
Pepperstone – a quick look
| | |
| --- | --- |
| 🏦 Broker Name | Pepperstone Broker |
| 📅 Year Founded | 2010 |
| 🌐 Website | www.pepperstone.com |
| 🏢 Registered Address | Level 16, Tower One, 727 Collins Street, Melbourne, VIC 3008, Australia. |
| 💰 Pepperstone Minimum Deposit | $200 |
| ⚙️ Maximum Leverage | 1:500 |
| ⚖️ Major Regulations | Financial Conduct Authority (FCA), Australian Securities and Investments Commission (ASIC) |
| 🛍️ Trading Instruments | Forex Trading, Commodities, CFDs, Energy |
| 📱 Trading Platforms | MT4 & MT5 for PC & Mobile and Web, cTrader for mobile and web |
Regulation and safety of funds
Pepperstone is a globally regulated forex broker, but they are not regulated with FSCA in South Africa yet. They are regulated under 2 of the top-tier regulatory authorities in the world as described below:
Financial Conduct Authority of UK: Pepperstone UK is authorized & registered with Financial Conduct Authority in UK as Pepperstone Limited since 2015 under license number 684312.

Australia's ASIC: Pepperstone Group Limited is an Australian broker, and they are regulated with Australia's financial regulator ASIC since 2010, with ACN number 147055703.

Not regulated with FSCA in South Africa (application is processing): Pepperstone Group Limited have applied for regulation with FSCA under FSP no. 49497 since 24/05/2018. Their application status is currently processing.

BaFin: Pepperstone GmbH is authorized by BaFin in Germany.
Is Trading with Pepperstone safe?
Pepperstone is considered a safe forex CFD broker as they are regulated with multiple top regulators i.e. FCA in UK and ASIC in Australia. But on the downside, they are not registered with South African regulator FSCA, so we gave them the 4 stars.
Despite them not being regulated locally yet, we consider them to be a trusted broker since they are highly regulated in foreign top financial centers outside South Africa.
Also, they have also been around for few years now. They are now one of the largest forex broker in Australia in terms of active daily trading volume, so we say that they are a trusted & reputed broker.
Pepperstone Fees
The trading fees at Pepperstone is very low when compared to other brokers in South Africa.
They have low spread & no commissions with their Standard account. Their spread is as low as 0 pips with their ECN account, and the commission is also really competitive.
We did a complete breakdown of Pepperstone's trading & non-trading fees. You can read and check it from below:
Very low spread even with Standard Account: On average they have a spread of 1.0 – 1.3 pips for EUR/USD with their Standard account. It is even lower at almost 0.3 pips on on average on EUR/USD with their Razor account (their ECN account). We have found their spread to be almost the lowest with compared with other South African brokers.

Commissions with Razor account: Pepperstone charges trading commission based on trading volume only with their Razor account, there is no commission with Standard account. Their commission will vary according to the platform that you are using. They charge around $7 commission with Razor MT5 account for opening & closing 100,0000 units position, which is a bit higher than other ECN forex brokers.

Withdrawal Fees depending on your method: There is no commissions/fees on depositing of funds with Pepperstone via wallets. But the negative point is, they charge 3% fees when adding funds via South African credit/debit card. Moreover, during withdrawal of funds, there is upto $20 fees, depending on your method. Their withdrawal fees is high as compared to other brokers.
Swap/Rollover charges: Like any other forex broker, Pepperstone also charge swap fees for the trading positions that are left open overnight. The swap interest rates or rollover charges depends on the currency pair you are trading and it is calculated based on the interest rate difference of the currencies being traded.
For the trading fees, Pepperstone's spread is really low for most currency pairs, their commission structure with their Razor account is also very transparent (although a bit on the higher side).
For non-trading charges, they don't charge any fees on deposits, but you would be charged $20 fees during withdrawal. This makes their non-trading fees quite high, as some other brokers like XM broker & Hotforex charge no fees on deposit/withdrawals at all.
Overall, Pepperstone's fees is still quite low & transparent.
Pepperstone Account Types
Pepperstone offers 3 different types of live trading account types and 1 Demo account. Below is the information on all the account types that are offered by Pepperstone in South Africa.
1. Pepperstone Demo Account
Pepperstone offer Demo account for those traders who are new to forex trading. You can try using their demo account if you want to test your trading strategies.
You can use demo account using platform MetaTrader or cTrader with their risk free environment.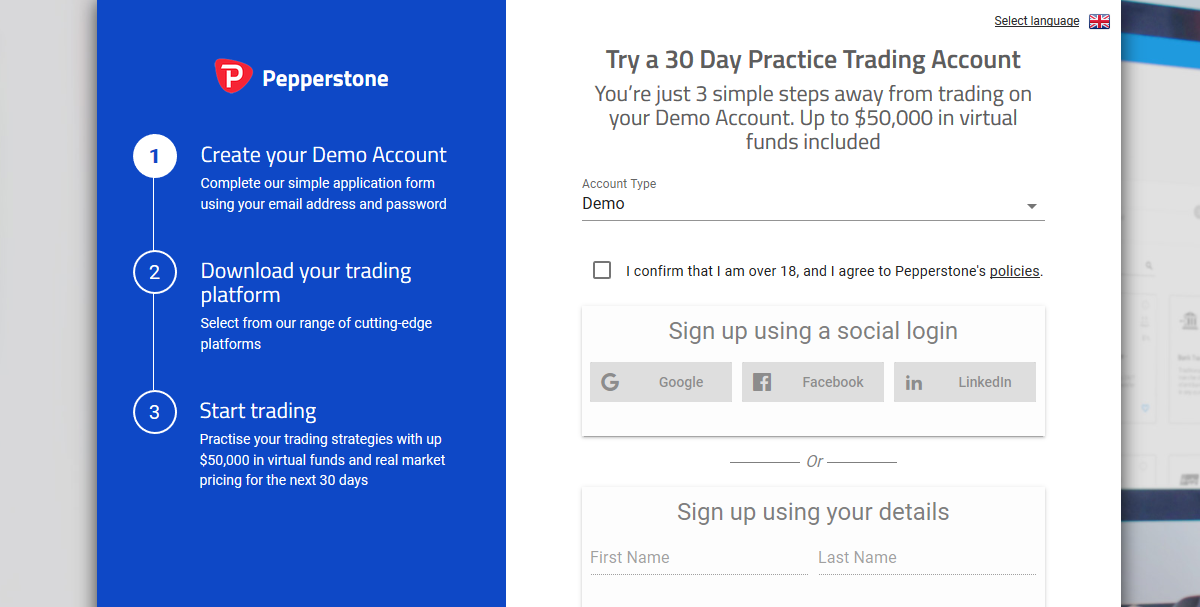 They also offer $50,000 as virtual funds with their Demo account. So you don't need to add funds to your account to test and start testing your trading strategies.
Moreover Pepperstone also offer leverage of 500:1 same as of provided in live trading account. So demo account is exactly same as of live trading account.
2. Pepperstone Live Trading Accounts
Pepperstone offer 3 types of live trading account which are different from each other's based on commission, spread and leverage.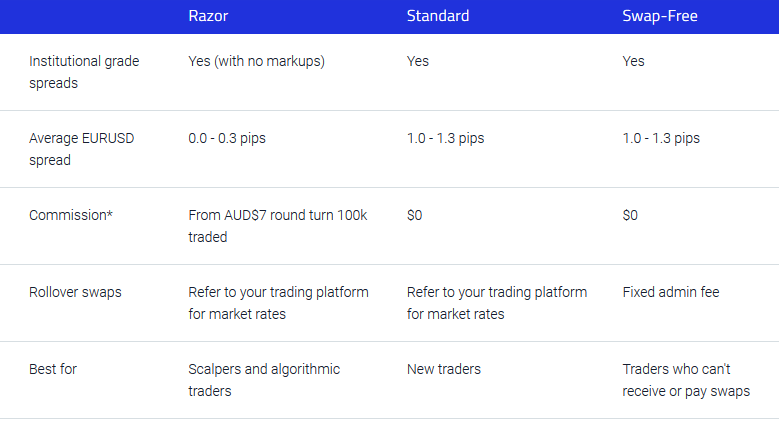 Below are the 3 Pepperstone Live trading account that you can choose from:
1) Razor Account: In Razor Account the spread start from 0.0 pips for EUR/USD currency pair and there is commission in this account on the trade volume. This Razor account is best for Scalpers and algorithmic traders. And the minimum account balance should be $200 in Razor account.
2) Standard Account: Standard account is for Beginners who are new in forex trading. There is a $0 minimum account balance required in this account. The spread offer in this account is vary from 1 to 1.8 pips. Moreover there is no commission on trade volume in Standard account.
3) Swap-free Account: This account is interest free account. Swap-free account is for those who do not want to accept interest. The minimum account balance should be $200 in this account. The spread vary from 1 to 1.2 in this account and there is no commission in this account.
Now below are the list of features that are offering with all accounts at Pepperstone:
| Account Types | Commission | Spread | Interest Rate | Minimum Deposit |
| --- | --- | --- | --- | --- |
| Razor Account | Yes | 0 to 0.3 pips | Yes | $200 |
| Swap-free Account | No | 1.0 to 1.3 pips | Yes | $0 |
| Standard Account | No | 1.0 to 1.3 pips | No | $200 |
How to Open Account with Pepperstone
The account opening process with Pepperstone is very easy and includes only few simple steps. It hardly takes 10 minutes to complete the registration process with them.
But their account verification process is quite slow which can take upto 24 hours depending upon the business days.
For opening account with Pepperstone, you need to follow below steps:
Step 1) Register email: First of all you need to register your email and set a strong password in Account Registration page.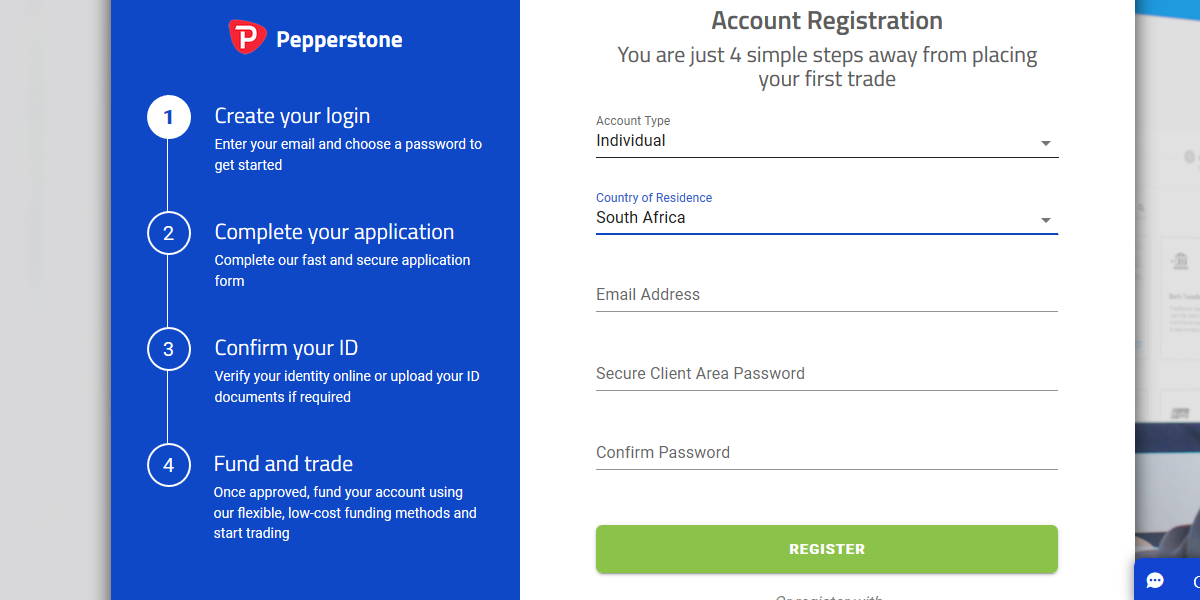 Step 2) Fill your Personal Information: After registering your email, you need to enter your personal information. You also need to set your base currency from same page.
Step 3) Complete other details: Now you need to fill others details like leverage, account type by selecting it from drop down menus as shown in this below screenshot.
At last you will receive account setup complete message on the screen. You can check your email for more information of your account with them.
Step 4) Account Verification: Before adding funds to your account for trading you need to verify your account by uploading the documents like ID proof such as Driving License, Passport and Address Proof like Electricity bill, Mobile Phone Postpaid Bill.
That's It! Your account will be fully active with Pepperstone after the above steps. Once it is verified, you should check your registered email for more details and trading account login information.
After that you can login to your account and start your trading.
Pepperstone Trading Platforms
Pepperstone offers 2 trading platforms which allow their clients to trade with a user friendly interface. Below is the detailed information of all the trading platforms. All these platforms are free to download and are available for mobile, tablet, desktop and web application.
Below are the trading platforms available for trading on Pepperstone:
MetaTrader: Both version of Meta Trader i.e MT 4 and MT 5 are available free to download on their website for Windows and MAC operating system.

They are also offering various tutorials and guides which help clients to download, install and start using it.
If you don't want to download and install it on your device then you can also use WebTrader to access both version on your browser.

cTrader: cTrader platform is available for PC, as well as mobile for both Android and iOS. You can either download it on your browser or you can use it after installing the cTrader app on your mobile.

It is available in 23 language and has user friendly interface and faster execution.
Deposit and withdrawal
Pepperstone offers many deposit and withdrawal options to add funds or withdraw funds for South Africans. Here are list of methods and their fees.
Deposit Methods
Adding funds or making a deposit is not free at Pepperstone for both bank transfer and e-wallets. Below is the overview of their 3 funding methods:
Credit/Debit Card: You can use your Credit or Debit card like VISA, Master card to add funds to your account with them. But there are 3% charges on using your South African cards, which is a bit on the higher side.

Bank Transfer: You can also transfer the amount from your bank account to their bank account. The adding funds using bank transfer is free from Pepperstone's end but your bank will very likely charge you on your wire transfer transaction. A bank transfer can take 2 to 3 days to track and adding in your account.
E-Wallets (Instant funding): You can also add funds using electronic wallets i.e. Skrill, Neteller, Paypal. The transfer using E-Wallets is free from their end but you should check if there are any charges by your E-Wallets provider.
Withdrawal Methods
Pepperstone withdrawal methods are as following:
No Card withdrawal: Pepperstone does not offer withdrawals to cards. Any deposit made using credit/debit card will can be withdrawn via with bank wire transfer or wallets.
Wire Transfer (5-7 days & $20 fees): You can also send your bank account details via email to receive funds. But there are $20 withdrawal fee, which you can confirm from them before sending your bank details.
E-Wallets (1-2 business days & some fees): Pepperstone also charge for withdrawing funds via E-Wallets, depending on your exact method. In case of Skrill there is $1 and for Paypal it is 3% of your amount.
Pepperstone has wide deposit & withdrawal methods, but they disappoint in their fees during funding & withdrawals. Many other brokers like XM & Hotforex charge zero fees, so Pepperstone could do better.
Pepperstone Bonus
Pepperstone does not have any active bonus available for South African clients. They have never offered bonus or loyalty programs in the past, but if they will launch any offer in future then we will list it here.
For now, other brokers like Hotforex & XM are better with their bonus than Pepperstone.
Pepperstone Customer Support
Customer support is a really important factor in our consideration of any broker. And Pepperstone does not disappoint in this area.
Pepperstone's customer service is available for 24 hours from Monday to Friday. You can get support with them via 3 following channels:
Responsive Chat Support: Their chat support is quite responsive and give clear answers for most queries that we asked them. They are available 24/5 via chat, but we found their chat executives to be a slow in replying.

Phone Support (no South African number): Pepperstone does not have local phone number in South Africa, but you can contact them at international phone number +44-(800)-0465473.

Email Support: Their email support is fair enough. You can send your query via email at [email protected] from your email. They normally reply withing 24 hours, which is fair as compared to other brokers.
Overall, we found their support to be fair enough. They could do better by offering local phone support for South African traders, but you can always request a callback anytime.
Do we recommend Pepperstone?
Yes, we do recommend Pepperstone for South African traders.
They are regulated with ASIC & FCA, have really competitive spread, and offer great customer support with very less hold time. Moreover, their website's user interface is very clean, and they have good trading platforms available.
But on the negative side, they are not yet regulated with FSCA, and their application is in processing status. Moreover, they charge fees on most of their deposit/withdrawal methods, and these 2 factors might be a turn off for some traders.
Overall, Pepperstone is a trusted forex broker & we couldn't recommend them more.
Pepperstone South Africa FAQs
Does Pepperstone offer ZAR account?
Pepperstone does not offer accounts denominated in ZAR. Traders have option to choose between 10 account curriencies i.e. AUD, USD, JPY, GBP, EUR, CAD, CHF, NZD, SGD and HKD. But South Africans traders can deposit in ZAR, and it will be converted to the currency in which the account is denominated i.e. the account currency.
What is the minimum deposit at Pepperstone?
Pepperstone has a minimum balance of $200 with their Razor account. The spread in Razor account start from 0.0 pips in case of EUR/USD currency pair
Is Pepperstone regulated in South Africa?
No, Pepperstone is not authorized by FSCA in South Africa. Pepperstone Group is regulated by multiple top-tier regulatory authorities including FCA, ASIC, BaFin & CySEC.
How can I withdraw funds from Pepperstone?
Traders can request for withdrawal from the client panel at Pepperstone. You can withdraw with bank wire or with e-wallet options such as Neteller, Skrill or PayPal. E-wallet withdrawals take few hours, but international bank wire transfer takes 2-5 business days on average.
"Do you have experience with Pepperstone? Please consider sharing your experience with a review below – good or bad – doesn't really matter as long as it's helpful to other traders!"
We only accept user reviews that add value to fellow South African Traders. Unfortunately, not all reviews that you post with us will be published on the website. For your review to be approved, please share your detailed & honest experience with the broker – either positive or negative. Thank you for helping out other traders with your valueable feedback!
Important: We don't accept any payments or kickbacks from any forex broker(s) to delete or change any reviews. We welcome Forex Brokers to reply to reviews on our website & share their side of the story to keep the process honest and fair for both sides.