CM Trading Review 2021
CM Trading is a local regulated forex broker in South Africa. They are regulated with FSCA. They offer competitive spread, zero deposit charges. Read our CM Trading review to decide whether they are safe for South Africans or not.
CM Trading was established in South Africa in 2012 as Global Capital Markets Trading. They offer full trading services all across the world.
They are registered with the local regulatory in South Africa with FSCA and provide many services which are not provided by any brokers in South Africa.
CM Trading is known for their good customers support and competitive spread and leverage of 1:200.
Moreover they are known for offering bonus and promotions to their clients. If your initial deposit is more than $500 then there is a welcome bonus of 20% and they also offer debit card to use the funds account.
CM Trading Pros
CM Trading is regulated locally in South Africa with FSCA.
Minimum Deposit start from $250.
Fast Withdrawal system.
Lots of bonus for clients.
Their customer support is very good and available 24/5 from Monday to Friday.
CM Trading Cons
Not Regulated with FCA.
Fixed spread of 1.5 pips.
No Customer Support during weekend.
CM Trading – a quick look
| | |
| --- | --- |
| 🏦 Broker Name | Global Capital Markets Trading and BLACKSTONE Marketing SA(PTY)LTD (GCMT SA) |
| 📅 Year Founded | 2012 |
| 🌐 Website | www.cmtrading.com |
| Registered Address | 14th Floor, Sandton City Office Tower 9, Corner Rivonia Road and 5th Street, Sandton, Johannesburg 2196, South Africa |
| 💰 CM Trading Minimum Deposit | $250 |
| ⚙️ Maximum Leverage | 1:200 |
| ⚖️ Major Regulations | Financial Sector Conduct Authority (FSCA) |
| 🛍️ Trading Instruments | Forex, Currencies, Commodities, Indices, Crypto |
| 📱 Trading Platforms | Sirix & MT4 for Desktop, Android and iOS |
Regulations and Safety of Funds
CM Trading is regulated by the local regulatory body in FSCA in South Africa only. FSCA is a local regulatory body that follows various guidelines to make sure a clean market place of various companies in financial markets.
Below is detail of CM Trading Regulation with FSCA:
Financial Sector Conduct Authority (FSCA) in South Africa: CM Trading is registered with FSCA in South Africa under license number 38782 as Blackstone Marketing SA (PTY) Ltd since 2009.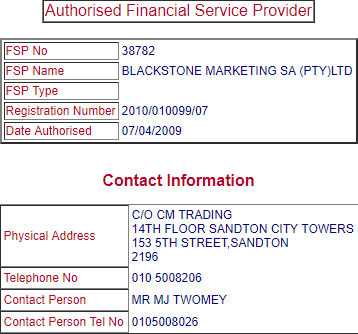 CM Trading is a registered broker in South Africa. But they are not registered with the other international regulatory bodies. They also offer segregated accounts for traders in case of state of being unable to pay the money owed to customers. So your account and funds with them are safe.
CM Trading Fees
CM Trading does not have lower spread as compared to other brokers in South Africa. But they offer fixed spread with your base trading account.
Below are the information about their trading fees:
Typical Spread of 1.5 pips: CM Trading offer typical spread of 1.5 pips for EUR/USD currency pair.

No Commissions: CM Trading offer floating spreads and the only commission they have is from the spreads. But there is no commission on opening and closing a trade.
Zero Deposit/Withdrawal fees: CM Trading does not charge fees for transactions. However all transactions are charged usually by the processing payment gateways or banks. So you may have banking fees, or exchange rate fees charged by payment gateway or bank.
Rollover fees: CM Trading charges for overnight positions that left for second day. These rollover charges can be checked in the "Overnight Interest – Buy" and "Overnight Interest – Sell" columns.
CM Trading does not change for deposit and withdrawal fund with them. But they charge over night positions. So as per our opinion they can improve their fees structure by offering lower and variable spread with their base accounts.
CM Trading Account Types
CM Trading offers 4 types of Live Trading account and Demo account. All the features of all their accounts are explained below in the screenshot and points:
Demo Account
CM Trading offer Demo account to their clients to practice who are new to forex industry.
In demo account they 50000 USD for practicing with the same conditions like on Live Trading account.
This Demo account is valid for 3 months from the date of registration.
Moreover their demo account offer the same conditions that is on their live trading account, therefore you are able to practice with one of the best trading conditions.
CM Trading Live Trading Accounts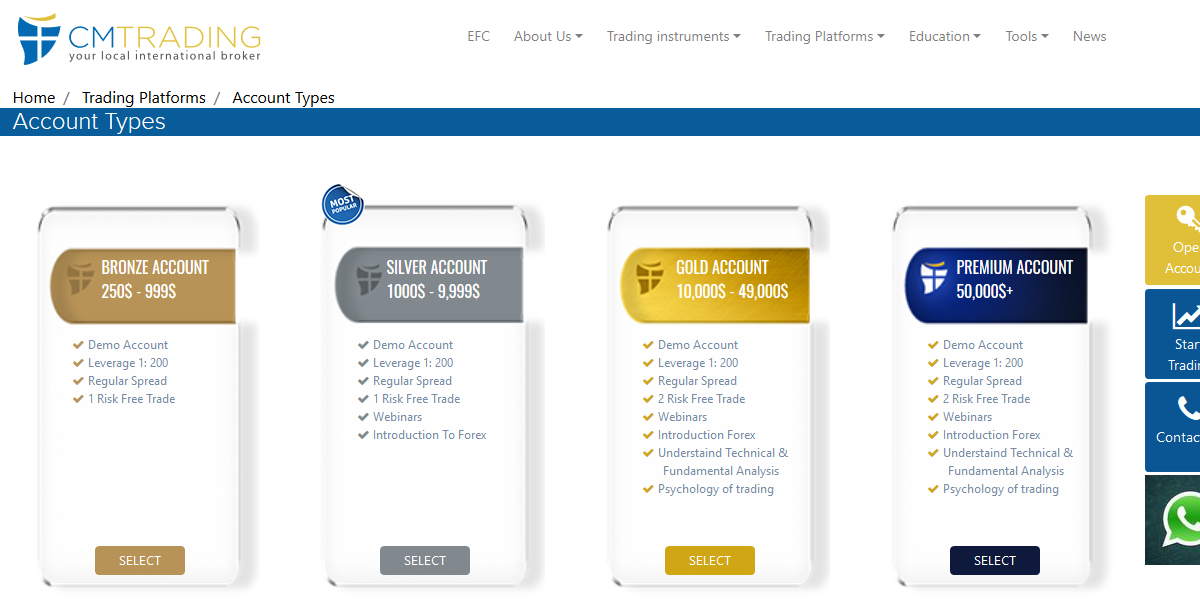 CM Trading offers 4 types of live trading account which are different based upon their key features. All the features of their live trading accounts are explained below:
1) Bronze Account: The minimum deposit balance for this account is $250. The leverage for Bronze account is 1:200. The spread in this account is also higher i.e. of 1.5 pips of EUR/USD currency pair.
2) Silver account: To start with this account, you need to make a minimum deposit of $1000. This account comes with regular spread and leverage of 1:200 with risk free trade webinar.
3) Gold Account: Trader need to make a minimum deposit of $5000 to start with this account. Gold account comes with tighter spread and 2 risk free trade webinars.
4) Premium Account: This premium account is for the VIP or special customers with minimum deposit of $25000. The spread offer in this account is very low as compared to other accounts. There are 3 risk free trades and same day withdrawal given in this account.
In all CM Trading account types, users can get access to automatic monitoring service which is known by CopyKat. Moreover then demo account is available for all 4 types of live trading accounts.
CM Trading all account types comes with low intial deposit. And withdrawal requests are processed within 24 hours
How to open account with CM Trading
The process of opening an account with CM trading does not include much steps. It can be created within 1-2 minutes by following the below mentioned steps:
Step 1) Visit website and click on Open account: First of all you need to visit their official website and then click on Open Account button at the top of the screen.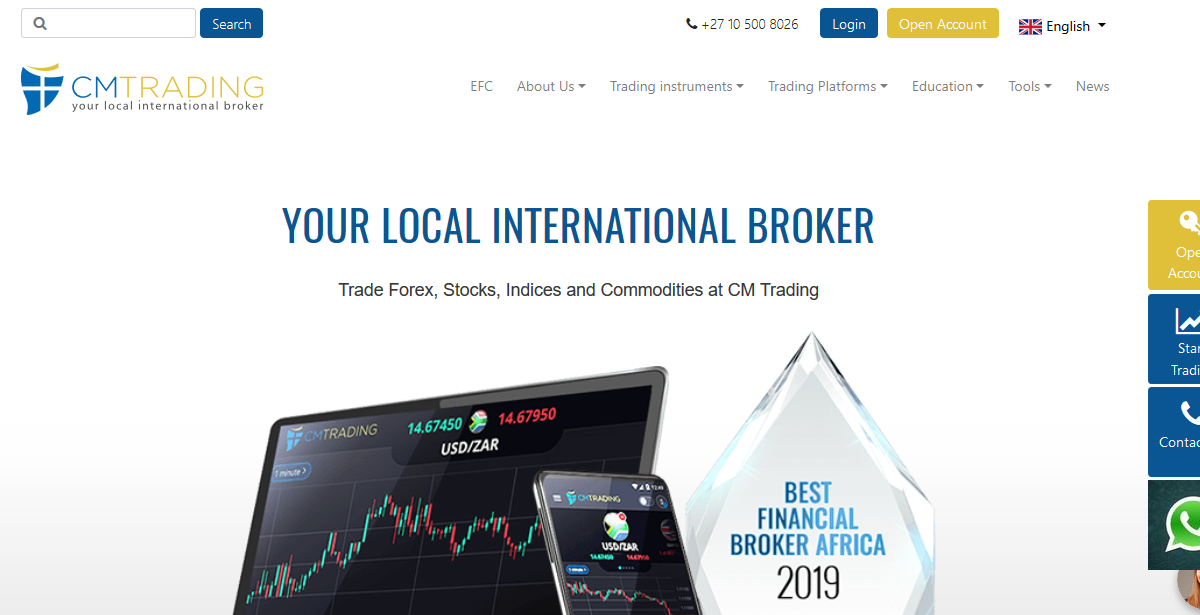 Step 2) Open Real Account: Now you need to fill some basic details which include your name, email, country, phone number etc.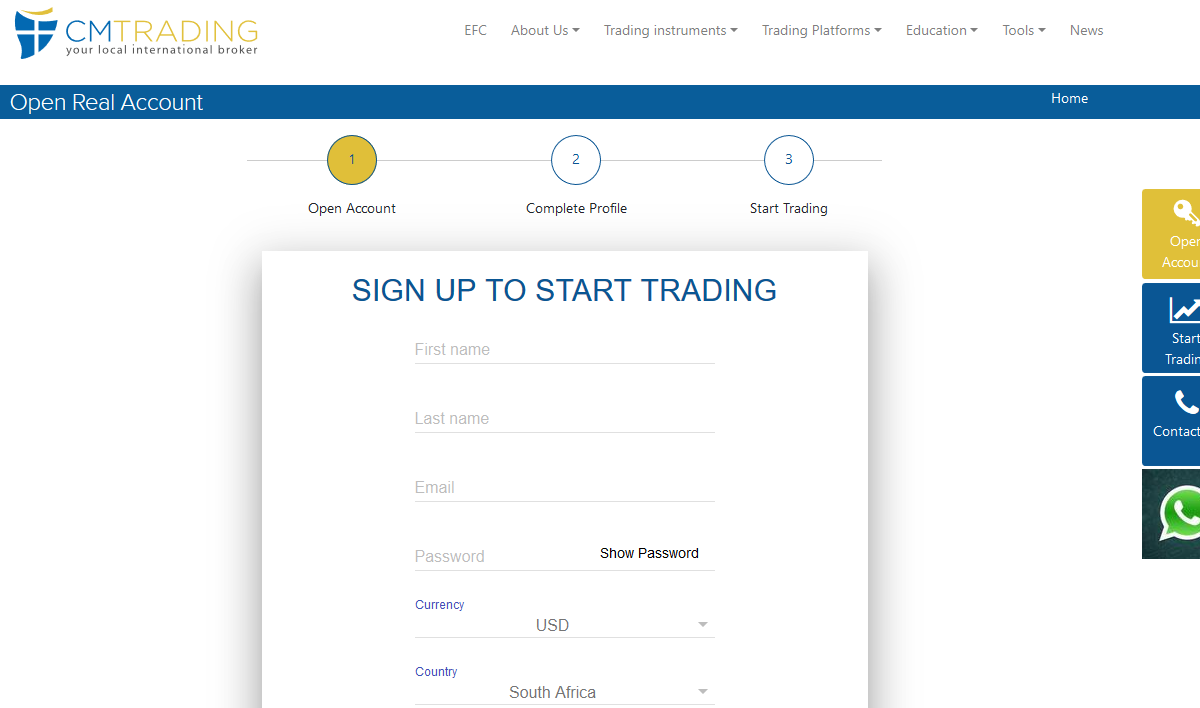 Step 3) Complete Profile: Fill some basic information regarding your income details and also select account types. After that you need to click on Start Trading button
Step 4) Accept Terms and Conditions: Please read the terms and conditions carefully and accept it.
Now your account has been setup and you need to add funds into it to start trading.
Congratulations! Your account has been setup with them. Now you can verify your account after login using your provided details on your registered email. You need to verify your account by uploading your ID Proof like driving license, Passport, etc. and Address proof like electricity bill, post paid telephone bill, etc.
Trading Platforms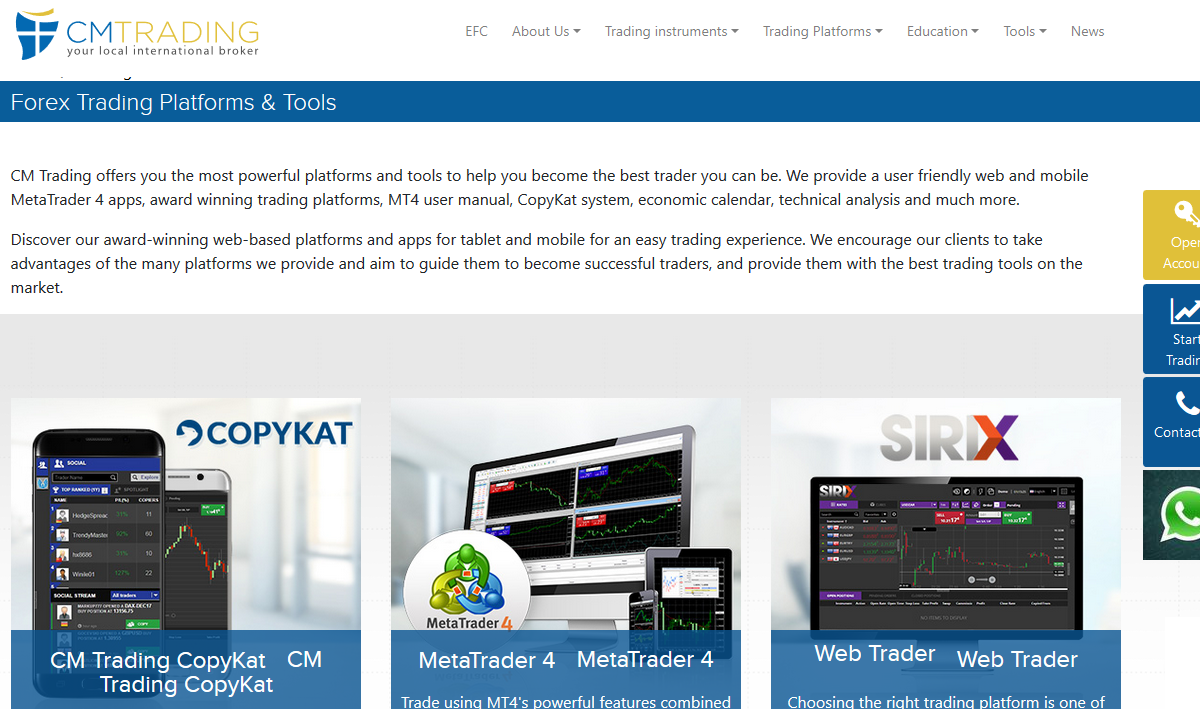 CM Trading offer two types of trading platforms. Below are the detailed information of the trading platforms offered by them:
Sirix: This platform is web based platform and can be used using a browser in any device. You can access it using either your mobile browser or PC browser. This platform is available for both Mac OS and Windows.
MT4: MT 4 trading platform is the most widely used trading platform in forex industry. You can download this trading platform on your desktop and mobile phone.
CM Trading offer various trading platforms to clients. MT 4 is the most popular trading platform which can be used in mobile and PC.
They also Sirix trading platform which can be used without installing it.
Deposits & Withdrawals Options
CM Trading accept all kinds of cards and bank transfer. But the account verification should be cleared before making any kind of payment or before add funds to your account for trading.
Below is the list of payment methods that you can used on their website:
Deposit Methods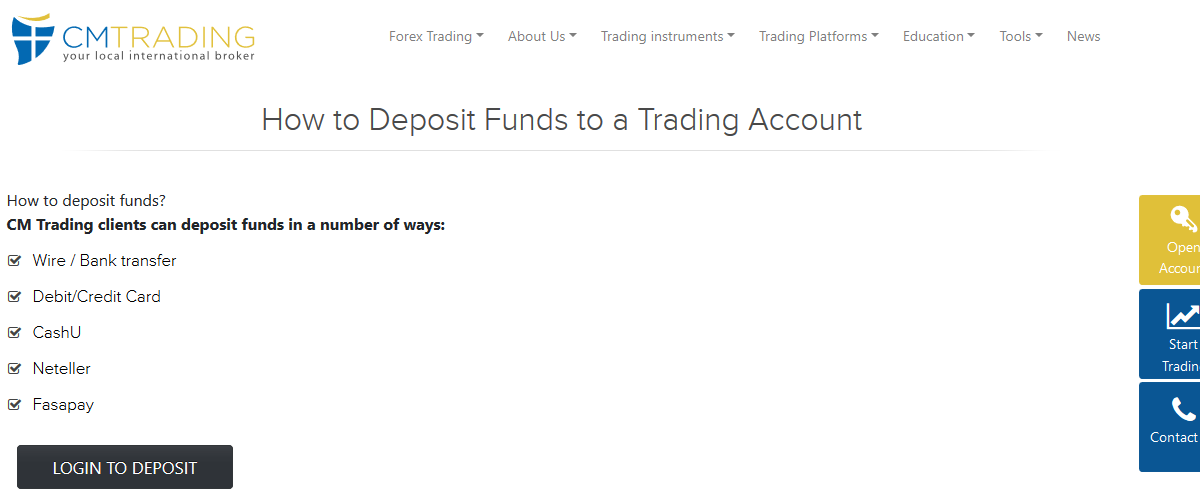 Credit/Debit Cards: You will get instant activation in case of card payments. You can use your VISA card, Master card etc. on their website to add funds in your account to start trading.
Bank Wire Transfers: Bank Transfer method takes minimum 3 business days to be processed. You can transfer the amount from your bank account to their bank account in Nedbank and inform them on email.
E-Wallets: There are few E-Wallets like Neteller, Kiwi, WebMoney, ecoPayz are available on their website. The limit is $100 and maximum upto $100,000. And you will get instant activation using E-Wallets.
Withdrawal Methods

The withdrawal methods are same as of deposit methods. You can send them your debit/credit cards like VISA Card, Master Card etc to receive payment. But the card should be used once to add funds to your account with them.
Moreover you can send your bank account details to them via email or chat. Withdrawal will be processed within 24 hours.
CM Trading Bonus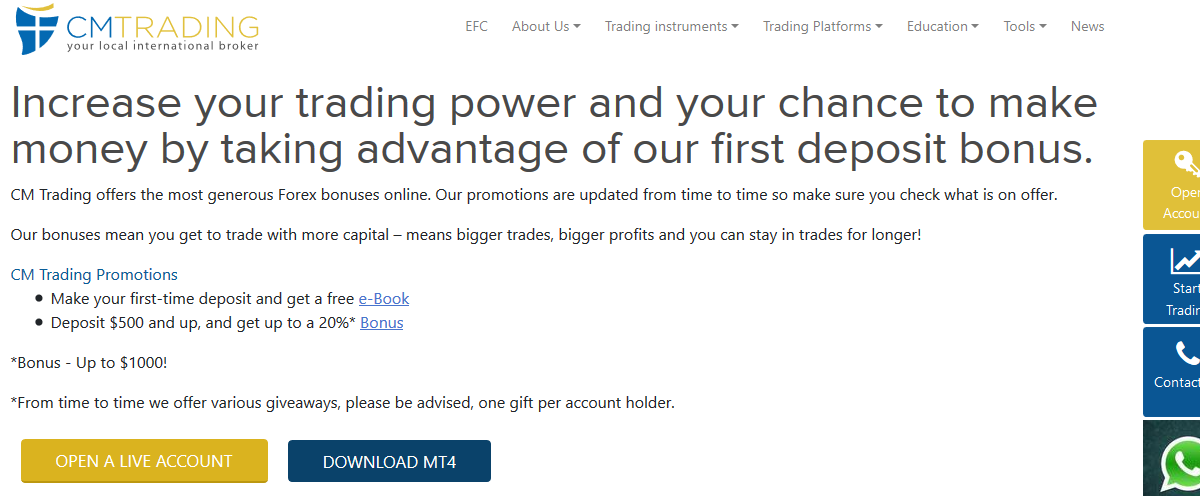 CM Trading regularly provide offers and various promotions to their customers. Their currently bonus and promotions are listing below:
Free eBook: Clients will get free eBooks once made a first deposit. And these eBooks will be very helpful for learning trading for beginner.
20% Bonus: In case of making deposit of and above $500, clients will get up to a 20% bonus.
Debit Card: lso after making deposit of $1,000 clients can apply for an International Debit Card from CM Trading.
Customer Support
CM Trading customer support is very good. Their support is available from 7am – 8pm South African time from Monday to Friday in a week.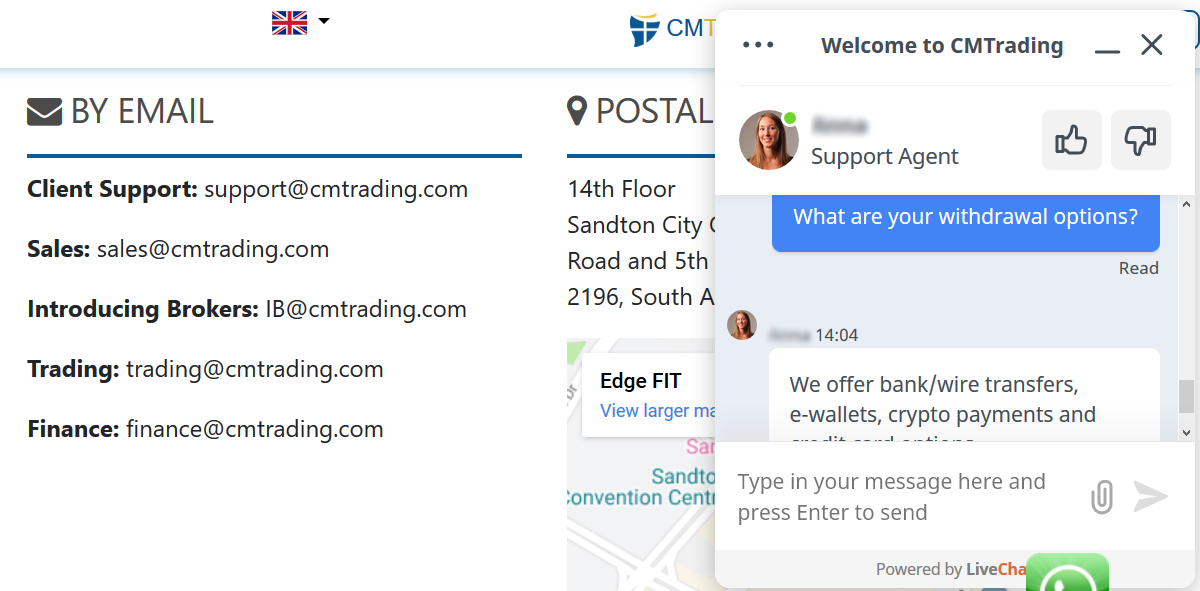 You can contact them via below mediums:
Chat Support: Chat Support is very quick responsive. You can contact with them via chat support available on their website. We have checked that there is no hold time on chat.
Email Support: You can also send a mail to their email [email protected] from your email. They are responding to all queries with 24 hours. Moreover there are also different emails for different department mentioned in their Contact Us page.
Local Phone Number and Address: In case of any issue or query, you can contact them via personally visiting to their office or you can call to them at their number +27 10 500 80 26.
Contact Form: You can fill the contact form on their website regarding your query. Their support team will contact you on the email provided by you.
They have also separate international telephone numbers for Australia, Italy, Panama, Japan, France, Bahrain and for other countries.
Do we recommend CM Trading?
Of course we recommend CM Trading as it is registered with local regulatory FSCA. And due to their competitive spread and other features that you will not find somewhere else.
Moreover their Sirix trading platforms have many features using which a beginner or experience can gain some positive trading experience.
Apart from this, CM Trading also offer powerful trading tools and education tools to their clients to learn and become a successful trader.
CM Trading South Africa FAQs
Does CM Trading offer ZAR account?
Currently CM trading does not offer ZAR account for South Africans traders. But you can make deposit in ZAR after checking offer from their website in your client panel.
What is the minimum deposit at CM Trading?
CM Trading has a minimum deposit of $250 for all traders under Bronze account. But the spread in this account is higher as compared to their other accounts.
Is CM Trading regulated with FSCA?
CM rading is regulated as BLACKSTONE MARKETING SA (PTY)LTD with Financial Sector Conduct Authority (FSCA) with FSP number 38782.
How to withdraw money from CM Trading ?
Traders can request for withdrawal to the same method that was used once to make deposit on their website. And withdrawal will be processed within 24 hours.
"Do you have experience with CM Trading? Please consider sharing your experience with a review below – good or bad – doesn't really matter as long as it's helpful to other traders!"
We only accept user reviews that add value to fellow South African Traders. Unfortunately, not all reviews that you post with us will be published on the website. For your review to be approved, please share your detailed & honest experience with the broker – either positive or negative. Thank you for helping out other traders with your valueable feedback!
Important: We don't accept any payments or kickbacks from any forex broker(s) to delete or change any reviews. We welcome Forex Brokers to reply to reviews on our website & share their side of the story to keep the process honest and fair for both sides.