BlackStone Futures Review 2022
BlackStone Futures is a FSCA regulated Forex Broker for beginners in South Africa. They have R1000 minimum deposit, average spread, ZAR Account, multi device MT4 platform & fair customer support. Read our honest BlackStone Futures Review to find out why you should or should not choose them!
Update in 2022: Blackstone Futures is now Trade Nation Group as of December 2021, which is a multi regulated forex broker including with Tier-1 regulations FCA & ASIC.
Trade Nation group is also regulated with FSCA, but the issuer of the product is regulated under Securities Commission of The Bahamas (SCB), which is an offshore regulation.
All the existing trading accounts could select to move to Trade Nation & new account details will be sent to the clients. New traders cannot register on Blackstone Futures. As per the broker, the client funds under new broker are held under Barclays Bank in London.
BlackStone Futures is a STP forex broker that started its operations in 2009. They are representative of Trade Nation (Pty) Limited, which is regulated by the FSCA under FSP No. 49846, so they are considered safe for South African traders.
BlackStone Futures currently offer three types of accounts. A demo account is also available for traders who are looking to learn how to trade CFDs, a dedicated ZAR account for South African traders, and a USD account for those looking to trade using the USD as a base currency.
BlackStone Futures offer a choice between using MetaTrader 4 or their CloudTrade platforms. You can choose to trade from a selection of more than 750 financial instruments. These include currencies, commodities, equities, cryptocurrencies, energy, futures, metals, and indices. The total number of forex pairs available is 33.
They have average spreads for forex & other CFDs. Their support is overall good too.
Blackstone Pros
ZAR Account currency option is available with MT4 & Cloudtrade platforms.
No Trading Commission.
Regulated with FSCA (FSP #49846)
Blackstone Cons
Swap Free account not available.
Regulated with FSCA regulator only.
Minimum deposit of R1000 & $100 is high compared to other CFD broker.
Very Low number of Forex pairs
BlackStone Futures – a quick look
| | |
| --- | --- |
| 🏦 Broker Name | BlackStone Futures (Pty) Limited |
| 📅 Year Founded | 2009 |
| 🌐 Website | blackstonefutures.co.za |
| Registered Address | The Mall Offices, 5th Floor, 11 Cradock Avenue, Rosebank, 2196, South Africa |
| 💰 BlackStone Futures Minimum Deposit | ZAR 1000 |
| ⚙️ Maximum Leverage | 1:400 |
| 🗺️ Regulations | FSCA |
| Trading Instruments | Forex & CFD Trading |
| 🛍️ Trading Platforms | MT4 (MetaTrader4), CloudTrade |
Regulation and safety of funds
Here is a breakdown of the regulations under which BlackStone Futures are regulated:
FSCA (Financial Sector Conduct Authority): BlackStone Futures is appointed representative of Trade Nation (Pty) Limited, which is authorized by the FSCA since 05/02/2019. They hold the license number FSP #49846.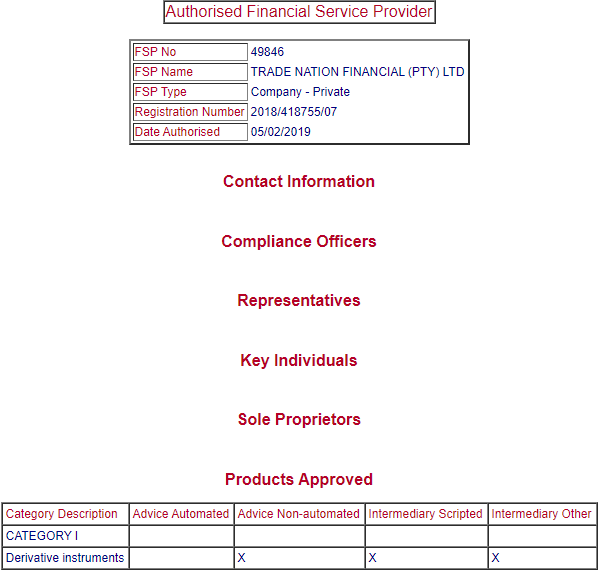 South African traders at BlackStone Futures are registered under the FSCA regulator. Since they are locally regulated, we consider them relatively safe to trade with.
BlackStone Futures Spreads
The trading fees at BlackStone Futures is not that high if you compare with some other brokers. The only fees they is charge is in the form of spread for each trade that you conduct.
Variable Spread: The spread various depending on financial instruments that you may want to trade with. Spreads are also subject to change depending on the time of entering the trade.

You should know the minimum spread that they charge for trading the benchmark EUR/USD currency pair. For EUR/USD, BlackStone Futures charges a minimum spread of 0.6 pips. The average spread that they charge for this currency pair is around 2 pips.

This is higher than average when compared to other brokers in the industry

Trading Commission(s): It is important to note that BlackStone Futures does not charge any commission on your trades on both the account types. This makes it cheaper than several other forex brokers that charge a commission.
Hidden Fees & Terms: A broker may also charge hidden fees (Fees that you are not aware of before registering with the broker) in the form of deposit or withdrawal fees or inactivity fee.

BlackStone Futures does not charge any fee on deposit or withdrawal, this makes them a more beginner-friendly broker.

They also do not charge any inactivity fee. However, if you have not placed any ST transaction or Order in your account for a period of 90 days, then they may remove any bonuses or credit that they have applied to your account.
Overall in terms of trading fees, BlackStone Futures is an affordable broker to trade with since they do not charge any commission or hidden fees. They also charge relatively tight spreads which is not the lowest but still not too high.
BlackStone Futures Account Types
BlackStone Futures offers a Demo Account & 2 Live Account types to their customers. We have compared the features with all their account types.
BlackStone Futures ZAR Account
BlackStone Futures has ZAR base currency option with all their account types. The minimum deposit in ZAR is R1000 with MT4 & CloudTrade platforms.
What is the Blackstone Futures minimum deposit?
The minimum deposit at Blackstone futures is R1000 with their ZAR Account. It is USD 100 with their USD Trading Account type.
BlackStone Futures Demo Account
BlackStone Futures offers a demo account for those who are new to trading. This demo account will give you a chance to practice & gain trading experience without any money risk. You will not be able to trade with real money through this account.
BlackStone Futures Live Account Types
BlackStone offers 2 Account Types i.e. a ZAR account and a USD account. As evident from the names of these types of accounts, the ZAR account uses ZAR as a base currency whereas the USD account uses the USD as a base currency.
#1 BlackStone Futures USD Account – Overall, it is advisable that you use the USD account only if you are an experienced trader and have a high deposit value. A USD account can work to your advantage if you get a better currency rate while depositing and withdrawing money from your account.
However, remember that this can also work to your disadvantage. Hence, you need to be careful about when you deposit and withdraw your money.
#2 BlackStone Futures ZAR Account – The advantages to trading with a ZAR account broker is that you can frequently deposit and withdraw your money without any exchange risk. You also get to trade with a lower risk factor, and you can make smaller deposits.
Trading Account features at BlackStone Futures:
BlackStone Futures Minimum Deposit in ZAR is R1000.
The max. Leverage at BlackStone Futures is 1:400 with both ZAR Account & USD Account.
Margin Requirements: The margin requirements depending on the currency pair or instrument you want to trade. It is the same for both their ZAR and USD accounts.
BlackStone Futures Trading Instruments
BlackStone Futures offers Forex & CFD trading on multiple instruments & you have the option of trading with a wide range of financial instruments. This includes CFDs on forex, cryptocurrencies, indices, stocks, commodities, futures, and metals.
Their number of currency pairs are limited i.e. only 34 in comparison to most other CFD brokers in South Africa. In comparison, Hotforex offers 50 Forex Pairs & Plus500 offers CFD trading on 71 currency pairs.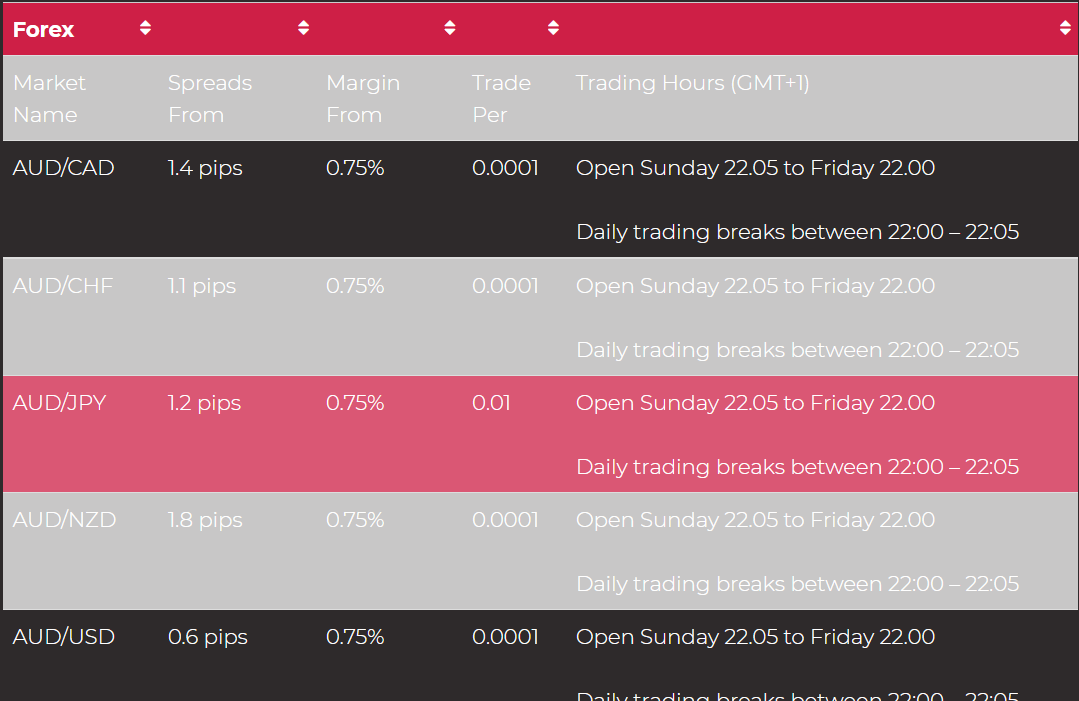 They offer cryptocurrency CFDs which a number of forex brokers in South Africa do not. They also offer you the chance to take part in a variety of equity markets including CFDs on stocks from the US, UK, and Europe.
However, overall the number of financial instruments that they offer is low compared to other brokers. They do not have a wide range of currencies on offer and the number of commodities is also low.
| Type of Instrument | Available |
| --- | --- |
| Forex Pairs | 34 |
| CFDs on Equities | 4 Markets – SA, UK, US, and European |
| CFDs on Indices | 19 |
| CFDs on Commodities | 12 |
| CFDs on Cryptos | 11 |
BlackStone Futures Platforms
Through BlackStone Futures, you have the option of mobile trading, web trading, or desktop trading, or a combination of the above. They use a third-party platform called MetaTrader 4 which is one of the most popular trading platforms in the world.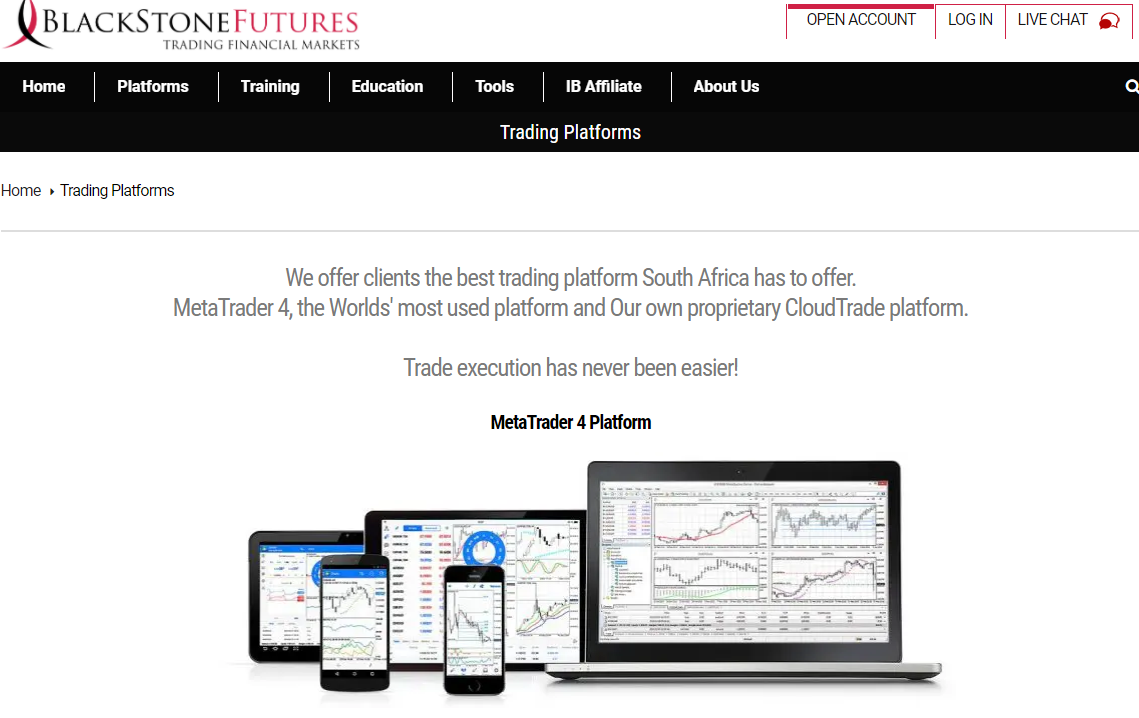 #1 BlackStone Futures Web Trading Platform – The web trading platform offered by MetaTrader 4 can quickly be customized to suit your requirements. However, the web trading platform does not have a two-step authorization process and does not provide price alerts. It does provide a fee report and is available in a number of languages.
#2 BlackStone Futures Mobile App – The mobile trading platform offered by MetaTrader 4 is easy to use and has a good search function. You can also change it to provide price alerts on the go. This trading platform does not provide any order confirmation and does not have a two-step authorization process.
#3 BlackStone Futures Desktop Trading Platform – The desktop version of Metatrader is quite similar to the browser or web-based platform. Most of the features are common between the two. However, in the desktop version, you can get price alerts which are not available in the web version. This platform also does not ask for two-step authorization. This can be a security risk for your account.
The MT4 is a standard platform and is widely used. You will get an above average trading experience if you use this platform.
In addition to the MT4, BlackStone Futures also has its own proprietary trading platform called the CloudTrade. The CloudTrade is available on both website browsers and Android and iOS mobile operating systems. However, it is not available as a desktop version.
CloudTrade also offers a range of features. These features include instant order execution, different types of resting orders, guaranteed stop loss, multiple asset classes, fixed spreads, and so on.
It is worth noting that BlackStone Futures does not offer the latest MetaTrader 5 platform.
Overall, the trading platform experience delivered by BlackStone is market standard and you have multiple options to cater to your needs.
BlackStone Futures Bonus
BlackStone Futures currently has an ongoing promotion of 30% deposit bonus for first time depositors. The minimum deposit required for this bonus is ZAR 1000, and it can only be availed by a single client once.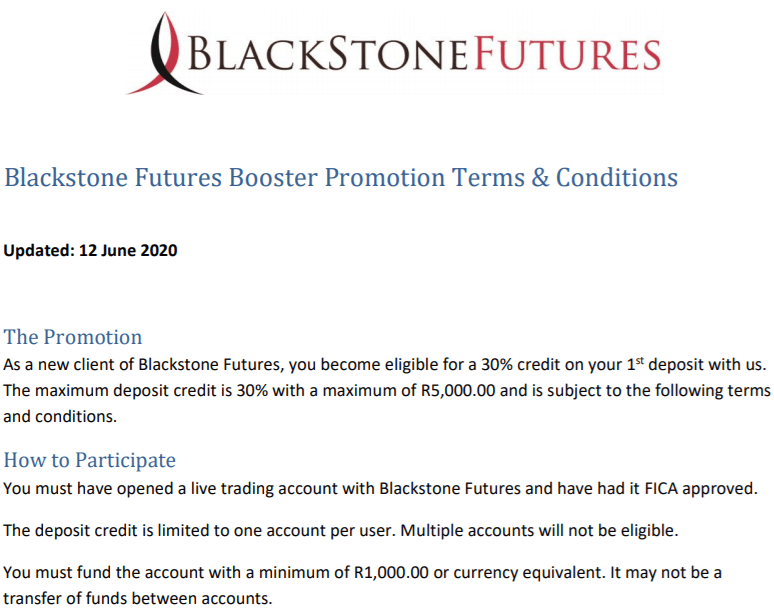 We did not find any end date for this promo on their website. There are also some other brokers that are offering similar forex deposit bonus offers for new customers.
BlackStone Futures Deposit & Withdrawals
Blackstone Futures has multiple deposit & withdrawal methods for traders in South Africa, including Electronic Funds Transfer in ZAR.
Deposit Methods
The following deposit methods are available at Blackstone Future.
Credit/Debit Card – You can fund your ZAR account with this method. The account is funded instantly.
Internet Bank Transfer – Blackstone Futures accepts deposits via EFT. They don't charge any fees on deposits with this method (your bank may charge fees), and the funds are available in the trading account in 48 hours.
Ozow – Using this method you can add funds instantly via EFT through account with any major bank in SA. But you can only use this method to fund your ZAR Trading account.
Withdrawal Methods
You can withdraw funds at Blackstone Futures via EFT to any bank account in South Africa. The withdrawals requested before 1PM SA time are processed on the same day. You will receive the withdrawal in your South Africa bank account within 24-72 hours depending on your Bank.
BlackStone Futures Customer Support
BlackStone Future's customer support is fairly good when compared to most other similar forex brokers, although it is not the best. You can avail customer support through a range of mediums which are live chat, email, and phone. They also have a local South African office where you can reach them.
Support at BlackStone Futures is available via following methods:
Live Chat – Customer support through live chat is available only on working days and during working hours. They do not offer 24*7 customer support through live chat.

However, they provide quick and helpful answers when contacted through live chat.

Email – When getting in touch with them through email (enquiries[at]blackstonefutures.co.za), you can expect a response within two hours on weekdays. This period may be considerably longer on weekends or on odd hours.
Phone – They have a local South African number which you can call for customer support or for trading desk queries. This is better than a lot of forex brokers that do not have a local South African number.
South African Office – If you need in-person customer support, they have a local address & South African office. This office is located in Rosebank, South Africa.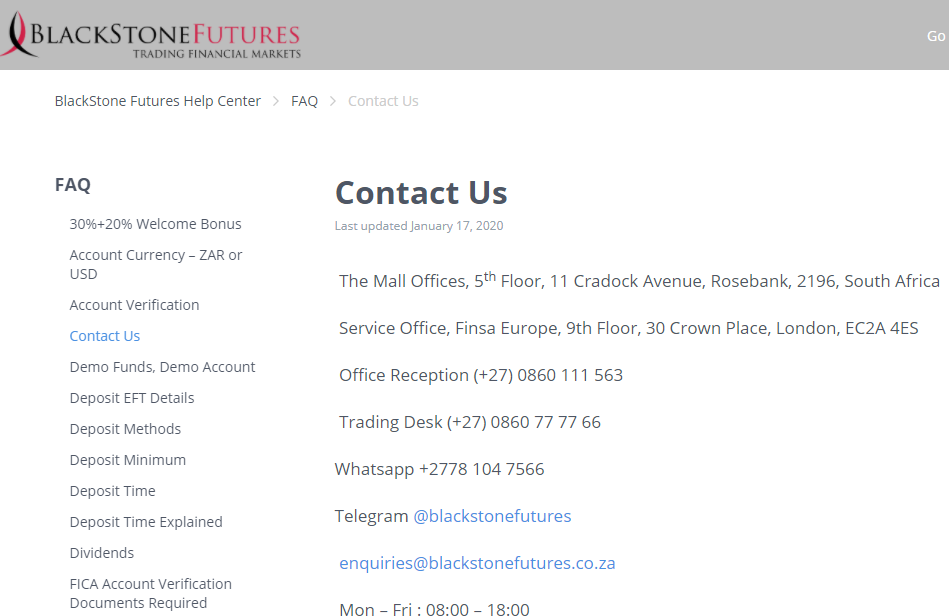 Even though they do not have 24*7 customer support, we found their customer support teams are responsive and somewhat helpful.
Do We Recommend BlackStone Futures?
BlackStone Futures is a moderately good broker for traders in South Africa. They are considered to be a safe broker to deal with because they are representatives of a FSCA regulated broker.
The spreads at BlackStone Futures are not too high and do not charge any commission on fees. Also, They also do not have any hidden fees such as for making a deposit or a withdrawal. And they offer ZAR currency account.
Plus, they are a STP broker which may give you a better trading experience than market maker brokers. They offer negative balance protection so that you do not lose more money than your account balance.
However, on the downside even though BlackStone Futures offer wide range of financial instruments, the number of instruments available in each category is very limited. They do not offer many currency pairs for you to trade with. Moreover, they do not have 24*7 chat support which some other forex brokers offer.
The investor education section that they have is also quite limited compared to the education offered by several other brokers.
There are a lot of things that can be improved at BlactStone Futures. But you can give them a try if you are looking to trade with a ZAR Account broker.
BlactStone Futures FAQs
What is the minimum deposit at Blackstone Futures?
Blackstone Futures has a minimum deposit of ZAR 1000. Traders from South Africa can open account in ZAR base currency or USD, GBP..
Is Blackstone Futures regulated by FSCA?
Blackstone Futures is an appointed juristic representative of Trade Nation Financial (Pty) Limited, which is regulated with FSCA under the FSP number is 49846.
Does Blackstone Futures have ZAR Account?
Blackstone Futures has ZAR base currency option with both the MetaTrader 4 & CloudTrade platforms accounts. You need to select the account currency during the opening of your Account.
How can I withdraw funds at Blackstone Futures?
Account holder can request withdrawal by logging in to Blackstone Futures client panel & choose from the various withdrawal methods available in your account. You can get withdrawal in your local bank account via bank transfer.
"Do you have experience with BlackStone Futures? Please consider sharing your experience with a review below – good or bad – doesn't really matter as long as it's helpful to other traders!"
We only accept user reviews that add value to fellow South African Traders. Unfortunately, not all reviews that you post with us will be published on the website. For your review to be approved, please share your detailed & honest experience with the broker – either positive or negative. Thank you for helping out other traders with your valueable feedback!
Important: We don't accept any payments or kickbacks from any forex broker(s) to delete or change any reviews. We welcome Forex Brokers to reply to reviews on our website & share their side of the story to keep the process honest and fair for both sides.